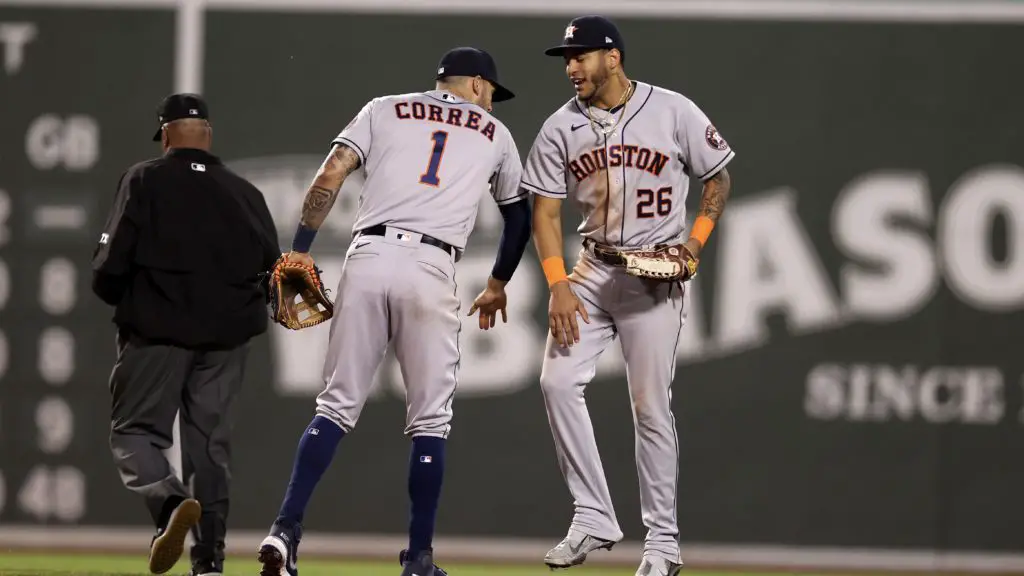 Houston Astros rookie Jose Siri in playoff flow
Jose Siri delivers clutch two-out, two-run single in Game 5 of the ALCS
Just one year ago, Houston Astros rookie Jose Siri was getting ready to play for Los Gigantes del Cibao in the Dominican Republic winter league. On Wednesday afternoon, he started in center field for the second time in the postseason at Fenway Park. 
You wouldn't know it from his pregame demeanor and his style though that it was only his second postseason appearance. The 26-year-old Dominicano looked like a seasoned veteran.
With the American League Championship Series between Houston and the Boston Red Sox tied heading into Game 5, a fashion forward Siri, with his bright orange kicks, was al cien – keeping it 100.
"That's just who I am. I like to have fun. I love music and dancing. What can I tell you?" he said. "In terms of el flow, everybody has their style. They have their flow and I do too."
Siri was born and raised in Sabana Grande de Boyá, Dominican Republic, a small town near the Samana Bay. His mother is a doctor, and his father works in the automotive industry.
In Game 5, he played for his wife and son, Jose Siri Jr., who patiently waited for the season to end so daddy can return home. Hopefully, Siri can bring with him a World Series ring.
Jose Siri's October Debut
It wasn't until September of this season that the Astros, Siri's fourth major league organization, gave him a shot, and boy did he deliver. In 21 games, he posted a 160 wRC+, earning a postseason roster spot.
"I'm very grateful for Dusty Baker. He's helped me a lot and pushes me to stay on the right path," he said. "I feel good that he has the confidence to put me in to play because he knows that I have talent."
For Baker, the decision to start Siri came down to righty-lefty splits and defense. After losing center fielder Jake Myers to a shoulder injury in the ALDS against the Chicago White Sox, the choice was up to Chas McCormick and Siri.
Fortunately for Siri, the Red Sox starting southpaw Chris Sale made this a no-brainer for the veteran manager.
"I'm going with Siri because this big ballpark here," Baker said. "He hits lefties good, and that was the best option that I have."
To Baker's credit, playing Siri worked for Houston. With the Astros leading 4-0 in the 6th inning, Siri put the game out of reach by delivering a big 2-out, 2-run single that made the game 6-0.
In the end, with the help of Jose Siri, the 'Stros defeated the Red Sox by a score of 9-1. They now lead the best-of-seven series 3-2 and are headed home for Game 6 on Friday.
Get the Our Esquina Email Newsletter
By submitting your email, you are agreeing to receive additional communications and exclusive content from Our Esquina. You can unsubscribe at any time.