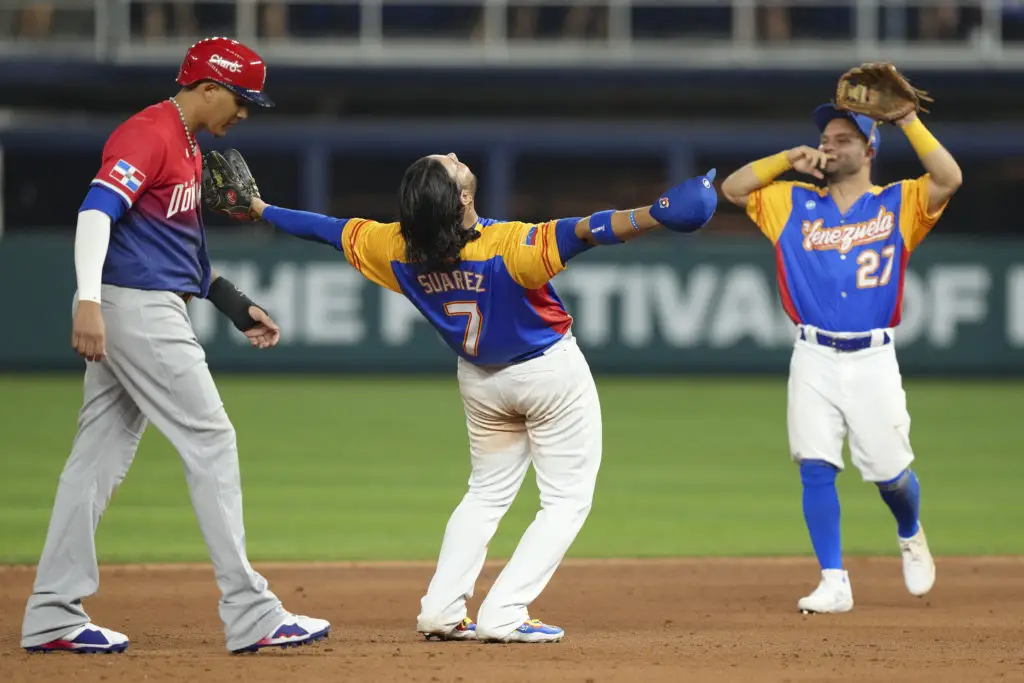 WBC: Dominican Republic outmatched by Venezuela
Venezuela had just enough to beat the Dominican Republic for the first time.
It was arepas over plantains Saturday as Venezuela defeated the Dominican Republic in the World Baseball Classic.
Leading up to the match, fans salivated at the depth of the Dominican Republic's lineup. In fairness, after an exciting top of the first inning, how could they not be? Team Dominicana's lineup resembled an unstoppable locomotive, featuring All-Stars, Silver Sluggers, and perennial MVP candidates. It was no surprise when D.R. struck first on Juan Soto's RBI double.
What was a surprise, though, was that the Dominican wouldn't score another run. Venezuela held on for a 5-1 victory at Miami's loanDepot park.
Meanwhile, team Venezuela scored five runs, including a mammoth Anthony Santander home run in the bottom of the second inning. From this point forward, Venezuela didn't look back against reigning National League Cy Young Award winner Sandy Alcantara.
Battle of the Aces
For what it's worth, this game was much closer than you would think. A well-executed pitch here and there might have yielded different results.
After allowing an RBI double to Soto in the first, Venezuela starter Martín Pérez settled down. The Dominican had plenty of opportunities, including the bases loaded with one out at the top of the second inning. Pérez made the correct pitches to get out of that jam, though.
Julio Rodriguez stuck out and Soto grounded out to first base to strand the bases loaded.
The same could not be said for Alcantara, who suffered the loss after allowing three earned runs in 3 2/3 innings. The 2022 NL Cy Young winner struggled with command throughout the game, allowing five hits and three walks.
Was he left in for too long? Dominican manager Rodney Linares doesn't think so.
"He is a Cy Young Award winner. He is our guy. We're going to give him every chance to get it," Linares said. "He was two pitches away from throwing a really, really good shutout game. He threw that front-door sinker to Santander for the home run, and then he threw the 1-2 pitch for the slider that went right to his barrel, and he go the base hit."
The Dominican Republic is off Sunday. Soto and Co. look to bounce back Monday against Nicaragua. Venezuela will face another power on Sunday when they play 2017 runner-up Puerto Rico.
Venezuelan manager Omar Lopez was asked recently if he was nervous about facing the Dominican Republic.
"I said, 'Well, that's where we are going to see what Venezuela is made of," he said. "The first two games will be against two powerful teams in Latin America, the D.R. and Puerto Rico.
"And we did our best and we got a victory."
Get the Our Esquina Email Newsletter
By submitting your email, you are agreeing to receive additional communications and exclusive content from Our Esquina. You can unsubscribe at any time.