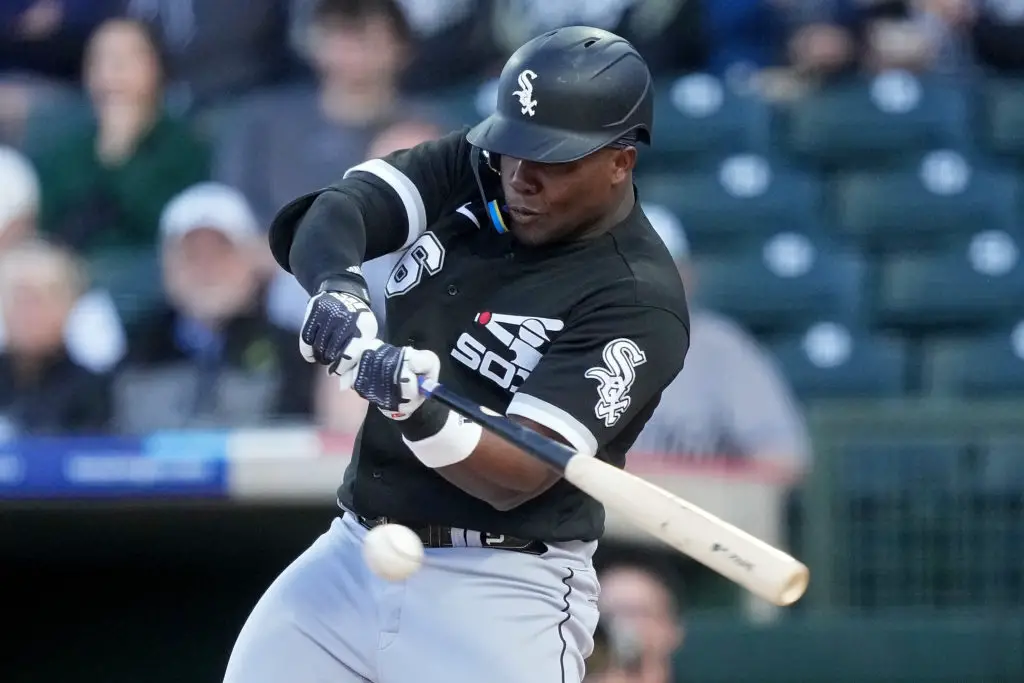 10 Latino prospects vying for MLB roster spots
A look at Latino prospects fighting for Opening Day spots.
The future continues to look bright in Major League Baseball. Not only are the new rules – pitch clock, shift restrictions, and bigger bases – proving to be a success, but there are also a number of Latino prospects poised for a shot at The Show.
Reigning AL Rookie of the Year Julio Rodriguez and 2022 ALCS and World Series MVP Jeremy Peña showed the impact rookies can make last season. Those are big shoes to fill for prospects entering the 2023 season.
These 10 Latinos might be ready for the challenge.
AL East Prospects
Osleivis Basabe is the Rays' No. 7 ranked prospect. Signed in 2017 by the Texas Rangers, the Bobures, Venezuela, native made his way to the Rays in 2021 via trade.
Basabe has never featured much power. His plate discipline and ability to make good contact has kept him relevant in the minds of the Rays. In 271 minor league games, the 22-year-old has a .316 batting average and a .375 on-base percentage.
He even has a Grapefruit League home run already this spring. It was a grand slam way over the Green Monster in Fenway South.
---
When the Yankees signed Jasson Dominguez out of the Dominican Republic, he drew comparisons to Bo Jackson and Mike Trout. He even earned the moniker "El Marciano" or "The Martian" for his otherworldly skill set.
This spring, the Yankees' No. 2 prospect is living up to the hype and then some. Through eight spring games, Dominguez has three home runs, seven RBIs and is garnering serious consideration for a roster spot.
Will the Yankees give him a chance come Opening Day? Probably not. This is a very conservative organization with its prospects.
If Dominguez keeps playing this way, though, they would be crazy not to give the kid a chance.
---
After 14 Class AAA starts in 2022, it appeared Grayson Rodriguez was ready for The Show. This spring, the Orioles No. 2 prospect has struggled some but continues to show some poise. His main struggle has been throwing strikes. His walk rate is way above his normal levels while his strikeout rate has dipped.
Still, he has managed to pitch to a 1.93 ERA and is touching 99 M.P.H. on the radar gun. Don't be surprised if you see Rodriguez every fifth day in Camden Yards sometime this season.
AL Central and AL West
When the Royals' No. 3 prospect Maikel Garcia was called up last season, he appeared like paisano Luis Araez-light. He is a contact hitter with little power and a decent walk rate.
This spring, it's been more of the same. In seven games, he has seven hits and a better-than-expected .500 on-base percentage.
With Royals shortstop Bobby Witt Jr. participating in the World Baseball Classic, Garcia will get more playing time in camp. Will he earn an Opening Day roster spot? There's a good chance that he will.
---
It appears White Sox No. 2 prospect Oscar Colas is a shoo in for Opening Day. Praised by teammate Elvis Andrus as the "total package," the Havana, Cuba, native dominated the minor leagues in 2022.
This spring has been no different for the lefty batter. In 11 games, he has a .391 batting average, a .417 on-base percentage, and a .435 slugging.
With Colas, the future is bright for the Southsiders.
---
Entering Spring Training, Prelander Berroa wasn't exactly front-of-mind for the Seattle Mariners. However, the team's No. 14 prospect has been impressive in the Cactus League.
In four innings, the 22-year-old Santo Domingo, Dominican Republic, native has five strikeouts and only allowed one hit. Berroa could be a sleeper for Seattle this season. We haven't seen the last of him.
National League Prospects
This spring, Mets No. 6 prospect Ronny Mauricio has been relentless. In 16 plate appearances, the Dominican native has six hits, including three home runs and a double.
If he continues to play this way, Mauricio could find his way on the Mets' roster. It will have to be at third base, since they already have a shortstop in the defacto team captain Francisco Lindor.
---
Brewers' No. 12 prospect Abner Uribe has been touching triple-digits on the radar gun with regularity this spring. This has led manager Craig Counsell to describe the 22-year-old as "impressive" and "exciting." I would imagine that fans of the Brew Crew feel very much the same way.
The Santo Domingo native has looked unhittable this spring. At this rate, he's looking at a role as Milwaukee's setup man of the future.
---
In four minor league seasons, the Pirates' No. 2 prospect Endy Rodriguez has a .927 OPS. This has carried over into spring training, where the 22-year-old Dominicano currently has a .929 OPS in eight games.
With Pittsburgh in the middle of a seven-year postseason drought, Bucs fans deserve something to look forward to. Rodriguez being named the Opening Day starting catcher would be a good start.
---
Christian Encarnacion-Strand is one of the most exciting Reds prospects in a long time. In 10 games this spring, the 23-year-old infielder has 12 hits, including three home runs and 10 RBIs.
With Joey Votto opting to play a 17th season – all with the Reds – Encarnaction-Strand will have to settle for third base. If the Reds' No. 7 prospect keeps raking this way, they'll have to pry an Opening Day roster spot out of his hands.
AL Rookie of the Year Julio Rodríguez helped return the Mariners to prominence last season. Now, he's primed for a 30-30 season, and set to start at center field for team Dominican Republic in the World Baseball Classic.
Astros shortstop Jeremy Peña helped the Astros win their second championship in franchise history in 2022, his rookie season. He did so by posting a .345 batting average and a 1.005 OPS in the postseason. "La Tormenta" was awarded the ALCS and World Series MVP.
Now the next group of prospects is ready to make an impact as rookies this season.
Get the Our Esquina Email Newsletter
By submitting your email, you are agreeing to receive additional communications and exclusive content from Our Esquina. You can unsubscribe at any time.