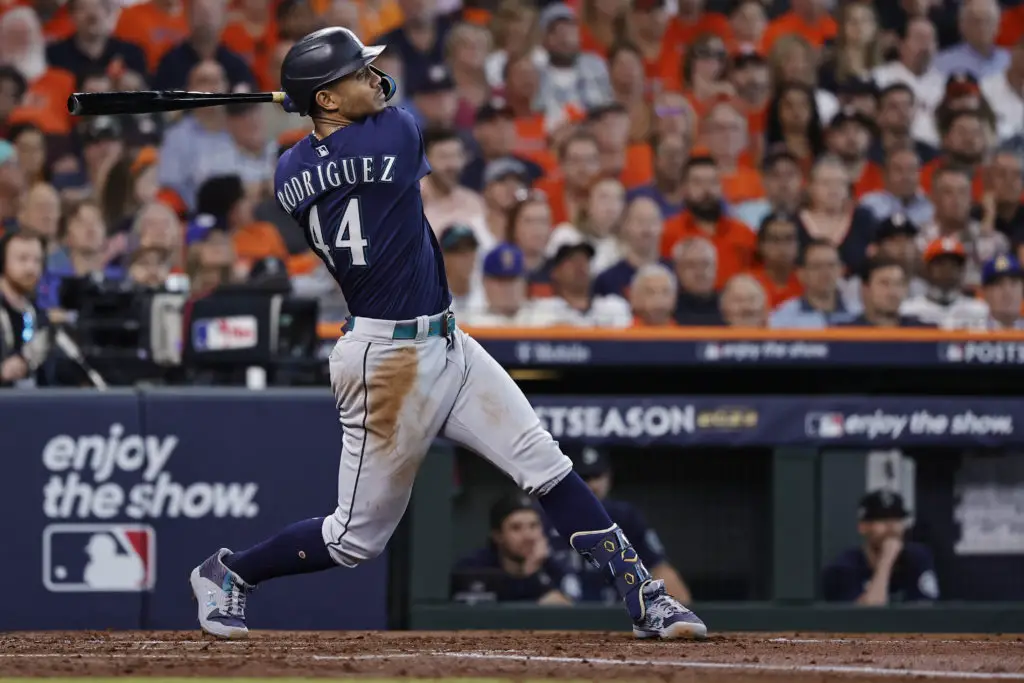 Julio Rodriguez embraces AL Rookie of the Year award
Julio Rodriguez eighth Dominican-born player to win the a Rookie of the Year award.
Julio Rodriguez sat between his parents when he found out that he won the American League Rookie of the Year award. Surrounded by celebrating friends and family, the Seattle Mariners star's first order of business was to embrace his parents.
First, there was dad, who can be heard telling his son, "lo logramo," before wiping tears from his eyes. "We did it!"
Then there was mom, who rose to her feet. "Yo te lo dije," she told him emotionally. "I told you."
Prior to this season, Julio Rodriguez had never played above Class AA. With a .331 minor league batting average, there was no sense in holding him down.
For the 21 year old center fielder, it wasn't a surprise when the Mariners called him up to The Show. He had been working for this his entire life.
"I feel like at the beginning of the year when I was brought up, to be honest, I wasn't really surprised," he said. "I feel like the work that I did totally paid off and where I am now, at this point of the year, I just feel really happy that all the work we did, all the preparation, and everything really paid off, and I'm just grateful for that. That's how I really feel."
Beating out Rutschman and Kwan
It wasn't much of a surprise that J-Rod received the award from the Baseball Writers Association of America. Prior to the announcement, Rodriguez had already secured the top AL rookie honors from Baseball America, The Sporting News, and the Players Choice Awards.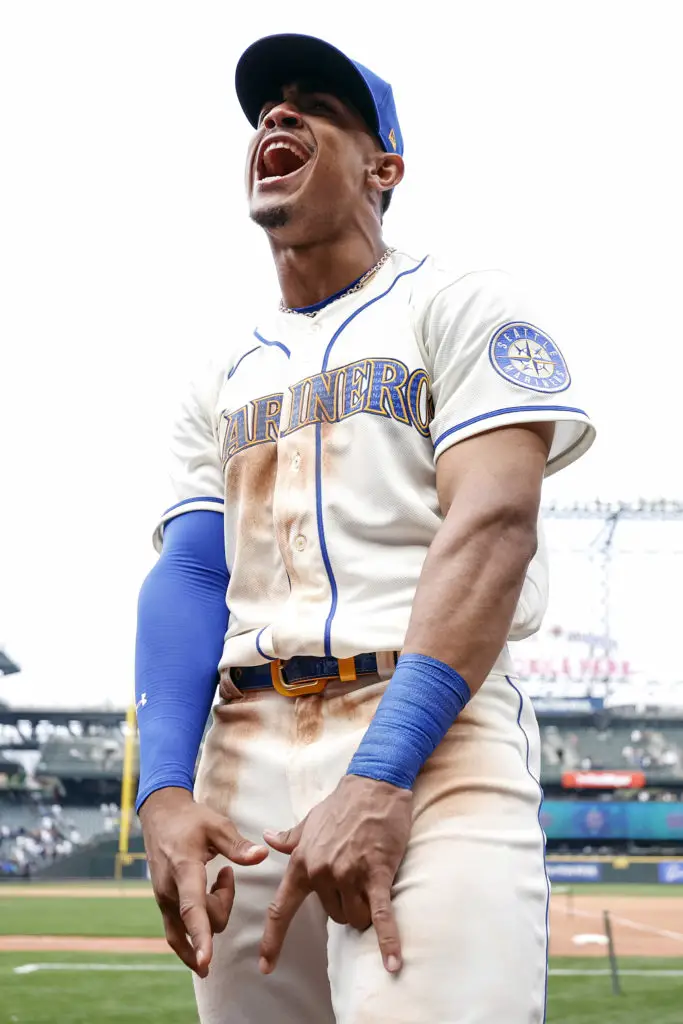 Even though this was his debut season, his presence felt like that of a seasoned veteran. This is probably the reason why he was the only rookie named to the All-Star team, becoming the third Mariners player 21 years or younger to play in the Summer Classic. The other two were Ken Griffey Jr. and Alex Rodriguez.
He is the fifth Mariners player to win the award. He follows Alvin Davis (1984), Kazuhiro Sasaki (2000), Ichiro Suzuki (2001), and Kyle Lewis (2020).
The native of Loma De Cabrera is also the eighth native of the Dominican Republic to win the Rookie of the Year Award, and the fourth player in the American League. He follows Alfredo Griffin in 1979, Raul Mondesi in 1994, Rafael Furcal in 2000, Albert Pujols in 2001, Angel Berroa in 2003, Hanley Ramirez in 2006, and Neftali Felíz in 2010.
Rodriguez edged out Orioles catcher Adley Rutschman and Guardians left fielder Steven Kwan. Both players posted phenomenal rookie seasons in their own right.
Kwan placed in the top 10 in all essential stats in the AL. Kwan's .298 batting average, .272 on-base percentage, and 168 hits all ranked ninth. He also won AL Rookie of the Month twice this season, once in April and then again in September.
Rutschman and Rodriguez both had identical 5.3 fWARs. They also helped their teams perform beyond expectations this season.
Rutschman inherited an Orioles team that was 16-24 before he was called up and 67-55 after. Rodriguez led the Mariners to their first postseason berth since 2001.
Julio Rodriguez dominated rookie stats
Ultimately, Kwan and Rutschman were overshadowed by a player who was just flat out better.
Julio Rodriguez led all MLB rookies with 28 home runs, .853 OPS, and a 146 wRC+. He placed second with 84 runs, 75 RBIs, 56 extra-base hits, and 25 stolen bases.
Since there can only be one winner, Rodriguez's leadership and advanced skills on the field reigned supreme. 
He remained humble throughout the night, however, acknowledging the accomplishments of the other finalists.
"To the other finalists, they did a great job," he said. "They had a great season and it's going to be a really bright future for a lot of young players in this game. I'm excited to watch them grow."
Rodriguez is right. Major League Baseball's future is bright. 
The Mariners know it too.
In August, Seattle reached an agreement to extend J-Rod for 12 years and at least $209.3 million. With incentives, the kid can earn up to $470 million, and he's worth every penny.
Get the Our Esquina Email Newsletter
By submitting your email, you are agreeing to receive additional communications and exclusive content from Our Esquina. You can unsubscribe at any time.