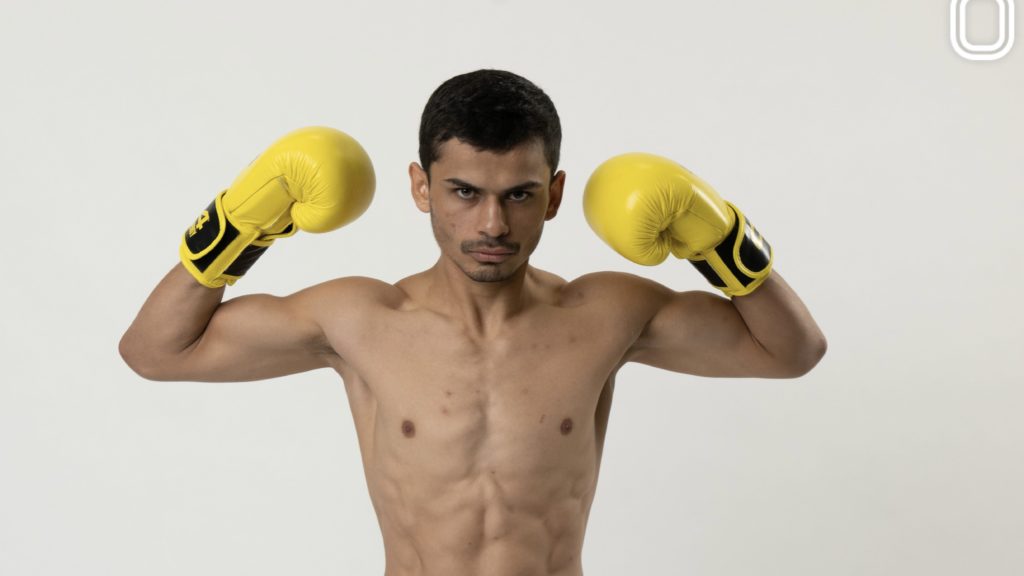 Sebastian Santiago-Fernandez takes Overtime Boxing route
Puerto Rican Sebastian Santiago-Fernandez hopes to find boxing path
Growing up in Puerto Rico, Sebastian Santiago-Fernandez participated in numerous sports. He excelled in soccer, baseball and track. As a soccer player, he was even considered a top prospect out of high school.
At 13 years old, Santiago-Fernandez made the transition from soccer to boxing to focus on self defense. Eleven years later, the 5-foot-8 featherweight is headed for his second professional fight on the new Overtime Boxing platform. 
"Everything started in a school because I defended myself from bullies," he said. "I had to learn to defend myself. I fell in love with boxing when I got to be with a serious trainer."
Sebastian Santiago-Fernandez lived with his grandparents, Onofre and Milagro, the majority of his life. They were stunned when Fernandez told them the news about becoming a professional boxer.
Surprising career choice
"Nobody wanted me to box," Santiago-Fernandez said. "I grew up with my grandparents, and you know how grandparents are. They like to protect their grandkids. They didn't like it at all.
"I remember my first fight, my grandpa came with me, and my grandmother would never go see a fight. She doesn't like it at all. For her, she wanted me to quit everything, but this is what I like, it's my life."
MORE FROM OUR ESQUINA:
Giovanni Marquez has last dance on Overtime
Angel Villarreal Jr. grows Milwaukee boxing
Astros catcher Martin Maldonado calls third no-hitter
Santiago-Fernandez turned pro earlier this year. He suffered a loss via unanimous decision against Felix Garcia in Laredo, Texas, in March. He'll face Javier Zamarron (4-0) on Friday night on Overtime Boxing's third card at Elite Overtime Arena in Atlanta. 
He admires many great boxers from his beloved Puerto Rico. The Cidra, Puerto Rico, native studied a lot of techniques. He has spent hours watching videos of Puerto Rican greats Wilfredo Benitez, Felix Trinidad and Hector "Macho" Camacho.
Sebastian Santiago-Fernandez returns to boxing
After high school, he wasn't sure what he wanted to do as a career. He was worried, confused, and wasn't sure if he could continue on with his dream of becoming a professional boxer.
So, he took three years off of boxing. He moved to Florida in hopes of starting a men's clothing store that would sell environmentally friendly clothes to the public. 
In 2020, the COVID-19 pandemic erupted throughout the entire world and shut down many businesses.
"It's a project I still like to do," he said. "Hopefully with my career and my run, it could push the project to the future."
Santiago-Fernandez moved from Florida to Massachusetts, where he crossed paths with his best friend Xavier Rivera. Rivera was boxing at the time Fernandez was learning how to box. From there, he knew he wanted to get back into the ring and start training again.  
In March 2023, he started his professional boxing career and made his boxing debut against Garcia. 
"There were a bunch of emotions," he said. "Your first fight, you're fighting with someone who has professional experience already. I felt it was a close fight.
"But, at the end of the day, I was happy because everybody said it was a great fight and it was the best fight that night."
Mutual respect
The young Boricua learned a lot about himself coming out of that defeat. With a full crowd in Sames Auto Arena in Garcia's hometown of Laredo, he sensed pressure as soon as he walked into the ring. It didn't take him long to realize no one was cheering for him.
He is now set to face Zamarron, who has three knockouts in four bouts. Santiago-Fernandez respects Zamarron as a boxer, but he's ready to go through the professional road of boxing.
"Like any boxer that gets into the ring, I want to win," he says. "I'm going there to put on a good fight, get better and start walking the professional road. You have to go through some situations in life to get where you want to go. 
"I expect to get experience and put on a pretty good fight that everybody enjoys."
Get the Our Esquina Email Newsletter
By submitting your email, you are agreeing to receive additional communications and exclusive content from Our Esquina. You can unsubscribe at any time.