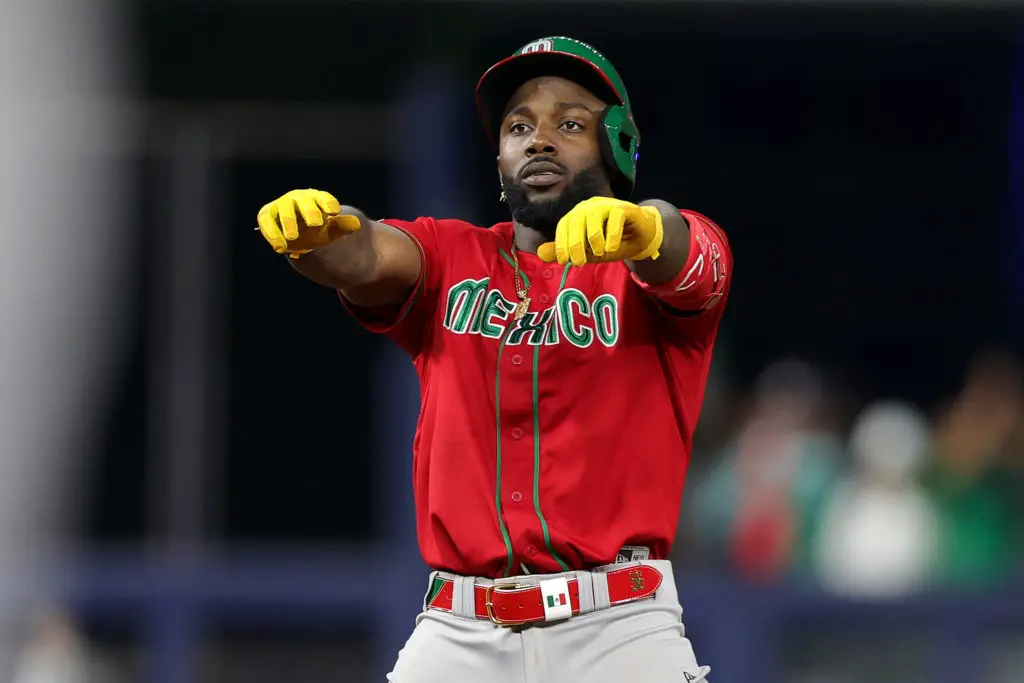 Randy Arozarena delivers for Mexico's hurricane victims
Arozarena and Team Mexico receive Mexico's National Sports honor
After receiving a major Mexican sports honor, Randy Arozarena made a strong pitch to his adopted country. The Tampa Bay Rays star pleaded with the Mexican people to support the victims of Hurricane Otis.
Dozens were killed after Hurricane Otis made landfall on Oct. 25 in the state of Guerrero.  Arozarena has lived in Mexico since he defected from Cuba in 2015. He played in the Mexican summer and winter leagues in 2016 before signing with the St. Louis Cardinals in July 2016. 
After making a viral plea to Mexican President Andrés Manuel López Obrador, Randy Arozarena was given Mexican citizenship in 2022. The 2021 American League Rookie of the Year was one of the biggest stars of the 2023 World Baseball Classic.
Arozarena helped Mexico reach the WBC semifinals for the first time in the country's history.
Arozarena and Benjamin Gil, who managed Team Mexico in the WBC, were in Mexico City to represent Team Mexico after they received the country's highest honor for sports.
"I'll always be there when I can represent Mexico," Arozarena told the media in Mexico City. 
Randy Arozarena committed to Mexico
Arozarena arguably delivered a more important and significant message by packing relief supplies for hurricane victims on Thursday. The 2020 American League Championship Series MVP donated to help the victims. After packing relief supplies, he visited with volunteers and Mexican marines.
He also delivered a plea for the Mexican people.
"My name is Randy Arozarena," he said. "Here I am with my donation. I want to invite the whole world to support the people or Guerrero, who need it. All of us as Mexicans that we all are, we all are going to support and help each other. Support the people of Guerrero. 
MORE FROM OUR ESQUINA
Benjamin Gil is ready to manage in big leagues
Mexico earns its applause with historic WBC run
Team Mexico displays Mexican Diaspora
"What happened is not good. We are uniting for this cause. Support us and go to all the donation centers to take your donation. Guerrero needs it."
Arozarena and Gil visited with the Mexican media at Estadio Alfredo Harp Helú on Thursday. They were joined by top executives from the Mexican baseball federation and the Mexican leagues. 
As a reward for their historic performance at the 2023 WBC, Team Mexico was given the Premio Nacional de Deportes 2023, or National Prize for Sports, for professional sports. 
The honor was bestowed by Mexico's National Commission for Physical Culture and Sport. Team Mexico members will receive a gold medal from President  López Obrador.
Prize 'validates' Team Mexico effort
"To me this is another accomplishment for the entire national team," said former big league pitcher Rodrigo Lopez, who served as Team Mexico's general manager. "For them to recognize our sports, baseball, at that level is exciting.
"We're very proud of being able to go far in the WBC. We're also proud that the impact that it's had on our country has been enormous. This honor validates that effort. All of this is motivation to keep improving."
Lopez is the Spanish language voice of the National League champion Arizona Diamondbacks. He has been retained as Team Mexico's GM for the 2026 WBC.
Gil is now drawing mention and interest as a potential candidate for some of the open managerial jobs in Major League Baseball.
"It has been the honor of my professional life," Gil said, "to manage this group of Aztec warriors."
Get the Our Esquina Email Newsletter
By submitting your email, you are agreeing to receive additional communications and exclusive content from Our Esquina. You can unsubscribe at any time.