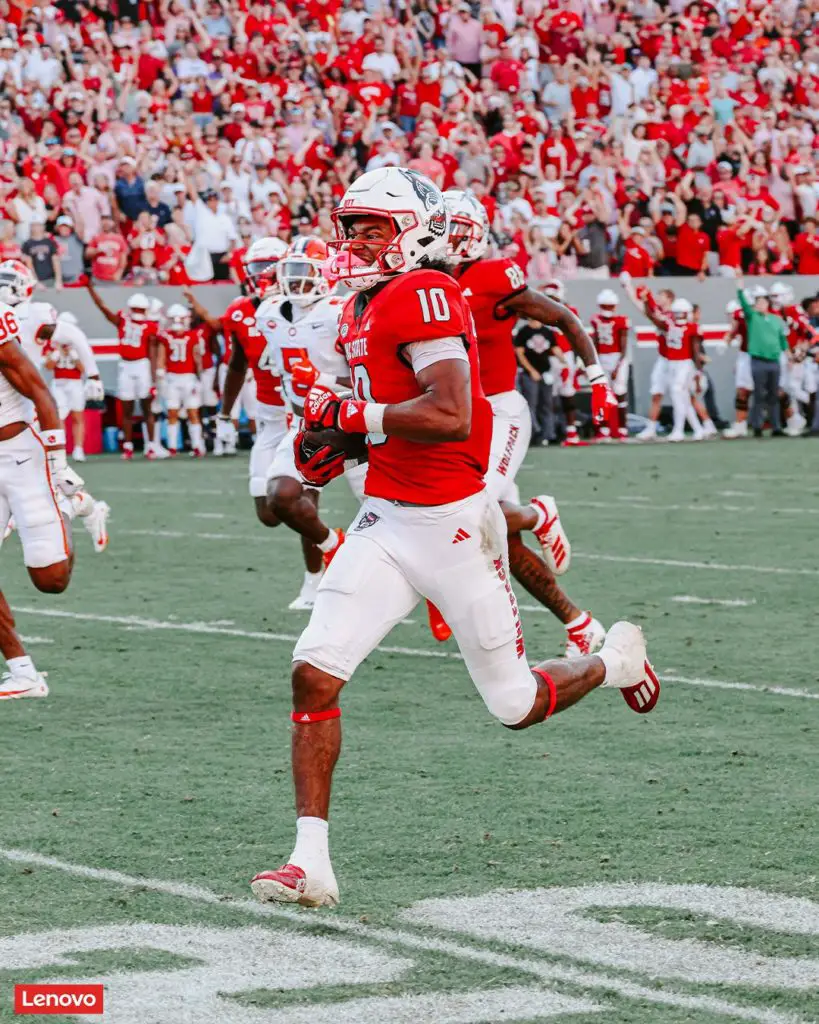 NC State Kevin Concepcion torched Clemson
Tulane's Jesus Machado, Miami's Andres Borregales earn weekly honors
Kevin Concepcion had some of the biggest highlights of Week 9 in college football. The North Carolina State wide receiver played a pivotal role against Clemson. 
The true freshman from Charlotte scored had a 72-yard touchdown reception and a 50-yard touchdown run among his highlights. Kevin Concepcion earned Our Esquina's College Football Player of the Week for the second time this season.
Concepcion had five catches for 83 yards and two touchdown receptions. He added 51 rushing yards on two carries. He opened the scoring with a nine-yard touchdown catch in the first quarter. His 72-yard touchdown reception helped N.C. State take a 24-7 lead late in the third quarter.
Career day for Kevin Concepcion
Kevin Concepcion, a member of Our Esquina's 2022 Latino All-America team, set several career highs against Clemson. He had the longest reception, longest rush, most rushing yards and most receiving touchdowns of his career on Saturday.
With six touchdowns and 493 receiving yards, Kevin Concepcion is on pace for Freshman All-America honors.
Boston College quarterback Thomas Castellanos threw for 151 yards with a touchdown and an interception while completing 16 of 24 passing attempts. He added 45 yards on 14 carries in a 21-14 victory over UConn.
Castellanos also had a reception for minus nine yards. He also lost a fumble. Oregon State running back Damien Martinez had a game-high 87 rushing yards on 14 carries. He added an eight-yard catch in a 27-24 loss to Arizona.
Texas State's Beau Corrales made a 26-yard catch. Julian Ortega Jones added two catches for 10 yards for Texas State in a 31-13 loss against Troy.
Logan Loya shines
UCLA receiver Logan Loya made seven catches for 111 yards against Colorado. He had four punt returns for four yards in the 28-16 victory. Cal quarterback Fernando Mendoza almost led an upset over USC. He threw for 292 yards with two touchdowns and an interception while completing 25 of 39 passes.
The freshman from Miami added 48 yards and two touchdowns on the ground. Mendoza's performance wasn't enough, though. USC came from behind for a 50-49 victory.
MORE FROM OUR ESQUINA
Gallegos, Woodyard, Sanchez highlight Latino High School All-America Football Team
Five-star Devin Sanchez has football elites after him
Class of 2023 loaded with Latino football recruits
Kansas State sophomore running back Anthony Frias had six carries for 15 yards in the 41-0 victory over Houston. RJ Garcia III added a four-yard catch.
Appalachian State quarterback Joey Aguilar threw for 391 yards in a 48-38 victory over Southern Miss. He completed 23 of 33 passes and threw four touchdowns. He added 43 rushing yards on nine carries.
Notre Dame freshman receiver Rico Flores Jr. had two catches for 72 yards in a 58-7 victory over Pitt.
Miami's Xavier Restrepo had three catches for 48 yards in a 29-26 victory over Virginia. He added a tackle and a 9-yard kickoff return.
Cole Gonzales goes off in loss
Western Carolina quarterback Cole Gonzales threw for 388 yards in a 45-38 loss to Mercer. He completed 32 of 51 passes with five touchdowns and three interceptions. Gonzales also rushed for 42 yards on nine carries. North Carolina receiver Kamari Morales had a six-yard catch in a 46-42 loss to Georgia Tech.
Idaho State's Aaron Blancas had a 21-yard reception in a 51-16 loss against Sacramento State. UTSA's Oscar Cardenas had four catches for 21 yards and a touchdown against East Carolina. He added a 2-yard carry in a 41-27 victory.
Northern Arizona quarterback Angel Flores threw for 109 yards with a touchdown and an interception. He was 6-for-9 passing in a 38-21 victory over UC Davis. Flores added 80 rushing yards and one touchdown on 19 carries. 
New Mexico State quarterback Diego Pavia was 10-of-19 for 91 passing yards and a touchdown. He added 67 rushing yards and a touchdown on 12 carries in a 27-24 victory over Louisiana Tech. 
Defensive Player of the Week: Jesus Machado
Tulane linebacker Jesus Machado had 12 tackles in a 30-28 victory over Rice. New Mexico State's Tyler Martinez had four tackles against Louisiana Tech. Gabriel Iniguez added a tackle for the Aggies.
Stanford's Wilfredo Aybar had a sack, two tackles for a loss and four tackles overall in a 42-33 loss to Washington. Freshman Jshawn Frausto-Ramos added three tackles.
UCLA Kain Medrano made six tackles against Colorado. Georgia freshman Joenel Aguero had one tackle in a 43-20 victory over Florida. UCF sophomore defensive back Nikai Martinez had five tackles in a 41-28 loss to West Virginia.
Gunner Maldonado: tackle machine
Arizona's Gunner Maldonado had a team-high 10 tackles against Oregon State. Washington State's Ron Stone Jr. had four tackles against Arizona State. 
New Mexico's Alec Marenco had three tackles in a 34-24 loss to Nevada.  Gabriel Lopez added three tackles for the Lobos. Virginia Tech sophomore defensive end Keyshawn Burgos had a sack, 1 ½ tackles for loss and three tackles in a 38-10 victory over Syracuse.
Boise State's Milo Lopez had two tackles in a 32-7 victory over Wyoming. Eastern Michigan's Adrian Hernandez had five tackles. Korey Hernandez added a tackle in the 45-21 loss to Western Michigan.  
Special Team Player of the Week: Andres Borregales
Miami kicker Andres Borregales showed off his powerful foot in the 29-26 overtime victory over Virginia. All three of his field goals were 47 yards and farther with a long of 50 yards. He was clutch in the fourth quarter to help Miami force overtime.
His 50-yard field goal tied the score at 20 early in the fourth quarter. Then he tied it again at 23 with a 48-yard field goal with 22 seconds left in regulation. He added two PATs in regulation, but he didn't need to kick after Miami scored the winning touchdown in overtime.
Iowa State kicker Chase Contreraz was 3-for-3 on field goal tries with a long of 45 yards. He added three PATS in the 30-18 victory over Baylor. UNLV's Jose Pizano made a 30-yard field goal and three PATs.
Colorado's Alejandro Mata made his three field goal attempts with a long of 39 yards. He added a PAT in the loss to UCLA. Tulane kicker Valentino Ambrosio converted 3 of 4 field goal attempts with a long of 44 yards. He added three PATs against Rice.
Wake Forest punter Ivan Mora averaged 48.9 yards on nine punts against Florida State. Old Dominion's Ethan Sanchez made two field goals and three PATs in a 30-27 loss to James Madison.
South Alabama's Diego Guajardo made two PATs in a 33-20 loss to Louisiana. UCLA's RJ Lopez made four PATs, but he missed his only field goal attempt.
Idaho's Ricardo Chavez made a 53-yard field goal in a 24-21 victory over Montana State. He added three PATs. Eastern Michigan's Jesus Gomez made one PAT. New Mexico punter Aaron Rodriguez averaged 42 yards over his five punts.
Cover art by @PackFootball/X.
Get the Our Esquina Email Newsletter
By submitting your email, you are agreeing to receive additional communications and exclusive content from Our Esquina. You can unsubscribe at any time.