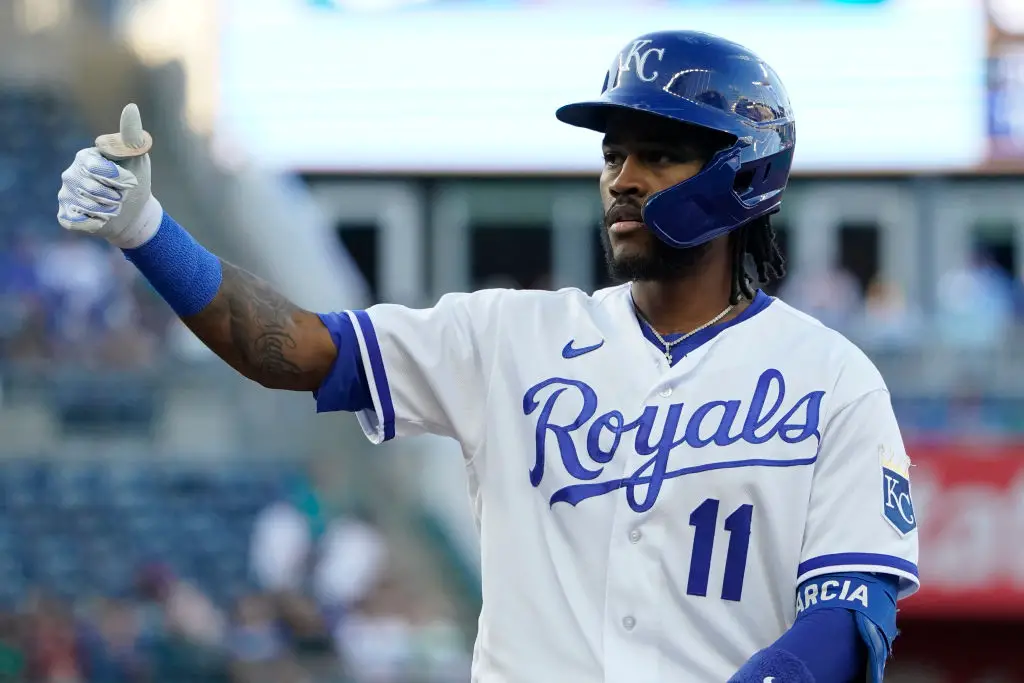 Maikel Garcia learned from MLB cousins like Ronald Acuña Jr.
Maikel Garcia settles in with Royals
HOUSTON — Maikel Garcia gets some of his competitive nature from overly competitive cousins and family members. The Venezuela native is adamant that all kids from his hometown of La Sabana are born with a zealous force to win at all costs. 
To the Kansas City Royals third baseman, it doesn't matter if his relatives are playing video games, sports, or a family softball match, Garcia, 23, wants to come out on top. Every Dec. 30 to celebrate the new year, Garcia's family doesn't revert to the traditional fireworks.
They make their own sparks fly with a friendly but competitive softball game. Former Royals All-Star Alcides Escobar and 2018 Rookie of the Year Ronald Acuña Jr., who are Garcia's cousins, host a softball game for their family and friends. Acuña's team, which is named after his nickname; El Abusador, square off against Escobar's family and friends. The game not only brings out the best of the family. It also has their town at the edge of their seat.
Maikel Garcia proudly represents 'Los Escobares'
"My cousin Ronald Acuña Jr. has his own team called 'El Abusador,'" Garcia said. "The other team is 'Los Escobares'. We are all the same family but with different last names. I think that is one of the most fierce competitions in the town. After all that, we enjoy each other's company as a family."
Garcia sides with "Los Escobares" on the diamond. The back and forth match-up between his family has helped him fuel his competitiveness on the field. Thus giving him the edge on his way to the majors. 
His journey to the majors started in the Escobar Academia de Béisbol (Escobar Baseball Academy). Escobar, who helped the Royals win their second World Series title, recruited Garcia into his academy. Escobar helped Garcia get noticed by his former team.
MORE FROM OUR ESQUINA
Venezuelans Ronald Acuña Jr., Arraez lead All-Stars
Cabrera, Judge among Roberto Clemente Award nominees
Gomez: Changes have made MLB better to watch
Garcia's aggression and skills impressed the Royals. They were the only team to offer him a contract. He signed at 16 years old. Then the Royals sent him to the Dominican Republic to enhance his baseball knowledge. 
"There I learned the fundamentals that prepared me to become a professional player," Garcia said of the Escobar Baseball Academy. "From there in the Dominican Republic they corrected me a lot and year after year I continued getting better."
Garcia has impressed during his rookie campaign. He ranks fourth among rookies in hits (122) and steals (23). He leads the Royals with a .325 OBP. 
Maikel Garcia fits in with top prospects
The Royals are filled with highly-regarded rookies such as MJ Melendez, Nick Lofton, and Angel Zerpa, who were all top 15 prospects just a year ago. Garcia, who was ranked 22nd at the time, has played just as well as the top prospects. 
"Maikel comes to play everyday," Royals manager Matt Quatraro said. "He wants to be out there, he wants to lead off and he wants to play every single game. 
"He is super competitive. I think he is growing in front of our eyes. He's played really well at third base, which is a new position for him. So there have been a ton of positives."
The 6-foot right-handed slugger has endured a few growing pains. He had a stretch where he had one hit in 24 at-bats recently in the month of September. However he was able to work through it with the guidance from Valencia, Venezuela, native, and eight-time All-Star Salvador Perez. 
"I have learned a lot from Salvy," Garcia said. "He has helped me a lot this year in the majors. I always ask him how he stays happy through the good and the bad times. I think he is a great player, a great person, and he has helped me a lot."
The competitiveness Garcia had built up over the years has helped him in the Escobar Baseball Academy in Venezuela, the Dominican League and the minors. Now Garcia is batting leadoff for the Kansas City Royals and staying positive along the way.
Get the Our Esquina Email Newsletter
By submitting your email, you are agreeing to receive additional communications and exclusive content from Our Esquina. You can unsubscribe at any time.