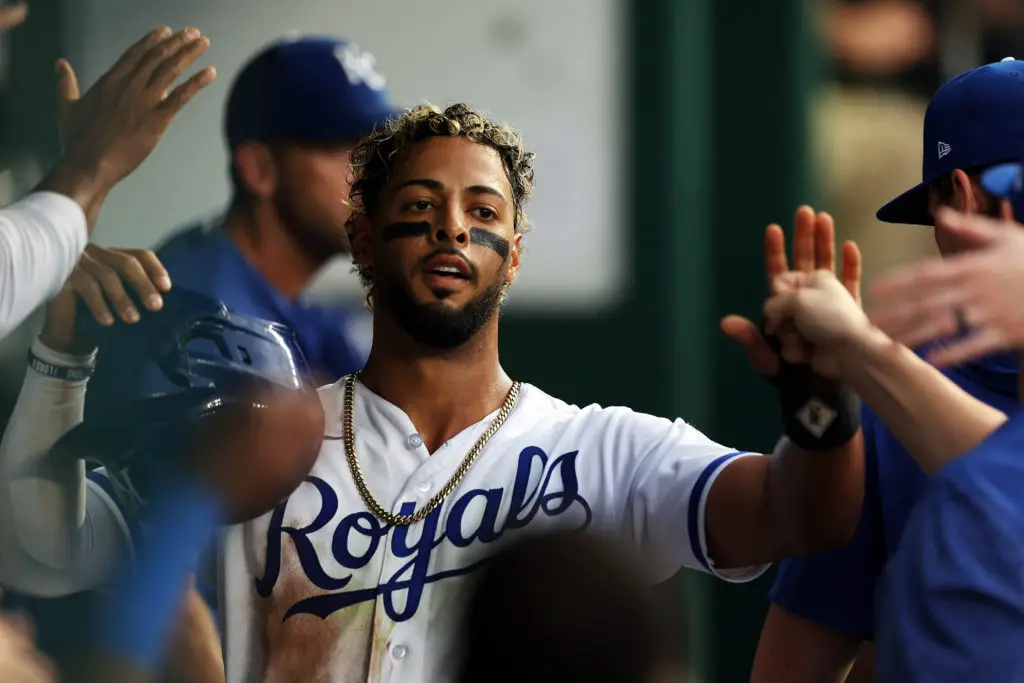 MJ Melendez embraces Puerto Rican roots, dad's lessons
HOUSTON- MJ Melendez has been around the game of baseball for a very long time. Although the baseball world knows him as MJ, the Kansas City Royals' utility man's full name is Mervyl Samuel Melendez Jr.
His foundation for baseball and life was set by his father Mervyl Samuel Melendez Sr., a former Division I head baseball coach. The elder Melendez played third base and was a relief pitcher for Bethune-Cookman University. Melendez Sr. became an assistant coach and later a head coach for three different baseball programs. 
MJ Melendez attended his father's practices growing up. He would watch every drill at practice and learn the reasoning behind it from his father. From 2000 through 2022, the elder Melendez was the head coach at Bethune-Cookman, Alabama State and Florida International.
"It's a huge thing for me," MJ Melendez Jr. said. "I credit all my baseball success to him. Without him I definitely wouldn't be here where I am today."
MJ Melendez almost had the opportunity to be coached by his father at the collegiate level. In 2016, Melendez Jr. committed to play baseball at Florida International University. In 2017, Melendez Sr. landed a head coaching job at FIU's baseball program. After MJ's senior year of high school, the Kansas City Royals selected him in the second round with the 52nd overall pick. 
The 24-year-old was a catcher when the Royals drafted him. Now, he's played four different positions at the big league level.
Versatile MJ Melendez
MJ has played 70 games at right field, 55 in left field, 10 at catcher and one at first base.
The former top prospect is constantly taking fly balls in the outfield before every game. He's always looking to find ways to improve, adjust, and perfect his defense. 
"I just do whatever I can to help the team win," he said. "If that means me being in the outfield or behind the plate, I'm just doing whatever it is I have to do at that point in time."
MORE FROM OUR ESQUINA
Puerto Rico victory soured by Edwin Diaz injury
Eugenio Suarez still gets his kicks with Mariners
Cabrera, Judge among Roberto Clemente Award nominees
The utility man has also made adjustments at the plate. In his last 58 games since the All Star break, MJ is batting .277/.355/.490 with 11 doubles, three triples, nine home runs and 22 RBIs.
"What he's done a lot better now is being able to control his moves," Royals assistant hitting coach Keoni DeRenne said. "If you see a lot of balls that he's hit hard, it's because he's staying grounded and using his legs a lot better."
Helping Puerto Rico
Melendez Sr. and his wife Aixa were born in Puerto Rico. Their son was honored and excited to play for Team Puerto Rico in the 2023 World Baseball Classic. 
Puerto Rico holds a special place in the younger Melendez's heart even though he was born in Daytona Beach, Fla.
In 2017, when Hurricane Maria struck the island, MJ and his father held a baseball camp and helped raise money for the Boys and Girls Clubs in Puerto Rico.
"I want to see how I can impact the island in a positive way," MJ said. "I just want to represent being a Latino and the country of Puerto Rico the best way I can."
Get the Our Esquina Email Newsletter
By submitting your email, you are agreeing to receive additional communications and exclusive content from Our Esquina. You can unsubscribe at any time.