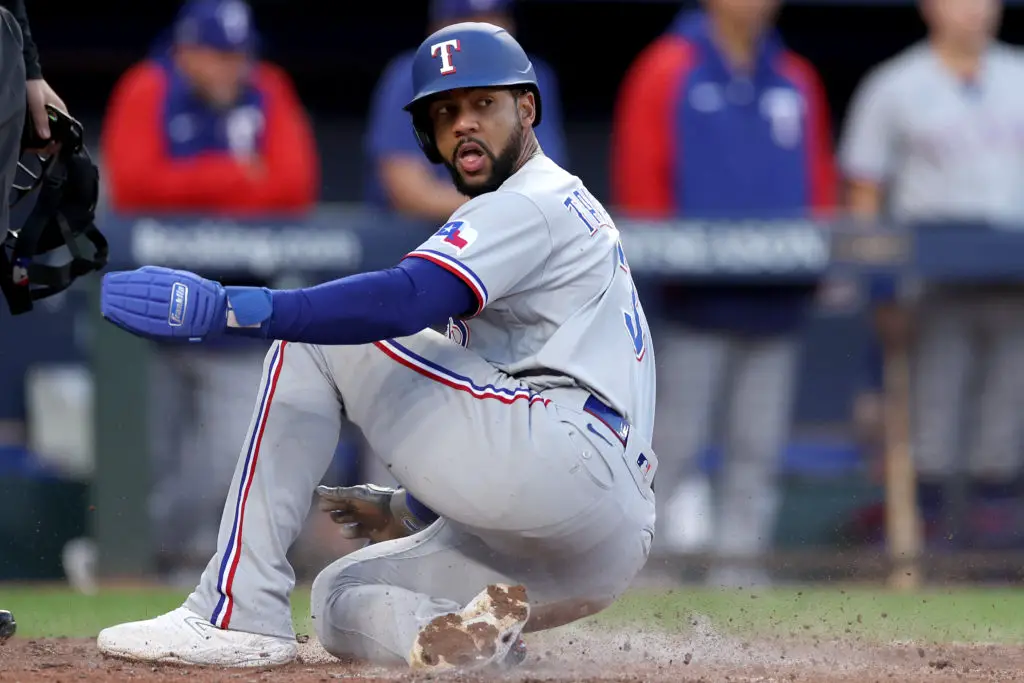 Leody Taveras on other end of Lone Star Series
Leody Taveras was inspired by cousin Willy Taveras during 2005 postseason
HOUSTON – Texas Rangers center fielder Leody Taveras was six years old when he and his family would gather in their hometown of Tenares, Dominican Republic, to cheer for the Houston Astros in the 2005 postseason.
Back then, the entire Taveras family supported the Astros. They cheered as Leody Taveras' older cousin Willy manned center field for the Astros against the Braves, Cardinals and White Sox in the postseason.
Willy Taveras was a rookie in his first postseason in 2005. Eighteen years later, Leody Taveras is in his first postseason with the Rangers. Leody is now facing his cousin's old team in the American League Championship Series, which starts Sunday at Minute Maid Park.
"I'm always talking to (Willy) every single day," Leody said before Game 1 of the ultimate best-of-seven Lone Star Series. "He always helps me. "He's talked to me about how the postseason is going to be and how loud it can get. The experience he has had in the game as well."
Leody Taveras appreciates cousin's advice
The elder Taveras came short of winning a World Series title with both the Astros and Rockies. He was an offensive spark, though.  Willy Taveras finished the 2005 postseason batting . 349 with 15 hits, three doubles, one triple and a .869 OPS.
The 2005 National League Rookie of the Year runner-up was the table setter. Willy set the tone for the guys behind him like Craig Biggio, Jeff Bagwell, Lance Berkman and Morgan Ensberg.
Leody Taveras doesn't bat leadoff for the Rangers. He hits ninth in a dangerous lineup. He has started all five of the Rangers' postseason games this October. Willy Taveras played in 21 postseason games, including two World Series with the Astros and Colorado Rockies.
MORE FROM OUR ESQUINA
Rangers outfielder Leody Taveras follows cousin Willy
Rangers, Astros lead effort for Uvalde Boys & Girls Club
Cabrera, Judge among Roberto Clemente Award nominees
"It's unbelievable for me," Taveras said about the postseason. "It's been an incredible experience. I think that's something every player wants to have and I feel really good."
Leody watched his cousin play on a small television back home in 2005. He was inspired when the Astros defeated the Braves in the Division Series and then the Cardinals in the NLCS to reach the franchise's first World Series. Those Astros were swept in the World Series by the White Sox, though.
Surpassing cousin's postseason numbers
Leody is batting .263 with five hits, one double, three walks, two RBIs and two stolen bases in the postseason. The switch-hitting outfielder has already passed Willy in career postseason RBIs.
All-Star second baseman Marcus Semien leads off. When Texas bats around in the order, it places Semien in a great spot to produce with runners on.
"He's always been a talented bat," Semien said of Taveras. "The experience is helping him get better and better. Overall, it's been a luxury having Leody in the nine hole. 
"I was able to drive in 100 runs from the leadoff spot because of guys like him in the bottom of the order, getting on base, and running the bases really well."
Taveras was starting to hit the ball at an All-Star level at the end of the regular season. Taveras looks to help his ballclub take down the defending champions and head to their first World Series in over 10 years.
Leody finished the month of September hitting .310/.379/.440 with 26 hits, 12 runs, two home runs, nine RBIs and 10 walks. Rangers manager Bruce Bochy loves Taveras's determination and willingness to get better every single day. His speed and athleticism make him a threat on the field and the base path.
"That's how good his numbers were," Bochy said of Taveras. "In September he got it back together, and he's just throwing out good at-bats. He's taking his walks and using the whole field. He's making them (pitchers) throw strikes."
Get the Our Esquina Email Newsletter
By submitting your email, you are agreeing to receive additional communications and exclusive content from Our Esquina. You can unsubscribe at any time.