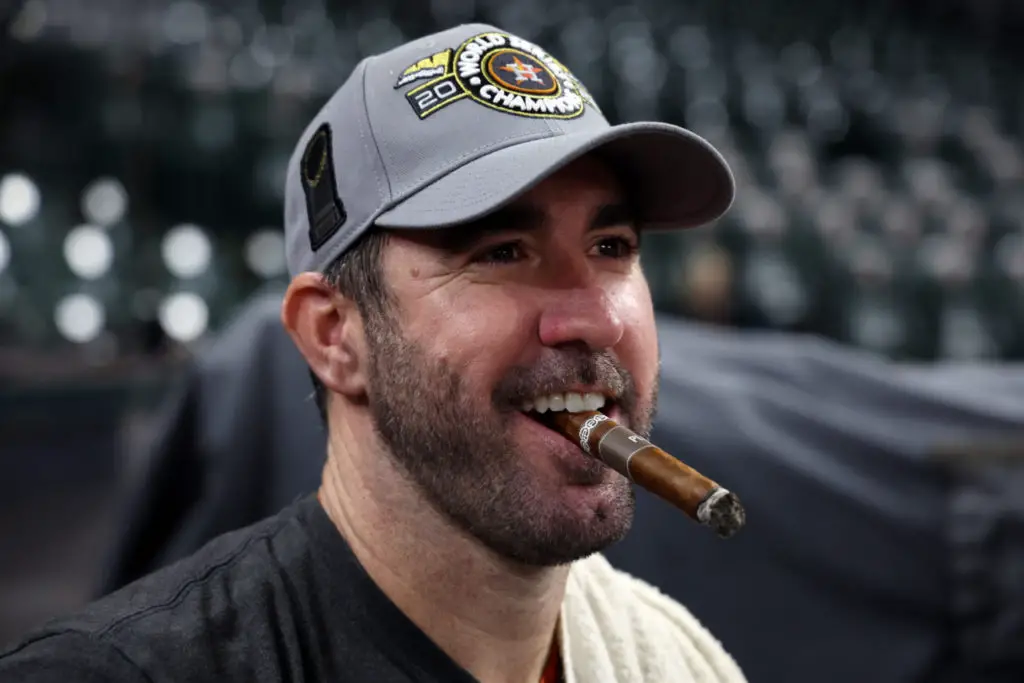 Justin Verlander acquisition gives Astros boost
Astros reacquire three-time Cy Young winner Justin Verlander
HOUSTON – Martin Maldonado could sense that Justin Verlander was open to waiving his no-trade clause with the New York Mets to return to Houston. So the Astros' veteran catcher wasn't too surprised when the three-time Cy Young Award winner sent him a simple text message Tuesday.
"Let's (f-ing) go," Verlander texted Maldonado after the Astros finalized a deal to acquire Verlander from the Mets.
The Astros sent minor-league outfielders Drew Gilbert and Ryan Clifford to the Mets for Verlander and cash on Tuesday ahead of the 5 p.m. (CST) trade deadline. 
'A key piece'
"I think Verlander is a key piece that we were missing to get to where we want to go," Maldonado said in Spanish. "I was happy to get a Hall of Fame player to return to the team. 
"He's a pitcher we're excited to see every fifth day. He's a player we're accustomed to seeing every fifth day on the mound. I think it gives us a bit of satisfaction."
Verlander, 40, was 61-19 with a 2.26 ERA and two Cy Young Awards over parts of six seasons with the Astros after he was acquired at the trade deadline in 2017. He missed the 2021 season recovering from Tommy John surgery after missing most of the COVID-shortened 2020 season.
MORE FROM OUR ESQUINA
Astros ace Framber Valdez no-hits Guardians
Astros catcher Martin Maldonado calls third no-hitter
Baseball, family helped Dana Brown out of humble start
Verlander was a major part of the 2017 and 2022 World Series champions. The Astros entered Tuesday half a game behind the Texas Rangers in the AL West division. 
"Hey, man, we're a half-game out," Astros manager Dusty Baker said before Framber Valdez threw a no-hitter in a 2-0 victory over the Guardians on Tuesday night. "I like our chances.
"There's some teams in our division that are improving. There are some teams that are going to make it tough on you down the stretch."
Bolstering injury ravaged rotation
Verlander fortifies a starting rotation that has been decimated by injuries. A third of the rotation that was expected to start the season has been out most of the year. 
Righthander Lance McCullers Jr., never threw a pitch before he was shut down for the season. Righthander Luis Garcia was limited to six starts before going on the injured list. He eventually underwent season-ending Tommy John surgery.
Righthander Jose Urquidy is expected back from the Injured List this week. He has been limited to six starts because of a right shoulder injury.
Astros general manager Dana Brown insisted that he was focused on adding a reliever until Verlander went on the market. Once the Rangers acquired three-time Cy Young winner Max Scherzer from the Mets, the Astros began their pursuit of Verlander.
The Astros were intrigued after seeing that the Mets picked up a significant portion of Scherzer's contract. They sought similar contract relief in Verlander's deal.
Cash key for Astros
"There was a lot of money on the table," Astros owner Jim Crane said. "I think Dana came running into my office when Scherzer was traded and what was reported on what they had given up. We started penciling that, and it made sense to make the call. So I don't think anybody has seen anything like this."
Verlander left the Astros via free agency this winter. The 2022 American League Cy Young Award winner signed a $86.6 million deal with a $35 million vesting club option for 2025. Mets owner Steve Cohen may pick up almost $54 million of Verlander's deal if the 2025 option vests. 
"It's an unprecedented amount of money that they left on the table," Crane said. "We filled the gap. I could see why Mr. Cohen probably thought it made sense. If he was going to go, he was going to go all in."
The Verlander trade sent a charge through the Astros' clubhouse hours before Valdez threw his no-hitter over the Guardians. 
"That's something good to have a legend on your team who supports you and helps you improve," Valdez said of Verlander. "It's good to have people like that on your side." 
Third baseman Alex Bregman and his teammates were fired up by the news. 
"I feel like my body even feels like brand new," Bregman said. "I feel like it's definitely going to provide a huge boost."
Get the Our Esquina Email Newsletter
By submitting your email, you are agreeing to receive additional communications and exclusive content from Our Esquina. You can unsubscribe at any time.