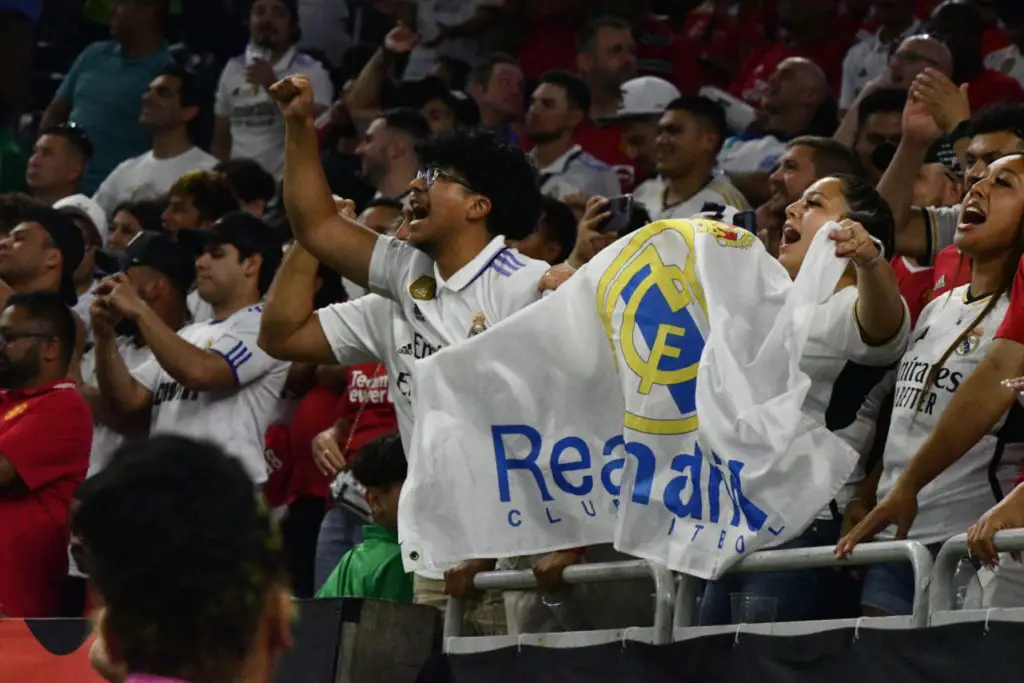 Joselu's magic caps Real Madrid win over Man U
Real Madrid, Manchester United create electric atmosphere
HOUSTON – It was only a friendly match for two of Europe's top soccer clubs. You couldn't tell, however, by the roar of the crowd after Real Madrid forward Joselu delivered a magical golazo Wednesday night at NRG Stadium.
Joselu's brilliant bicycle kick in the 89th minute capped the scoring as Spain's Real Madrid beat Manchester United 2-0. The raucous crowd of 67,801 appeared evenly split, but Real Madrid gave its fans more to celebrate. 
The famous "¡Hala Madrid! …y nada más" chants engulfed the home of the Houston Texans often. That chant translates to "Go Madrid, and nothing more."
Real Madrid draws a crowd
On a night the defending World Series champion Astros played their Lone Star State rivals a short drive away, a larger crowd watched the two European giants at NRG. Fans from all over Texas and parts of Mexico descended on NRG Stadium.
It was extraordinary for Houstonians and fans from all over the world to have their treasured clubs in the United States.
The second year of the Soccer Champions Tour brought six elite teams to the United States once again. FC Barcelona, Real Madrid, Juventus, Arsenal, Manchester United and AC Milan are showcasing their bright stars in a quartet of preseason games for each club.
MORE FROM OUR ESQUINA:
Sofia Huerta follows dad's example to Women's World Cup
Inter Miami fans give Lionel Messi legendary welcome
Champ Tigres bring 'Clásico Regio' to Houston
Real Madrid fan Ernesto Vergara rode on a six-hour bus ride from Laredo, Texas, to witness the match. He was ecstatic to see his favorite club in person.
"It's actually very important," Vergara said. "It brings Real Madrid and Manchester United to us, the American fans and people from other countries who cannot go to Europe."
NRG Stadium was filled with an even mixture of red Manchester United jerseys and white Real Madrid jerseys. The Spanish club left Real Madrid fanatics jubilant as they took a 2-0 victory against one of England's most historic clubs.
Fast start
Fresh off a six-year contract with Real Madrid, Jude Bellingham had his new club celebrating early. A volley by Toni Kroos to Bellingham had the goalkeeper fooled. The England native chipped the keeper to open up the scoring in the sixth minute. 
The 20-year-old Englishman scored his first goal with Madrid after a successful run with Germany's Borussia Dortmund, where he scored 24 goals in 132 caps.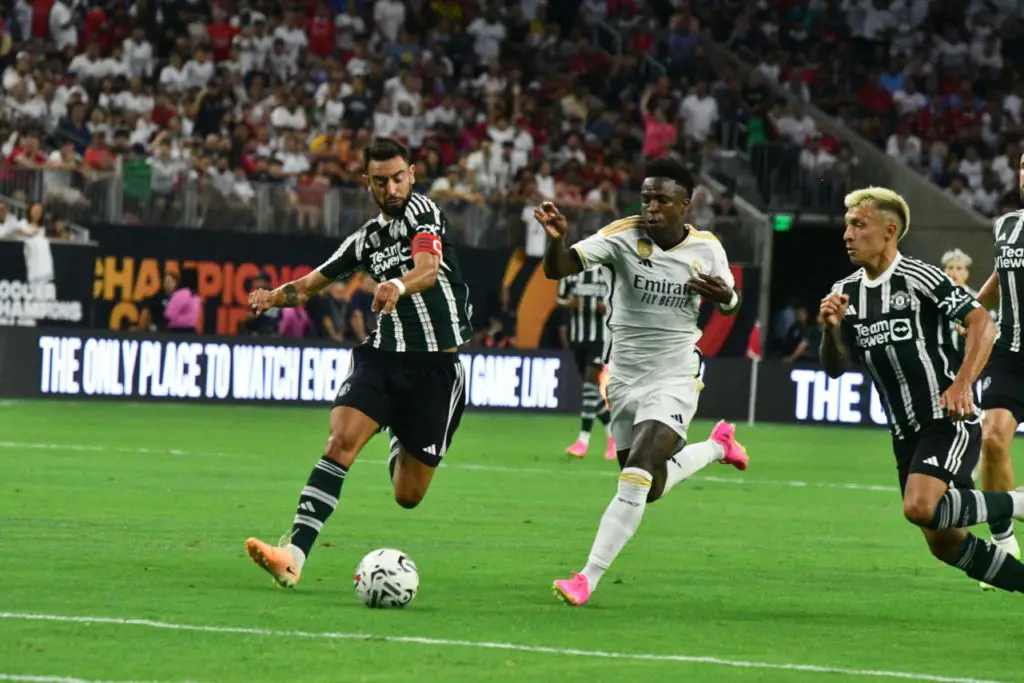 "I felt confident from the start," Bellingham said. "My teammates are always trying to get me involved in the game early, and it's just a joy to play with them."
It was a back-and-forth affair between the two powerhouses for most of the night. The biggest highlight was the majestic bicycle kick in the 89th minute by Jose Luis Mato Sanmartin, commonly known as Joselu. 
Golazo
Joselu hadn't played with Real Madrid since 2012. He returned to Los Blancos on loan from relegated Espanyol FC. After missing a header earlier in the game, the Spaniard gave the fans something to cheer about. 
Lucas Vazquez's cross set up Joselu. He turned and performed one of the most difficult soccer kicks: the bicycle kick. Joselu left Manchester United goalkeeper Andre Onana stunned as he didn't attempt to block the shot.
"I was a little bothered after missing the header in the beginning," Joselu said after his epic goal. "It's not the first time I tried it. This time it came out well. I'm happy for the goal and the win."
The Soccer Champions Tour will feature El Clasico between Spain La Liga powerhouses FC Barcelona and Real Madrid at AT&T Stadium in Dallas on Saturday.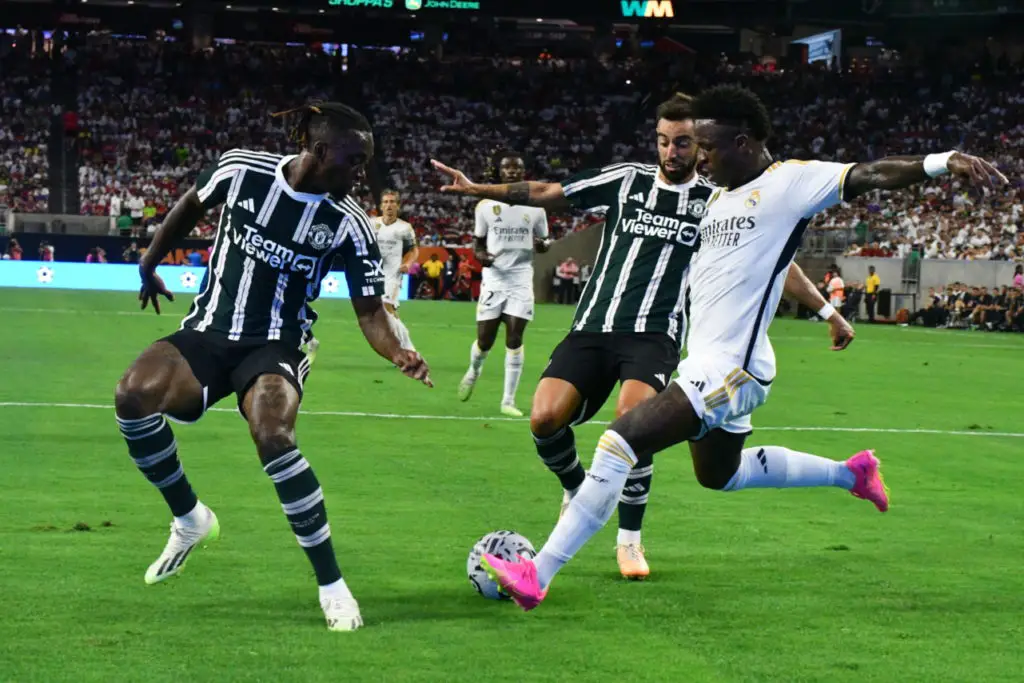 That match will be only the third El Clasico ever played in the United States. Barcelona won the previous two matchups.
With two more matches remaining on the tour, both clubs are receiving a glimpse of what their seasons hold. The Soccer Champions Tour brings the best European teams to share the pitch while rallying fans from all over to cheer for their dream teams. 
Get the Our Esquina Email Newsletter
By submitting your email, you are agreeing to receive additional communications and exclusive content from Our Esquina. You can unsubscribe at any time.