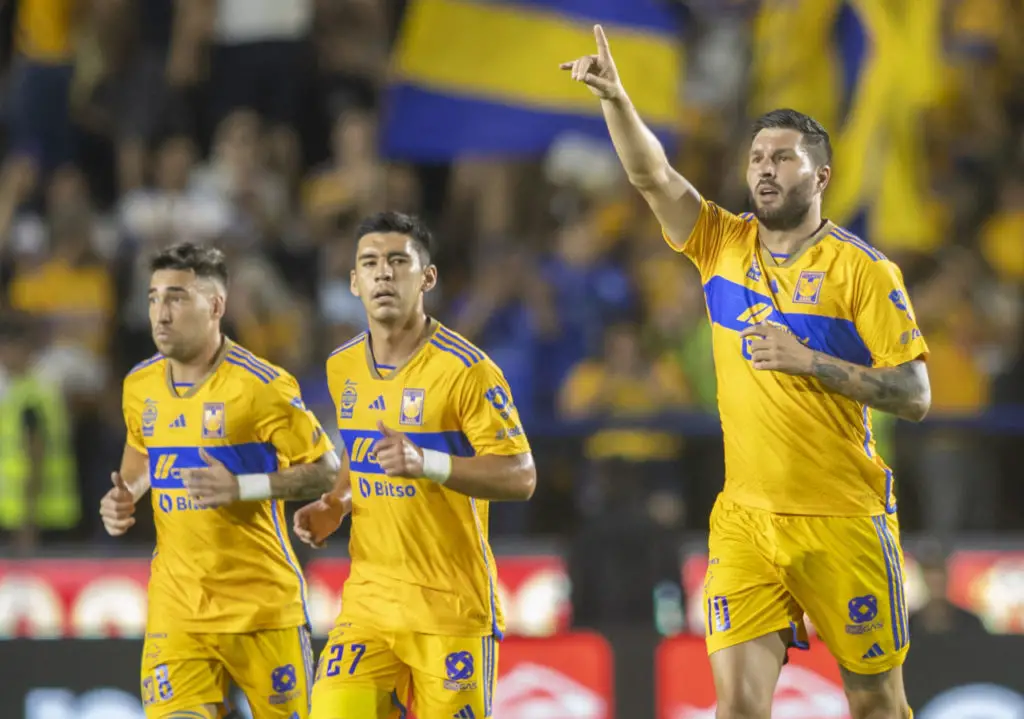 Champ Tigres bring 'Clásico Regio' to Houston
Tigres will face heated Monterrey rival Rayados in Houston
One of the biggest soccer rivalries in North America is heading to Houston, adding another major international match to the Bayou City's impressive soccer calendar. Reigning Liga MX champion Club Tigres will face bitter Monterrey rival Rayados at Shell Energy Stadium on Oct. 14. 
Considering Monterrey's proximity to Texas, it shouldn't be a surprise that Tigres and Rayados have large fan bases in Texas. Eight-time Liga MX champion Tigres and Rayados are arguably the two most popular soccer teams in Houston.
The Bayou City is home to a large segment of immigrants from Monterrey and the state of Nuevo Leon, where they love El Clásico Regio.
Tigres returns to Houston
The Regio Classic in Houston was going to be announced by Primetime Sports on Tuesday during a press conference at Shell Energy Park. The rivals have faced each other in the United States twice, including once at the University of Houston's Robertson Stadium.
This will be the first time they meet in a stand-alone match, though. Primetime Sports also is promoting the major international friendly between European giants Manchester United and Real Madrid on July 26 at NRG Stadium. 
Real Madrid and Manchester United are two of the most valuable brands in sports. In 2010, Manchester United anchored the MLS All-Star Game at NRG Stadium, drawing the largest crowd in the history of the MLS All-Star Game.
MORE FROM Our Esquina:
Diversity, Mexico ties help Houston 2026 World Cup bid
MexTourW: Mexico, Dash show Latinas potential
The Marketing Jersey is an immigrant's triumph
The 2010 MLS All-Star Game was cited as an example when Houston submitted a bid to host 2026 World Cup Games. FIFA picked Houston as one of the host cities for the 2026 World Cup in the United States, Mexico and Canada. 
The home of MLS' Dynamo FC and the National Women's Soccer League's Dash has been the site of several important international matches this year.
Tigres, Rayados add to Houston's busy soccer calendar
Earlier this year, the Mexican Soccer Federation picked Houston as one of two cities for the Mexican women's national team's inaugural MexTourW. With three Dash players suiting up for El Tri, Mexico beat the Dash at Shell Energy Stadium.
Houston was also the only city awarded Gold Cup matches in multiple stadiums this year. Eventual champion Mexico drew a near-sellout crowd at NRG Stadium for its Gold Cup opener against Honduras last month. 
The Dynamo will kick off Leagues Cup next Tuesday at Shell Stadium at home against Mexico's Santos Laguna. A day later, Real Madrid and Manchester United will draw their fans to NRG Stadium.
For a large segment of Houston's diverse soccer fan base, though, the most popular match will be Tigres against Rayados.
Get the Our Esquina Email Newsletter
By submitting your email, you are agreeing to receive additional communications and exclusive content from Our Esquina. You can unsubscribe at any time.