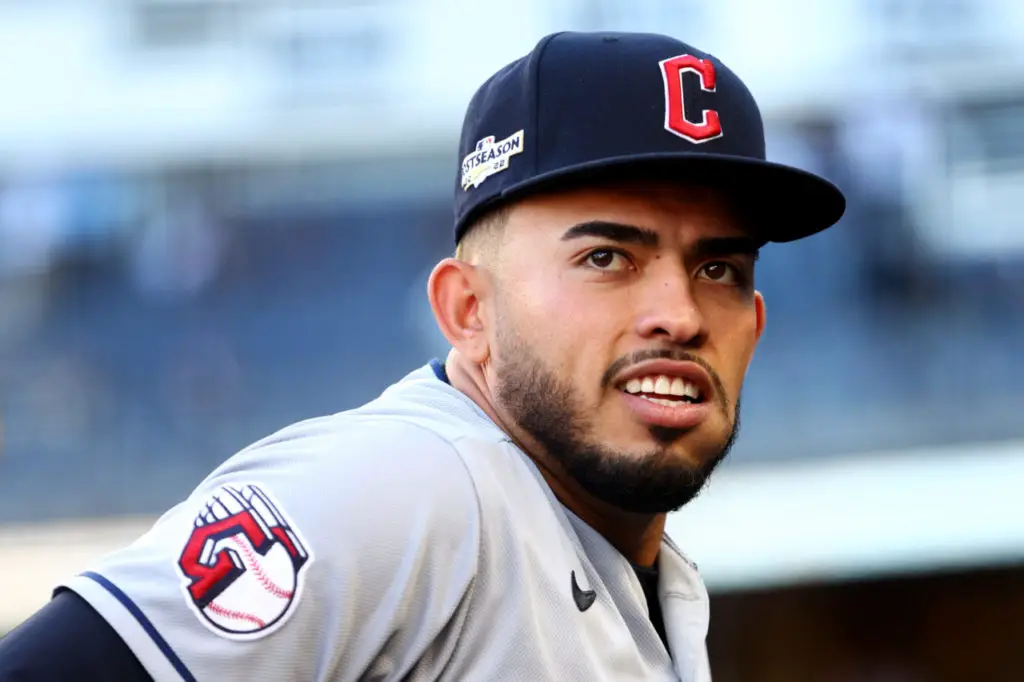 Guardians' Gabriel Arias paints picture of gratitude
Gabriel Arias hopes to settle in as Guardians' shortstop
HOUSTON – Gabriel Arias' tattoos serve as a tribute to the people who have made his baseball journey possible. The names of his parents, siblings and grandparents are imprinted on his left arm. 
Arias, 23, also has tattoos of scriptures that resonate with him on his body. 
The young Cleveland Guardians infielder's left forearm has the name of his grandfather Nicolas tattooed on his left forearm. The tattoo honors the role his grandfather played throughout his life in La Victoria, Venezuela. He was the person who helped shape Arias into the man and baseball player he is today.
The 6-foot-1 utility player was raised by his grandparents Nicolas and Denisia. Gabriel Arias is adamant his grandparents' care gave him the ability to stay true to his path to the majors and not wander off his journey.
"My grandmother and grandfather were the key," Arias said in Spanish. "They raised me. I lived with them since I was a child. Unfortunately they are no longer here. I am grateful to them for all they've done for me." 
Wise grandparents
Although his grandparents aren't with him physically, Arias keeps their wisdom in mind. His gratitude to them and remembrance for them are permanently attached to him just like his tattoos. 
MLB has an array of talented Venezuelan baseball players. However, Arias is only the second player from La Victoria, Venezuela, to play in the major leagues, joining Carlos Sanabria. Sanabria only pitched in two games with the Astros in 2020.
MORE FROM OUR ESQUINA:
Our Forgotten Latino Héroes: Bobby Avila
Guardians' Andres Gimenez among AL best
Astros ace Framber Valdez no-hits Guardians
Signed as a 16-year-old, Arias was the eighth ranked prospect in San Diego's farm system before he was traded to Cleveland in 2020. The Guardians acquired Arias at the 2020 trade deadline in a nine-player trade that sent Mike Clevinger and Greg Allen to the Padres.
The Guardians received Austin Hedges, Josh Naylor, Arias and two other players.  Three years later, Arias is trying to prove that he is ready to be Cleveland's everyday shortstop. 
Cleveland traded Amed Rosario to the Dodgers for Noah Syndergaard on July 26. Since then, Arias has played shortstop for the Guardians, stringing together nine hits. He had the first three-hit game of his career on July 31 against the defending World Series champion Houston Astros.
Arias was also one of only two Guardians to get to a three-ball count Tuesday night against Framber Valdez during the Astros ace's no-hitter. Although things haven't gone well at the plate for Arias, he is determined to make the most of this opportunity. He is batting .209 with four home runs and eight runs batted in. 
Gabriel Arias has All-Star mentors
While trying to get on the right track offensively, there is no better person to consult with than five-time All-Star and four-time Silver Slugger Award winner Jose Ramirez. Arias is learning to enhance his skills from two key Guardians players, Ramirez and All-Star Andres Gimenez. 
Gimenez, a Gold Glove winner and an All-Star in 2022, has worked with Arias on defensive fundamentals. 
"Ramirez has helped me with hitting," Arias explained. "He's told me to study the pitcher and to pay attention to what percentage he throws breaking stuff.  Gimenez helps with defense. He's an incredible defender, and I try to study him closely."
The Grateful Arias is confident he can turn his bad fortune at the plate to good fortune. Guardians manager Terry Francona is optimistic that Arias is the part of the Guardians' future. Arias may feel added pressure to produce since Rosario's departure. Francona wants Arias to just try to be himself. 
"He doesn't have to be Amed," Francona said. "He just has to be Gabriel Arias. We think he is a really gifted defender. We feel there is a good hitter there. He hasn't really shown it yet or shown it consistently. That doesn't mean he is not going to show it. I think we are hopeful that now with some playing time that player can come out."
Arias is not letting his slow start to his career derail him. He understands that as a young player his job is to learn and grow.
"I am grateful for the opportunities they have given me," Arias stated. "Now it's time to take advantage of it."
Get the Our Esquina Email Newsletter
By submitting your email, you are agreeing to receive additional communications and exclusive content from Our Esquina. You can unsubscribe at any time.