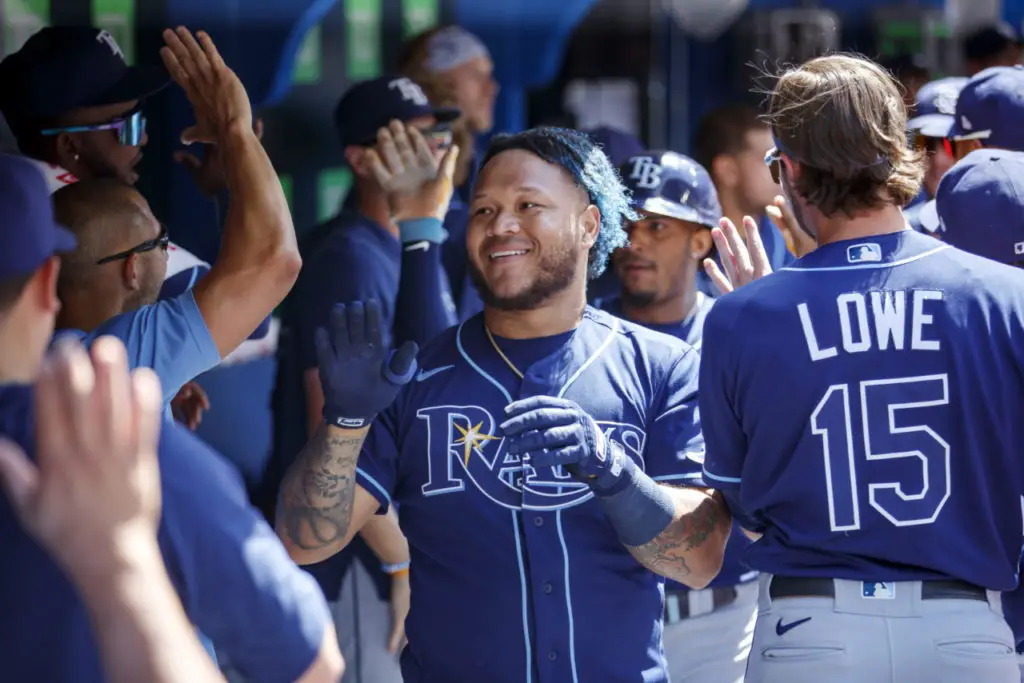 Family, baseball go together for Harold Ramirez
Harold Ramirez dyes his hair blue in honor of autistic son
HOUSTON – Harold Ramirez was three years old when he first joined his mother Celina at the ballpark for her softball practices. After she was done practicing, Celina would field grounders at third base while he practiced his hitting.
Those batting practice sessions in Cartagena, Colombia, served two purposes. Those trips to the baseball field helped him develop a love of baseball. The exercise also helped the rambunctious toddler burn some excess energy.
"My mom just brought me there because I have too much energy," Harold Ramirez said. "So I had to do something to burn that energy. But looking back, I feel really good because she showed me how to play softball and baseball."
Harold Ramirez hopes to ascend further
Celina's inspiration and guidance paved the way for her son to play Major League Baseball. Harold Ramirez, 28, serves as an outfielder, first baseman and designated hitter for the Tampa Bay Rays. He has posted career-high numbers in many categories last season. Now in his second season with the Rays, he looks to improve those numbers.
The Cartagena, Colombia, native is currently hitting .284/.333/.437 with a 117 wRC+ and a 115 OPS+.
Ramirez doesn't just bring his energy onto the field. He also brings his fun personality inside the clubhouse.
More from Our Esquina:
Jose Abreu spreads mental health awareness
Alex Bregman lives out Jackie Robinson legacy
Patriots pick Christian Gonzalez honors Colombia
"He's probably one of those glue guys that rallies everybody around," Rays manager Kevin Cash said of Ramirez. "As a player, we couldn't ask for a guy that's gonna come up on a daily basis and give us good at-bats, whether he's in the lineup or coming off the bench with a guy in scoring position."
El Pri is always smiling and laughing with his teammates, signing autographs for fans, or talking to the opposing players with his blue curly hair.
Raising autism awareness 
Ramirez's oldest son, Elian, was diagnosed with autism at two-years-old. After hearing the diagnosis, Harold dyed his hair blue to comfort and support Elian. The color blue promotes autism awareness and is associated with a calm feeling and acceptance, according to The Place for Children with Autism.
With the platform Ramirez holds, he believes it's important to educate the audience and raise awareness about the disability.
"Yes, it's very important for me, for my family and for my son, because I want everyone to know about autism," he said.
A lot of athletes promote and raise awareness on different topics from a commercial you see on television to players customizing their cleats. Ramirez, on the other hand, shows his support in a different way.
Like his mother back in Colombia, Harold Ramirez keeps family close at the ballpark.
Get the Our Esquina Email Newsletter
By submitting your email, you are agreeing to receive additional communications and exclusive content from Our Esquina. You can unsubscribe at any time.