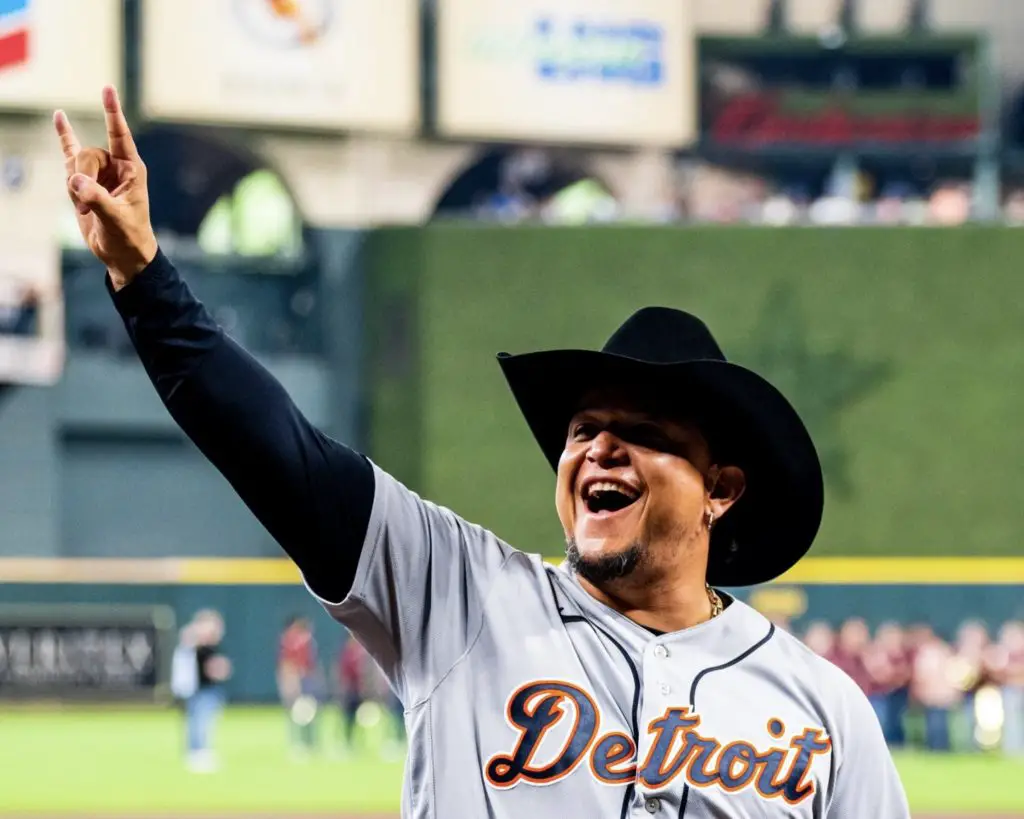 Astros tip Cowboy hat to legend Miguel Cabrera
Miguel Cabrera makes goodbye tour stop in Houston
HOUSTON – As if to cap the pregame ceremony honoring Miguel Cabrera, a pair of legends stepped in for a group portrait Wednesday afternoon. Hall of Famers Craig Biggio and Reggie Jackson served as bookends with Cabrera in the middle of Jose Altuve, Dusty Baker, Omar Lopez and Luis Garcia.
It was fitting for Biggio and Jackson to join the portrait, considering Cabrera will likely join them one day among the baseball immortals inducted into the Baseball Hall of Fame in Cooperstown, N.Y.
First, however, Cabrera must wait five years after he retires, as expected, after the 2023 season. The Astros showered Cabrera with gifts before the last regular season game of his career at Minute Maid Park.
"I'm grateful for that great gesture they made today," Cabrera said in Spanish. "It was very emotional."
Cabrera, 39, announced that this will be the last season of his career. Officials from Lakeland, Fla., the spring home of the Detroit Tigers, honored him last month at the end of the Grapefruit League. The ceremonies will continue throughout the season each time he makes his last visit to a big league park.
Lots of wine
Baker presented the two-time American League MVP with a wine bottle from Baker Family Wines vineyard. Cabrera received a "Hammrin Hank Cabernet Sauvignon, which was named in honor of Baker's mentor, the former all-time home run king Henry Aaron.
Baker also gave Cabrera a cigar and one of his signature wristbands with Baker's likeness on it. Lopez, who managed Cabrera and Team Venezuela in the recent World Baseball Classic, presented the last Triple Crown winner with a black, felt Cowboy hat.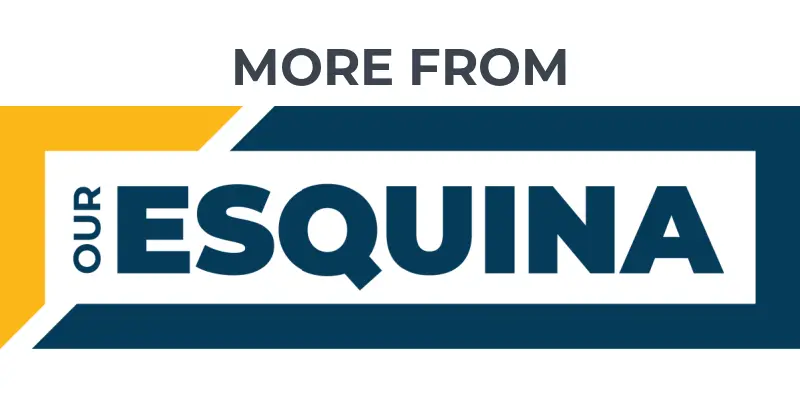 NCAA run amplified San Diego State mission
Cantu: Yordan Alvarez is a talent worth admiring
Gomez: Changes have made MLB better to watch
"He's our legend," Lopez said of Cabrera. "Hopefully he's going to be our second Hall of Famer. Miggy is everything. What he has done for our country, for baseball, is such a great accomplishment. 
"I think Miggy is going to leave a legacy that not everybody is capable to do. He's a guy that loves this game so much. He loves his country. I wish him the best of luck in the next chapter."
Luis Aparicio is the only Venezuelan in the Baseball Hall of Fame. He'll have Venezuelan company in Cooperstown in six years. Cabrera leads Venezuelan big leaguers in hits (3,090), doubles (608), home runs (507) and RBIs (1,848).
Mr. October raves about Miguel Cabrera
"He mastered his craft," Jackson said of Cabrera. "To me he's recognized as a great Hall of Famer … and a guy that respects the game and played the game in respect of its history. So when I see him, it's always a wonderful union."
Cabrera smiled widely as he took off his Tigers cap and donned the Cowboy hat. He tipped the hat to the fans after the ceremony. Albert Pujols, Aaron and Cabrera are the only players in baseball history with 500 home runs, 600 doubles and 3,000 hits in his career.
He is only the seventh player in baseball history with at least 3,000 hits and 500 home runs. 
Altuve and Garcia presented Cabrera with a large limited edition bottle of Sire Spirits Le Chemin De Roi that was signed by the members of the 2023 Astros. Miguel Cabrera will also receive an Astros jersey signed by all of the Astros' roster and coaching staff.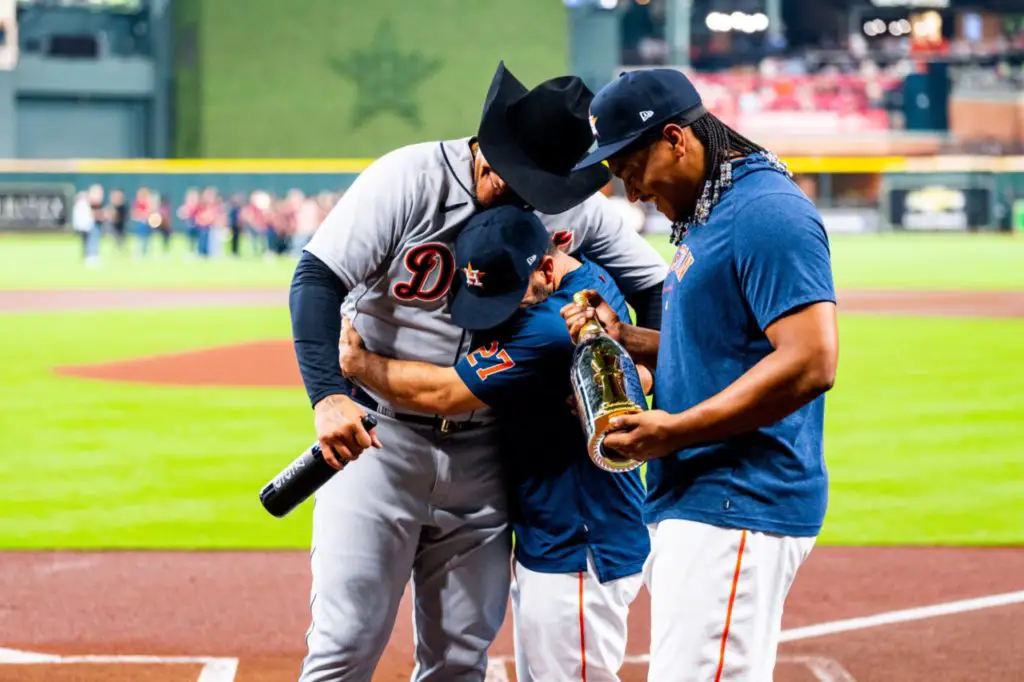 In 2012, Cabrera won the Triple Crown by leading the American League in home runs, batting average and RBIs. It was the first Triple Crown in baseball since Carl Yastrzemski had one in 1967 for the Boston Red Sox. 
"He's comparable to one of the all-timers for me, (a) Triple Crown (winner)," Jackson said of Cabrera. "So when you talk Triple Crown, you talk about Ted Williams, Stan the Man (Musial), guys like Henry Aaron, Frank Robinson. 
"You talk great hitter, which he was absolutely he was. I think he hit as high .350 a couple of years and never got a leg-hit. He didn't get any beat-outs, beat out a ground ball or beat out a slow-hopper."
Featured art courtesy of Houston Astros.
Get the Our Esquina Email Newsletter
By submitting your email, you are agreeing to receive additional communications and exclusive content from Our Esquina. You can unsubscribe at any time.