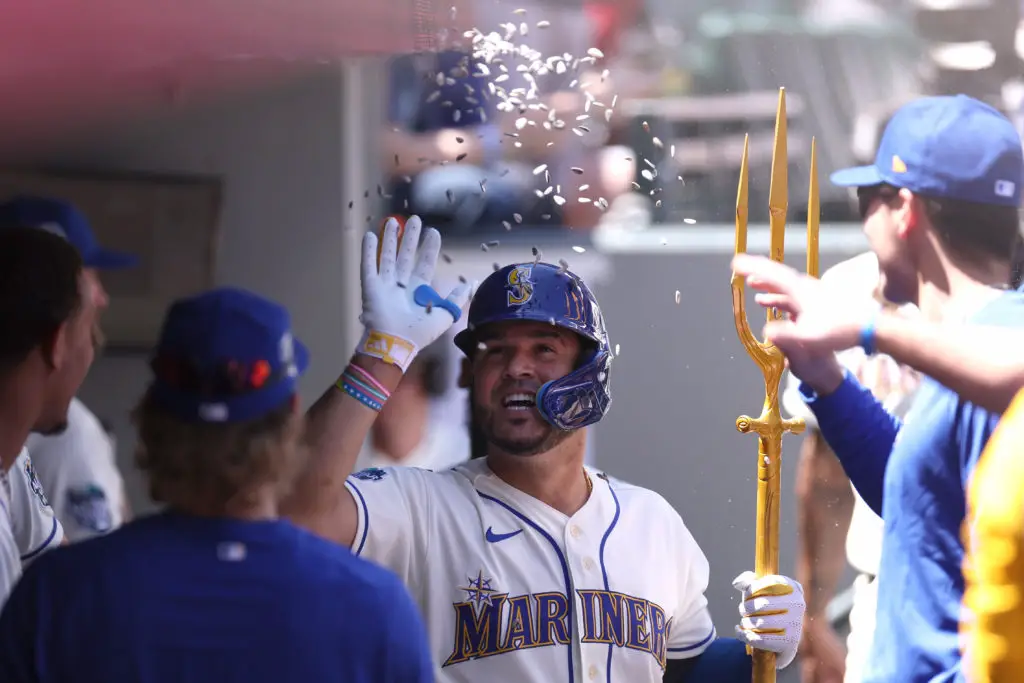 Eugenio Suarez still gets his kicks with Mariners
Eugenio Suarez is credited for his excellent defense and clubhouse presence
HOUSTON- Eugenio Suarez was a multi-sport athlete growing up in Venezuela. However, the Seattle Mariners' third baseman had his eyes set on only two sports: soccer and baseball.
Like most kids in his South American country, Suarez ultimately picked the diamond.
"I realized when I was around 14-15 years old I wanted to be a baseball player instead of a soccer player," he said. "I felt like I had a better chance to play baseball."
That's not to say he is over his love of soccer. During batting practice or at home with his family, you can see him mastering his soccer skills with a baseball. Eugenio Suarez enjoys kicking a soccer ball with his two daughters.
Eugenio Suarez benefited from father's lessons
Suarez sensed early on that he had a really good chance of showing off his baseball skills on the biggest stages. The Puerto Ordaz, Venezuela, native was introduced to the game by his father Alejandro Suarez. 
Alejandro took a 6-year-old Eugenio to different baseball fields near his house. Like many fathers, he would toss Eugenio some ground balls and throw batting practice to him. Those practice sessions have paid off.
MORE FROM OUR ESQUINA
Seattle Mariners 3B Coach Manny Acta's ImpACTA Kids a Source of Pride
Mariners reliever Andres Muñoz benefits from brothers
Astros coach Omar Lopez fulfills World Series promise
Suarez leads American League third baseman in fielding percentage (.982) this season. He has committed only five errors and is tied for second with six outs above average.
Suarez is hitting .231/.324/.384 with 17 home runs, 75 RBIs and carries a .708 OPS.  Baseball players have different ways of expressing themselves after hitting a home run. One way could be just letting go of the bat. Another way could be tossing the bat in the air with a bat flip.
Suarez has a unique way of showing his appreciation of his home runs. After Geno smashes a home run, he rounds the bases by pretending to have binoculars, as if to look for the ball in the stands.
Mariners bullpen coach Fleming Baez "told me, 'We have to do something every time you hit a home run,'" Suarez says. "Next thing you know, everybody started to do it. After that, I felt like everybody liked it. 
"I started to do it more every time I hit a home run, and I enjoy doing it because everyone in the stands likes it."
Team Venezuela anchor
Astros first base coach Omar Lopez managed Suarez with Team Venezuela in the 2023 World Baseball Classic. Venezuela won its respective pool play and took down the Dominican Republic and Puerto Rico.
Suarez played a huge role building Venezuela's electric chemistry in the WBC.
"He has one of the best attitudes in the game," Lopez said. "It's hard to see Suarez upset, like frustrated to go 0-for-4 in one night. He's the type of guy that takes every single game in the same way. He wants to win and that's the best attitude and work ethic any player can have."
Bolibomba Suarez can have a night where he's a hitting machine or he can strike out three or more times.  Suarez just appreciates being on the field and enjoying every single moment, just like back home in Venezuela.
"It doesn't matter the situation, or if you're struggling, or not doing good," he said. "This game is about enjoyment, and that's what I do everyday.
"My best of Eugenio Suarez is when I have a good attitude and I enjoy this game a lot."
Get the Our Esquina Email Newsletter
By submitting your email, you are agreeing to receive additional communications and exclusive content from Our Esquina. You can unsubscribe at any time.