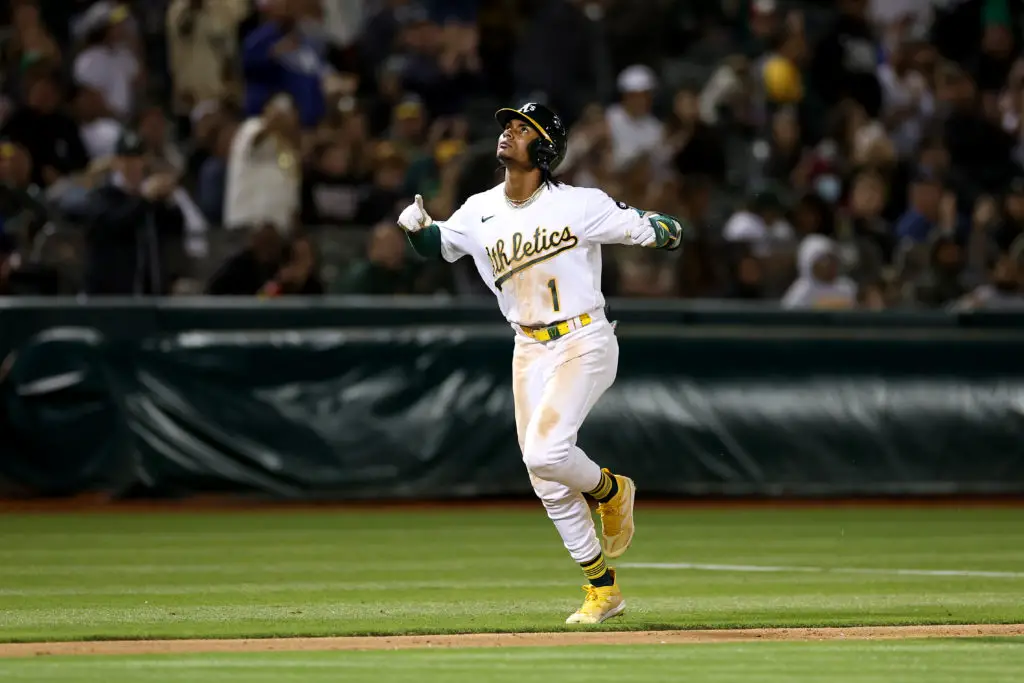 A's rookie Esteury Ruiz steals way to history
Esteury Ruiz credits Rickey Henderson with guiding him
HOUSTON – Since he was nine years old in Azua, Dominican Republic, Esteury Ruiz has been learning about the game of baseball. The Oakland A's young speedster was intrigued after he saw a few classmates playing baseball in his community when he was in the fifth grade.
He joined them, fell in love with the game and never stopped playing.
Ruiz learned the basic fundamentals and the rules of the game while playing pick-up games in his neighborhood. Now the 6-foot center fielder has taken his talents from a public park in a small town to enormous stadiums in the majors leagues. 
Ruiz, 24, has accomplished what many dream to attain, playing in the majors. Although Ruiz has made it, he hasn't stopped learning and boosting his skills.
Learning from Rickey Henderson
Ruiz has been a student of the game since he started playing as a child. Nonetheless, his notable mentors are Alexi Casilla in the Dominican Winter League and Oakland A's legend and Hall of Famer Rickey Henderson. 
Bearing the A's uniform comes with a rich history of three World Series titles, great pitchers like Catfish Hunter and the stolen base record holder in Henderson. Having the 1990 MVP a phone call away has been ideal for Ruiz's game. 
"I spoke to him a while back and he gave a few tips that I have been putting into practice," Ruiz said about Henderson. "He told me to be aggressive and other things I really can't say because the pitchers might see and catch on." 
More from Our Esquina:
A's rookie Jordan Diaz paints picture of success
Elias Diaz delivers unlikely All-Star Game MVP magic
Eugenio Suarez still gets his kicks with Mariners
Apart from his speed, Ruiz is adamant that a crucial part of his demeanor on the base path is being fearless. Fearlessness, aggressiveness and Henderson's recommendations have all helped Ruiz achieve history. 
Ruiz's 58 stolen bases are the most by an Oakland A's rookie, surpassing Henderson's 33 steals as a rookie. The speedy center fielder ranks second in American League history in stolen bases by a rookie. Ruiz trails only Kenny Lofton (66) for most stolen bases in history by an AL rookie.
Esteury Ruiz competes with Ronald Acuña Jr.
Before Ruiz suffered a shoulder injury on July 5, he and Atlanta Braves star Ronald Acuña Jr. were jousting for the majors' stolen base lead. The setback put Ruiz second best in the major leagues. 
The success that Ruiz has exhibited can be traced back to when he played in the Dominican Winter League for the Toros del Este. He's played for the Toros for three seasons dating back to the 2018-2019 season. That's where he met Casilla, who had a nine-year career with the Twins and Orioles along with a 12-year career in the Dominican Republic.
Ruiz recollects learning and watching veterans such as Casilla and Robinson Cano in the winter. He would observe how they would prepare pregame and have conversations pertaining to baseball. 
"Playing with the Toros del Este in the Dominican Republic Winter Leagues has helped me a lot," Ruiz said in Spanish. "Having conversations with various veterans and observing the way they would prepare and play the game was important for me."
Bright spot in Oakland
The Dominican veterans' advice has helped Ruiz contribute mightily to the Oakland Athletics. While the A's are on pace to lose more than 100 games, Ruiz has been one of the few bright spots this season. His .249 batting average ranks first among qualified Oakland hitters. He's registered the most hits (103) of the club and the most doubles (23). 
A's manager Mark Kotsay has noted the level of exhilaration Oakland has for Ruiz. However he does explain, like most rookies, Ruiz still has a lot to refine. 
"I think from the start of the season to the injury, he has a skill and a tool in this game that brings a lot of excitement in terms of stealing bases," Kotsay said. "As a hitter he is still maturing and making adjustments. 
"He has the ability to hit the ball at 110 mph. Since the injury coming back he maybe hasn't found his swing. Yet he is still getting on base a lot and impacting the game."
According to Fangraphs, Ruiz is projected to steal 67 stolen bases, which would help him break the AL rookie record that Lofton set. It's surely attainable. Ruiz's goal for the end of the year is to steal as many bases as possible and finish the year better than he started. His long term is being healthy and helping his team win. 
By being a constant learner, Ruiz has a chance to steal more bases and make a greater impact for his team. 
Get the Our Esquina Email Newsletter
By submitting your email, you are agreeing to receive additional communications and exclusive content from Our Esquina. You can unsubscribe at any time.