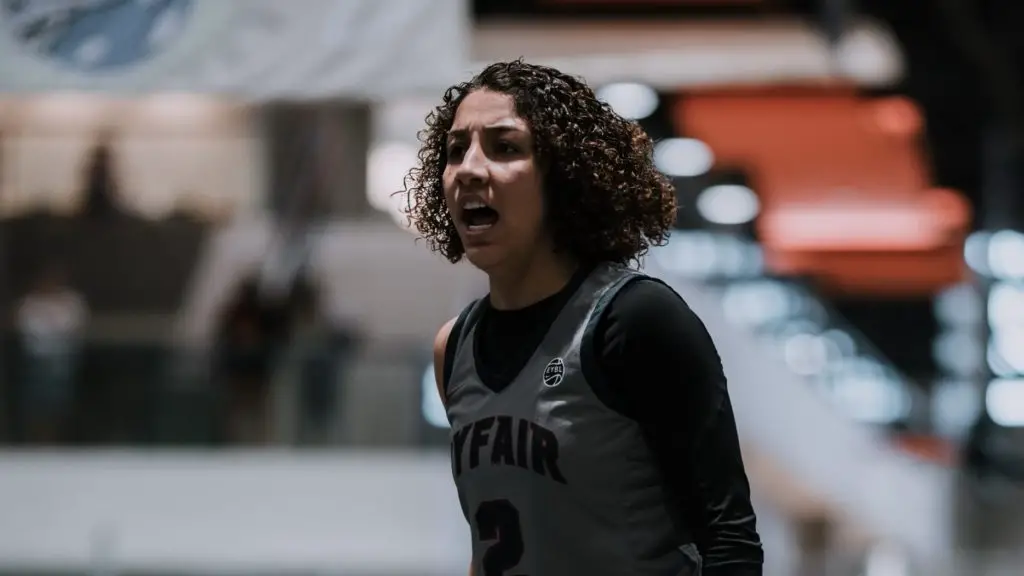 Aaliyah Chavez is ready to ball at Rucker Park
Mexican American Aaliyah Chavez is the top girls hoops player in class of 2025
Sonny Chavez can still hear the backhanded compliments some people would give his daughter Aaliyah Chavez. In a sport without many Latino stars, the basketball prodigy from Lubbock, Texas, stood out in more ways than one.
"She's pretty good for a Mexican," some opposing parents would say. Nobody uses qualifiers to describe Aaliyah's greatness anymore.
Aaliyah Chavez, who is set to showcase her skills this weekend at Harlem's storied Rucker Park, is the top ranked girls basketball player in the Class of 2025, according to ESPN's HoopGurlz' recruiting rankings. Every major college program has offered her a scholarship.
Her hometown Texas Tech Red Raiders were the first to offer her a scholarship when she was in eighth grade. Aaliyah has received so many offers, she stopped announcing them on social media after posting about the 46th last year. She estimates that she has received about 85-90 scholarship offers.
Aaliyah Chavez proves she belongs
Sonny Chavez bristled at those early comments, though. 
"It got real ugly real fast," Sonny Chavez said. "It got really disrespectful. I've always told her competitive sports see no color. We're here to play basketball. I think people respect her now."
The basketball world definitely respects Aaliyah Chavez. Opponents, fans and all of the top women's college basketball coaches don't qualify their praise when discussing the 5-foot-11 point guard.
MORE FROM OUR ESQUINA:
Aaliyah Del Rosario draws Shaq comparisons
Jaime Jaquez Jr. in elite company with Pac-12 award
Mexico's Diana Flores lands in Pro Football Hall
Heading into her junior year at Lubbock Monterey High, Aaliyah is considered the best girls basketball player in West Texas since the legendary Sheryl Swoopes graduated from Brownfield High in 1989.
Aaliyah is the only rising junior who was invited to play in the SLAM Summer Classic at Harlem's famed Rucker Park this weekend. The other 13 elite girls invited to the Summer Slam Classic are seniors.
Ready for Rucker Park
Aaliyah has never played street basketball. Outside of the training sessions with her father in the gym, all of her game experience has been in high school, on the AAU circuit or at showcases. In other words, she's been in the gym her entire career.
"We made her in the gym," Sonny says. "Sometimes I wish I would have dropped her off in the park. That's a whole different animal."
Sonny trains basketball players at The Lab Certified in Lubbock. He has been training about 25-30 players a year for 6 ½ years. Three of the first five players he began training signed letters of intent with Division I teams this year.
Sonny's first protege, Aaliyah, is clearly the best and, obviously, dearest to him. 
"My dad's the only one who's trained me," she says proudly. "I'm stuck to his hip."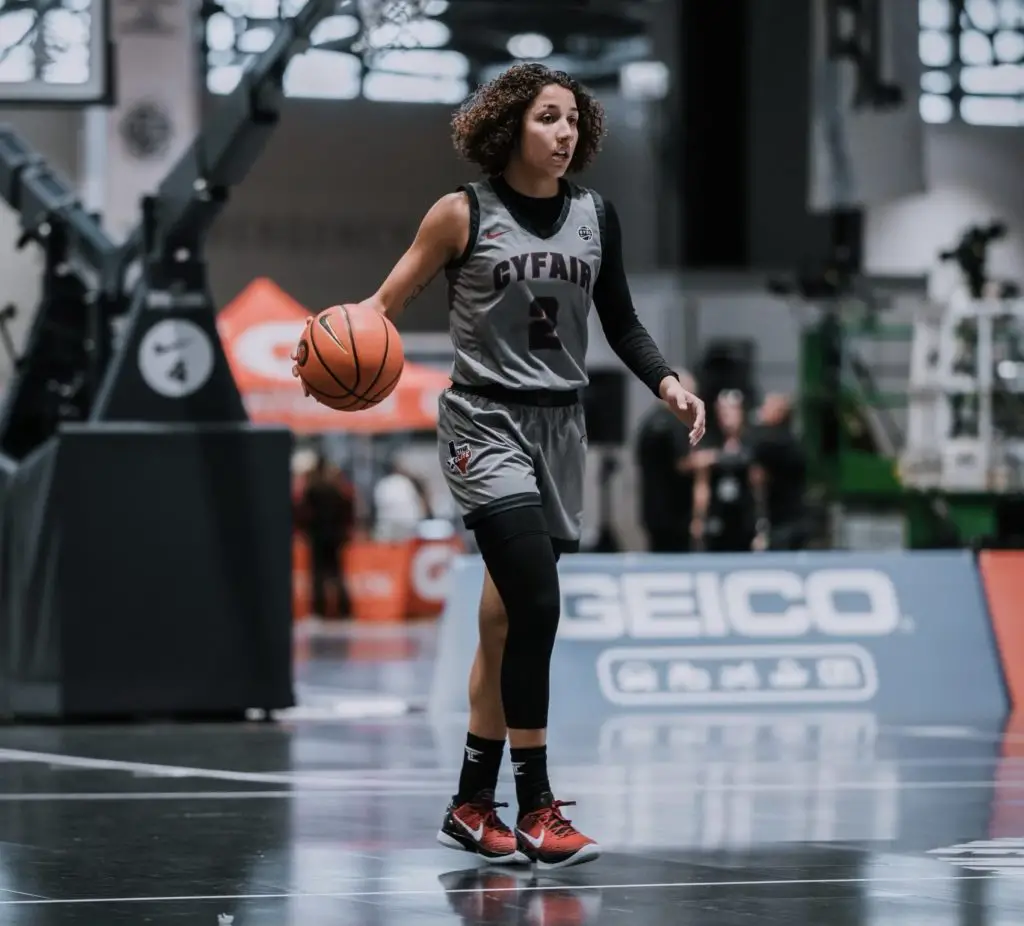 Aaliyah, 16, also trains young players at The Lab Certified. For most of the summer she has trained two different groups. She has split her sessions as a trainer between her own workouts and shooting sessions.
Although she lives in Lubbock, she plays AAU for CyFair, which is based almost 500 miles away in the Houston suburbs. She trains mostly with her dad while joining her travel team for training camps or practices once a month.
Inspiring young Latinas
Chavez has noticed how much her success has resonated with young Latinas in Lubbock and on the AAU circuit. Her impact is similar to how Miami Heat rookie Jaime Jaquez Jr. gained a legion of Mexican and Mexican American fans as he led UCLA to the Final Four in 2021.
"Definitely, I like seeing little Mexican girls come out to see me," she said. "I want to inspire them. I'm trying to inspire all little girls, all of them."
She is rewriting the record book at Monterey High, where she set the single-game scoring record with 50 points as a freshman. She set the season scoring record with 1,001 points as a freshman. Then she broke it with 1,020 points as a sophomore. 
Aaliyah set Monterey's 3-point records for a game (11) and season (118) as a freshman. Then she broke those 3-point marks with 13 in one game as a sophomore and 140 that season. With two seasons to go, she already has the school's all-time 3-point record with 258.
She is a two-time district and city MVP and two-time All-State and All-Region selection. Chavez capped her sophomore season by being named to the Naismith High School Girls All-America team.
'Took it personally'
Although she was born with an ultra-competitive nature, Chavez has also been motivated by the early doubts that centered on her ethnicity.
"I kind of took it personally because I'm the only little Mexican out there," she said. "And I wanted to show it. Like they've never seen a Mexican girl like me."
Aaliyah Chavez is proud of her Mexican roots. She's honored to carry the work ethic that has defined her family.
Sonny refined his Spanish skills working around Mexican immigrants in the fields before moving to Lubbock. The self-described "300-pound Mexican" was also an accomplished athlete in Muleshoe, Texas, about 65 miles west of Lubbock.
Athletic genes
Sonny was a guard and defensive lineman at Muleshoe High in 2001 when current USC football coach Lincoln Riley quarterbacked the Mules to the 3A state semifinals. Football was Sonny's sport, but basketball was his passion.
He and Aaliyah have missed many family functions because of her basketball commitments. Yet, they have no regrets. This is their passion. Now they're headed to New York for the first time.
She doesn't know what to expect Saturday in the SLAM Summer Classic at Harlem's famed Rucker Park. The silky Mexican point guard from Lubbock will be ready to show that Mexicans can ball too, though.
"It's amazing," she says. "It's definitely an accomplishment to be invited. I just got to go prove myself now."
Get the Our Esquina Email Newsletter
By submitting your email, you are agreeing to receive additional communications and exclusive content from Our Esquina. You can unsubscribe at any time.