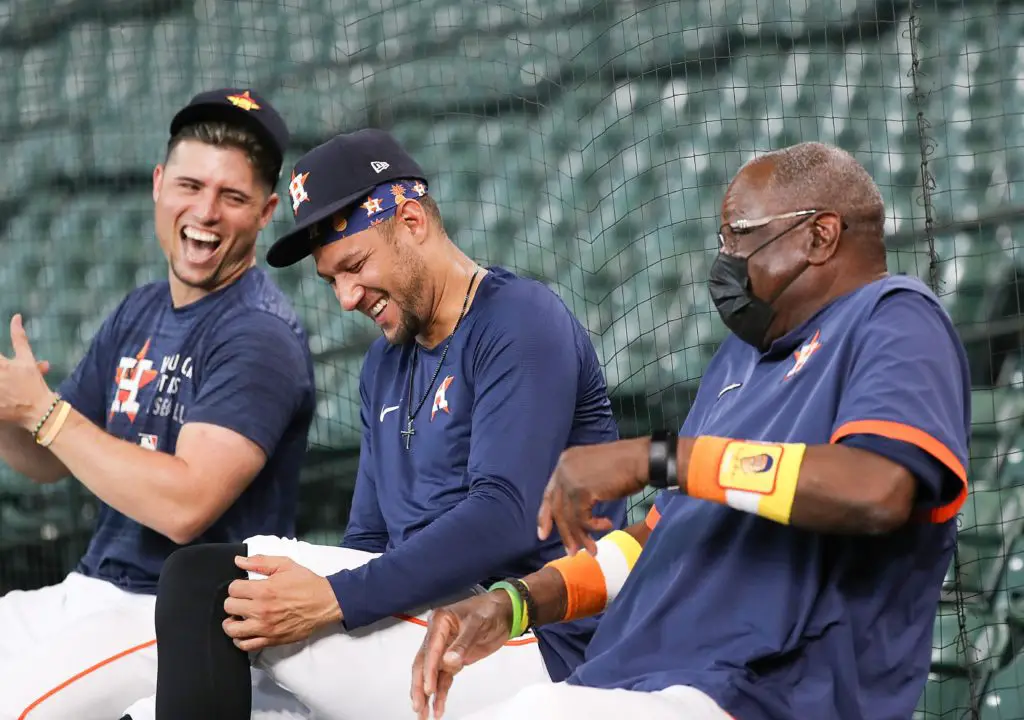 They belong at the Cinco de Mayo Carne Asada
These non-Latinos understand, appreciate Latino culture
It's Cinco de Mayo, one of America's most misunderstood holidays. The date commemorating Mexico's Battle of Puebla means more in America than it does south of the border. For many Americans, it's just another excuse to drink and wear ridiculous, trite sombreros and serapes.
For boxing promoters in America, Cinco de Mayo weekend is traditionally time to hold a major boxing match in Las Vegas featuring Mexican boxers. At Our Esquina, however, we're commemorating Cinco de Mayo by highlighting non-Latinos who are down with us. Or shall we say, these are the folks who proudly F*** with us.
They are our people – our gente – even if they're not Latinos. This group features men such as Dusty Baker, Alex Bregman, Jeff Bagwell, Jim Lampley, Mark Kriegel and the late Sam Hairston. They and their descendants will always have an open invitation to the Carne Asada. Or as our Dominican friends would say, Son de lo mio! (They're one of us.)
Some speak Spanish better than others. Some speak the language, appreciate the food and embrace the culture. Baker, for example, does all that and also shows his Latino heart by the opportunities he gives.
They F*** with us
Alex Bregman
Astros' All-Star third baseman Alex Bregman doesn't just appreciate Latino culture; he embraces it. He speaks Spanish fluently and takes time to understand his Latino teammates' culture.
Bregman also has a popular Breggy Bomb salsa that has received rave reviews from teammates and fans, whether they're Latinos or not. 
If you closed your eyes, listened to his Spanish accent and didn't know he was born in New Mexico, Bregman could definitely pass for a Mexican or Cuban. That's how well he speaks Spanish. He is also the nephew of another man on this list, Mark Kriegel of ESPN. So clearly the family relates well with Latinos.
"I feel like it goes back to when I was growing up," Bregman said. "My mom and dad really wanted me to learn Spanish. So in school, my high school, we learned Spanish all the way through. I was fortunate enough to be able to experience things like playing in Mexico or Colombia or Cuba when I was in high school. 
"I was able to play against such great ballplayers. I wanted to learn about their culture and learn about who they are, and I feel like learning the Spanish language allowed me to learn more. It's been fun getting to know all my teammates here."
Spanish key
The two-time All-Star and 2019 American League MVP runner-up has grown into a respected leader. His ability to speak Spanish has helped the former LSU star grow into a leader over his seven seasons in the majors.
"I feel like growing up I always wanted to be a leader and wanted to be able to connect with everyone on my team and (be) a good teammate," he said. "I think that learning (Spanish) allowed for a lot of camaraderie."
Much like Jeff Bagwell a generation before him, Bregman is beloved in his adopted hometown of Houston, which is 50 percent Latino.
"It means the world to me," he says of the fans. "I love the people here in Houston. I love my teammates, my coaches and always want to be a part of this community and be able to help people and make a big impact."
Others who belong at the Carne Asada
Dusty Baker
Houston Astros manager Dusty Baker has more street cred in the Latino community than most managers in baseball. Baker brings more than pozole power.
He has Mexican cousins, but that's only part of his connection to the Latino community. He grew up in Southern California, and he is beloved by Los Angeles fans dating back to his days as a player with 'Los Doyers.' 
"In Riverside, where I grew up, we had probably half our schools and kids I hung around with were Mexican at the time," Baker said. "Being in Southern California, our most favorite days were at the community center on Cinco de Mayo. We'd break the piñata when I was a little kid.
"My mom used to make me go to Mr. Carlos' store to get the homemade tortillas. My mom would tell me don't open any because they come in the white paper with the yellow tape on it. … To walk two blocks and have to have to smell it the whole time, that was torture."
Not surprisingly for a man who grew up around Mexicans, he sounds like a Mexican when he speaks Spanish. He was once asked what Afro-Latino group he most would appear like. Baker declared Panamanian. Former Dodgers teammate Pedro Guerrero heard that conversation and told Baker he was more Mexican because that's how he sounded.
More importantly, Baker belongs at the carne asada because he's always looking out for Latinos. His track record is splendid in regard to diversity.
Baker's coaching staff is the most diverse in Major League Baseball. He has four Latino coaches on his staff, tying for the lead in the majors for the most Latino coaches on staff.
'Part of my culture'
Jeff Bagwell
Hall of Famer Jeff Bagwell is beloved by Houston's large Mexican American community. He was one of the few stars who was admired by all segments of the clubhouse during his playing days.
Bagwell had a gift for relating with all his teammates, whether they were Black, white from the city, white from small country towns in the South, Ivy League educated or Latinos who signed at 16. He grew to become Dominican Republic star Moises Alou's best friend, prompting him to ask Alou to be his two daughters' godfather.
"Baggy's the man," Alou said. "I love him. He is mi amor."
Bagwell and Alou are proud compadres. Moreover, Bagwell's daughters are bi-cultural with Mexican roots on their maternal side.
"For one, I think that Mexicans have a tremendous amount of passion for the game of baseball and all of sports really, soccer, futbol, whatever you want to call it," Bagwell said. "But baseball for sure. The fans that we have and have supported me throughout my career, the Mexican population has been a big part of that.
"My wife is Mexican, so obviously that's part of it. My daughters are half Mexican. It's a part of my culture. It's a part of my life that I love. I truly have a lot of fun when I'm around Latinos. I totally respect the culture, especially when they do it on Cinco de Mayo, which is not a Mexican holiday. It's an American holiday, but I certainly love that party too."
Sam Hairston
The late Sam Hairston was the first American-born black player signed by the White Sox. He played only four games in the majors for the White Sox, but he was a longtime scout and coach with the organization. 
Sam Hairston, a former Negro Leaguer with the Cincinnati-Indianapolis Clowns, was at times the only Spanish-speaking coach in the White Sox organization. He served as an interpreter and guide for many young Latino players, going to such lengths as housing players such as pitcher Wilson Alvarez. 
Hairston is the patriarch of MLB's third three-generation family. His sons Jerry and John and grandsons Jerry Jr. and Scott all reached the majors.
Sam Hairston's grandson's Jerry, Jr. and Scott both represented their mother's country of Mexico at the 2009 World Baseball Classic. Sam Hairston died in 1997, but he continues to be recognized for the generosity and humanity he demonstrated to Latino players.
Cinco de Mayo is fight time
Jim Lampley, Mark Kriegel
The fight game is increasingly Latino. If you're in the game, at some level you have to "F*** with us." There are many Latinos trainers and cut-men. 
The announcers and the storytellers help tell the participants' stories in a way that's unique to boxing. 
Boxing fans are clannish. They will root for the fighter who looks like them or comes from a similar background. That's promoted and encouraged in a way that doesn't exist in other sports. It's over the top, but promoters know what appeals to boxing fans. 
The stories told will help bring people through the gate or get them to watch a televised fight. 
Former HBO announcer Jim Lampley and current ESPN announcer Mark Kriegel are two of the best.
Lampley was one of the voices of HBO for over two decades. His voice was the soundtrack for many fights featuring Latinos, including memorable fights such as Julio César Chávez's victory over Meldrick Taylor, and many of Oscar de la Hoya's and Felix "Tito" Trinidad's fights.  
Emotional Lampley
The emotional Lampley had an admirable appreciation, if not, reverence for the fighters. Lampley's voice cracked frequently as he spoke about the fighters. His emotion oozed after Juan Manuel Marquez finally defeated Manny Pacquiao. 
The majority of Lampley's contributions have come during fights. Kriegel has done wonderful longer features to promote the fights and the combatants, first on Showtime and now ESPN. Kriegel's work illuminates some of the complexities in the lives of Latino fighters. 
Kriegel's discussion of Jose Ramirez's background is one such example. Both Lampley and Kreigel discussed the fights, truthfully, but poetically. 
Heavyweight snack time
Mike Tyson
Former heavyweight champion Mike Tyson has often discussed his friendship with Latino fighters, especially Roberto Duran, the great Panamanian champion. 
Tyson credits Duran for getting him interested in pursuing prize fighting as a profession.  Admiring Duran for his intimidating and aggressive demeanor in the ring, he sought to emulate that style.
Tyson also copied Duran's habits. As a youth, Tyson would watch Duran go to Victor's Cuban restaurant in New York. When Mike was older, he would go to the same restaurant and ask for the same meals Duran would get. 
Tyson felt a great deal of satisfaction knowing he was eating what Duran did.
"I made it," Tyson told the media. "I am in the restaurant my hero ate at."
In other interviews, Tyson has described his friendship with Mexican-American boxer Johnny Tapia. They met at Golden Gloves tournament as an amateur.
"I had so much respect and love for this guy, and I think he was one of the greatest fighters that ever lived," Tyson once said of Tapia.
Tyson also has paid respect to El Gran Campeón Mexicano Julio Cesar Chavez.
"He is one of the greatest fighters God ever produced," Tyson once said of the iconic Chavez.
Get the Our Esquina Email Newsletter
By submitting your email, you are agreeing to receive additional communications and exclusive content from Our Esquina. You can unsubscribe at any time.