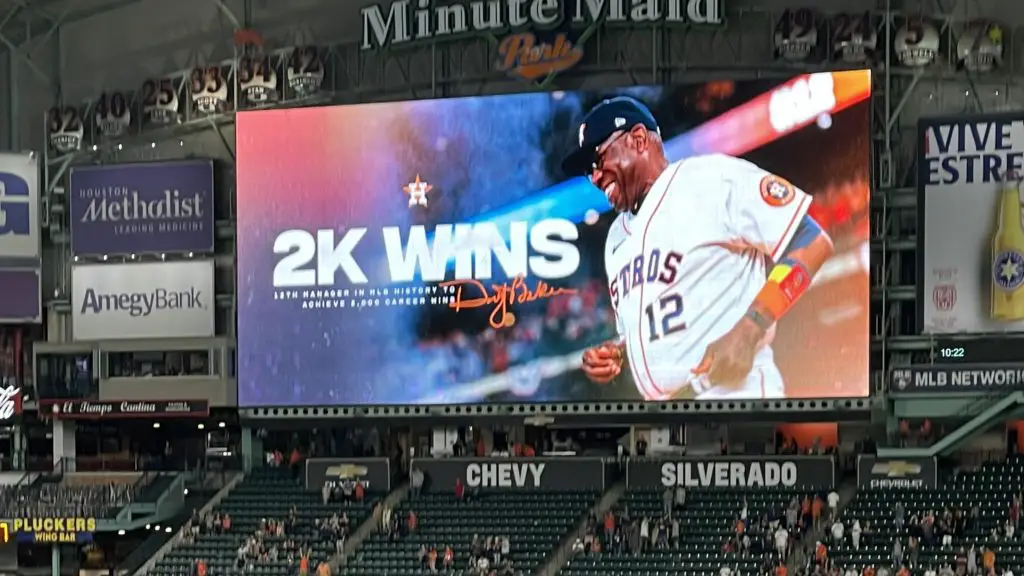 Dusty Baker becomes first Black manager with 2,000 wins
Dusty Baker becomes 12th MLB manager with 2,000 wins
HOUSTON – As Dusty Baker got closer to his historic milestone, he thought of the greats who cleared the way for him. Some were family. Others were not, but they all played a crucial role. 
With each out in the ninth inning Tuesday night at Minute Maid Park, Johnnie B. Baker Jr. thought of his late father and mother. He thought of Jackie Robinson, the man who broke baseball's color barrier 75 years ago. He also thought of his mentor Hank Aaron and Frank Robinson too. 
All gone, never forgotten. He thought of the supporters and later even thanked his detractors. In one way or another, they all propelled Dusty Baker toward the 2,000th managerial victory of his career, making him the 12th member and first African American on that exclusive club.
Some in the crowd of 23,796 broke out in a chorus after the final out of the Astros' 4-0 victory over the Seattle Mariners.
"Dusty Baker! Dusty Baker! Dusty Baker!" they chanted. "Dusty Baker! Dusty Baker!"
Baker joined the 2,000-win club in the same city where former Dodgers general manager Al Campanis declared 35 years ago that Blacks "may not have some of the necessities" required to become big league managers. 
Campanis made those comments as MLB prepared to celebrate the 40th anniversary of Jackie Robinson breaking baseball's color line. Exactly six years after Campanis made those racist comments on ABC's Nightline, Baker earned his first managerial victory on April 6, 1993, with the San Francisco Giants against the St. Louis Cardinals.
Dusty Baker joins exclusive club
Baker has practically punched his ticket to the National Baseball Hall of Fame and Museum in Cooperstown, N.Y. Ten of the managers on the 2,000-win club are Hall of Famers. Bruce Bochy, the other manager in that club, will surely be inducted in Cooperstown in the next few years.
"It means a lot, because there were a lot of people that didn't think we had the capabilities to handle this situation," Baker said of becoming the first Black manager with 2,000 wins. "I've never been in the club.
"I've been on many teams. I've been in the Marines, but I've never been in the club. Quite frankly, there were times when I never wanted to be in the club. But I'm in a club with some of the most elite managers that ever managed this game. It's a hard game. Managing people is hard." 
In his 25 seasons as a manager, Baker has led the the Giants, Chicago Cubs, Cincinnati Reds, Washington Nationals and Astros.
Baker earned his first managerial victory against the Cardinals at old Busch Stadium. On that night, Geronimo Peña led off for St. Louis. Geronimo Peña's son Jeremy is now a rookie shortstop for Baker's Astros. So it was quite poetic that Jeremy played a pivotal role in helping Baker secure his 2,000th victory almost 29 years later.
Yordan Alvarez gave the Astros a 1-0 lead with a home run in the fourth inning. Two innings later, Jeremy Peña hit a two-run single to left to give the Astros a 3-0 lead. Jose Altuve added a solo shot in the seventh inning.
"He's a guy that shows up every day trying to help people," Altuve said of Baker. "He's got a big heart. He deserves everything that is happening to him. Every single guy in the clubhouse was hoping to win tonight to get it done to make him even happier than he normally is."
A toast to Dusty Baker
Baker thanked the crowd afterward during an on-field interview with sideline reporter Julia Morales. Then he headed into the clubhouse, where his players welcomed him with a round of applause.
The Astros players presented Baker with a Dom Perignon Vintage 2008 champagne bottle to commemorate the milestone. They each signed the bottle with a gold marker. They wrote on the bottle's label, "Congratulations. 2000!! Wins."
Pitcher Lance McCullers Jr. presented Baker with the bottle and then gave the toast on his teammates' behalf.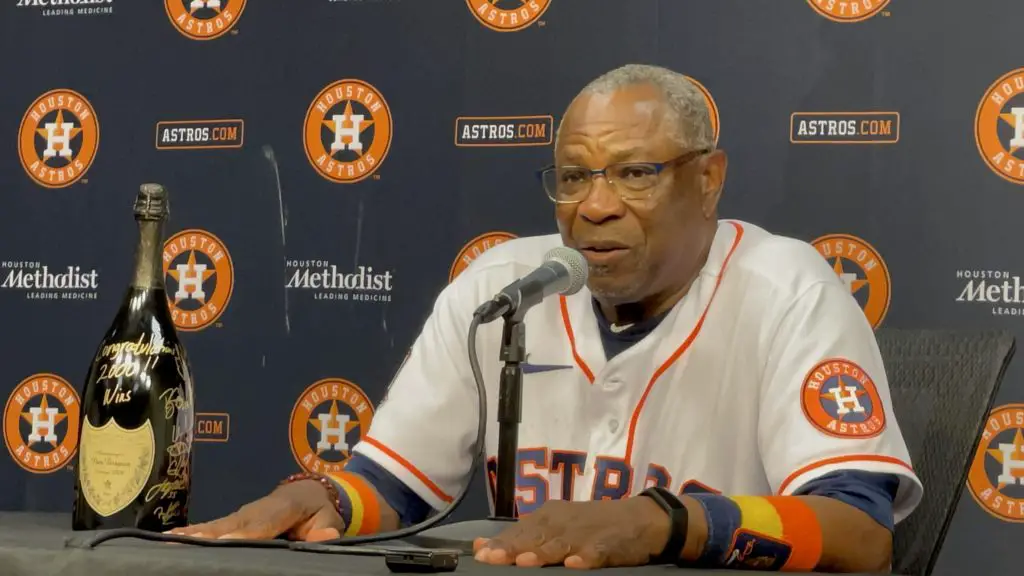 "I just toasted to Dusty his accomplishment," McCullers said. "Wanted to recognize what he's done and also recognize how important his role has been in the game of baseball amongst so many players and people that have really broken barriers and been an inspiration to people. It was just a good moment for the guys in the clubhouse and Dusty."
The Astros opened a few bottles of champagne to toast in Baker's honor. 
"It feels great," Baker said. "Whenever you reach a goal, and I really didn't have this goal until four or five years ago when I realized I had a chance. Then it didn't look like I was going to get there.
"I had to sort of (resign myself) to the fact I wasn't going to get it. So I said, 'Well, maybe God didn't want me to get it. Go on with your life.' Then I got the call from (Astros owner) Jim Crane."
Many believed that Baker was retired, but he was merely unemployed when he got Crane's call. He jumped at the chance to manage the Astros after Crane fired AJ Hinch and general manager Jeff Luhnow after MLB suspended them for the Astros' sign-stealing scandal.
Baker took advantage. He secured the 137 regular season victories he needed to join the 2,000-win club. Along the way, he also led the Astros to the 2021 American League pennant and Game 7 of the 2020 ALCS.
'Mr. 2,000' to Scarface
As a Black man, his achievements resonate beyond baseball and even sports. His accomplishments prove that Black and Brown men can lead and win when given the chance.
It must be said, however, that he proved that long ago. After all, he's the only manager in MLB history to win a division title with five different teams. He also has won a National League pennant and an American League pennant.
He's still missing a World Series ring, of course, and he's hungry for that one. Nonetheless, he's an important figure in American and African American history.
"Dusty is always a pleasure because he's full of jokes," Houston rap icon Scarface said. "When you think about his accomplishments, and what he's going to accomplish this year, it's no words that can even express how proud I am to know him and how proud I am of him."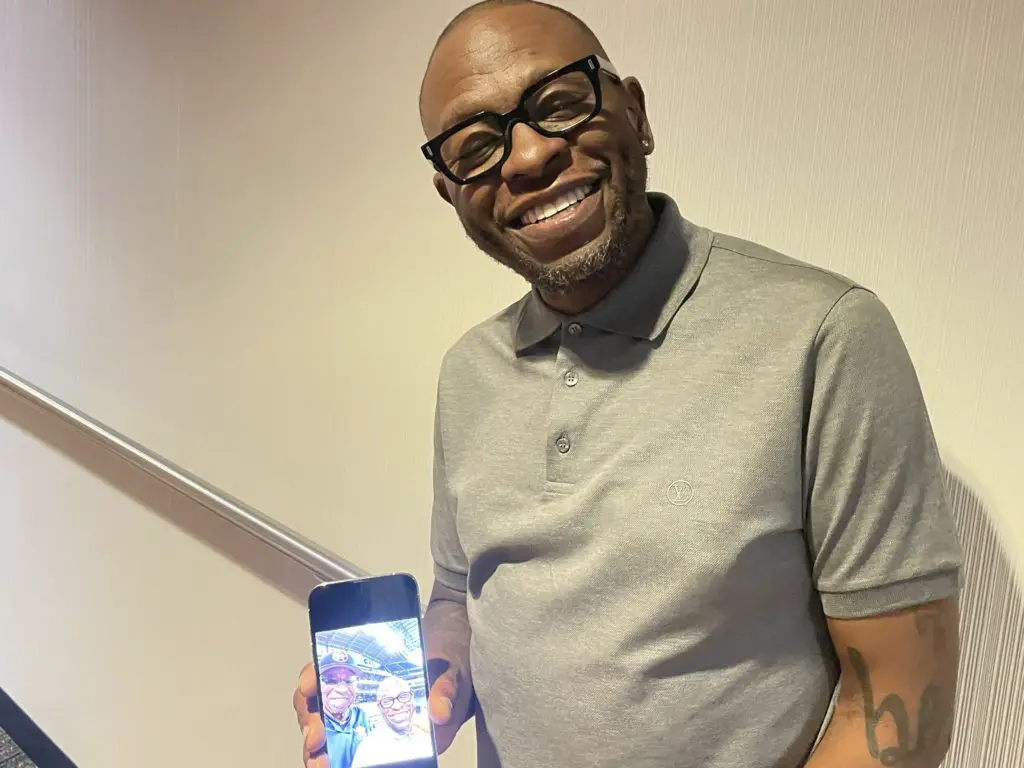 Scarface, whose given name is Bradley Terrence Jordan, was confident that Baker would secure his 2,000th victory on Tuesday. He was already calling Baker "Mr. 2,000" before Astros starter Cristian Javier threw the first pitch.
The former member of the Geto Boys hip hop group visited with Baker behind the cage during batting practice. He even asked Baker for a selfie to commemorate the special milestone.
"Mr. 2,000," Scarface said. "I'm changing (Baker's) name officially to 'Mr. 2,000.'"
Get the Our Esquina Email Newsletter
By submitting your email, you are agreeing to receive additional communications and exclusive content from Our Esquina. You can unsubscribe at any time.