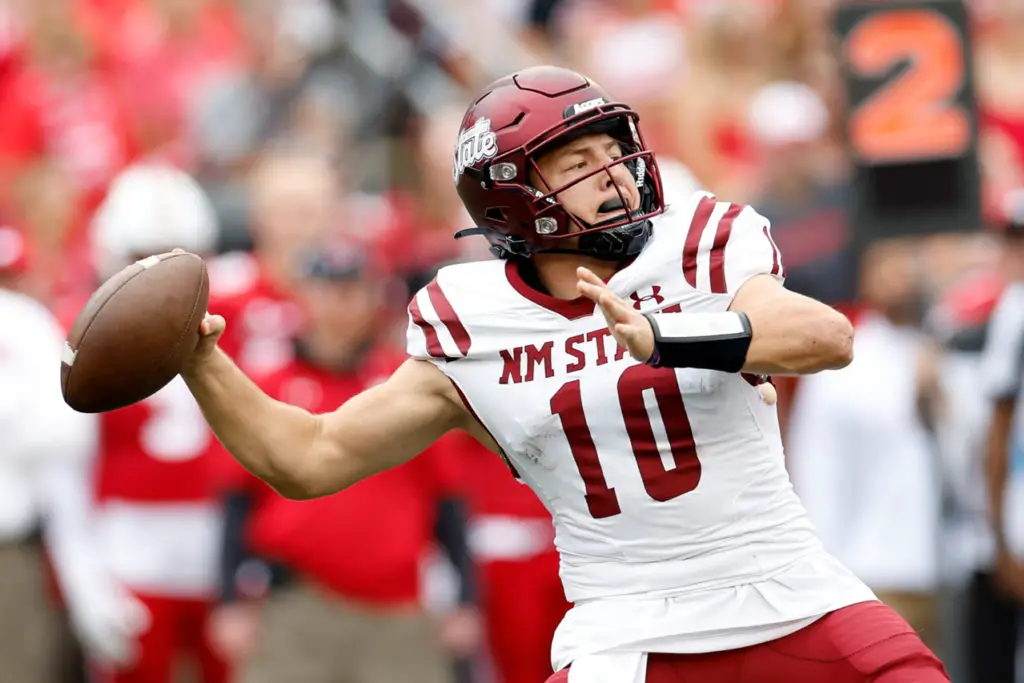 New Mexico State QB Diego Pavia shines
Diego Pavia highlights Our Esquina's weekly recap of Latinos in College Football
New Mexico State quarterback Diego Pavia did it all on Saturday, tormenting Liberty with his powerful arm and his legs. He had one of the best performances of the college football season, making him the easy selection for Latino College Football Player of the Week. 
The junior transfer from the New Mexico Military Institute accounted for six of the Aggies' seven touchdowns in a stunning 49-14 victory over Liberty. Diego Pavia threw for a career-high 214 yards and three touchdowns. He also rushed for a career-high 125 yards and three touchdowns on 20 carries. 
Career night all around for Diego Pavia 
He entered the Liberty game with six career touchdowns in Division 1, four passing and two rushing. His previous career high for passing yards was 194, and his previous best for rushing yards was 48. Both marks were set against the University of Massachusetts on Oct. 29.
Diego Pavia had also thrown for two touchdowns in two games at New Mexico State. He also had one game on his resume with two rushing touchdowns. The junior from Albuquerque's Valcano Vista High easily smashed all of his previous career highs for touchdowns, rushing touchdowns, passing touchdowns, rushing yards and passing yards.
Diego Pavia showcased the explosiveness he used to lead the NMMI to the National Junior College championship last season.
Kicking it  
UNLV kicker Daniel Gutierrez hit field goal attempts of 33 and 43 yards and all three PAT's in a 27-22 come-from-behind win over rival Nevada. The victory gives the Rebels a good opportunity to play in a bowl game, despite a losing record. 
Eastern Michigan defensive end Jose Ramirez finished off his regular season campaign with another dominant performance.
Ramirez had four tackles and three sacks with three quarterback hurries. Eastern Michigan kicker Jesus Gomez nailed all five PAT's and a 31-yard field goal in the Eagles 38-19 win over Central Michigan.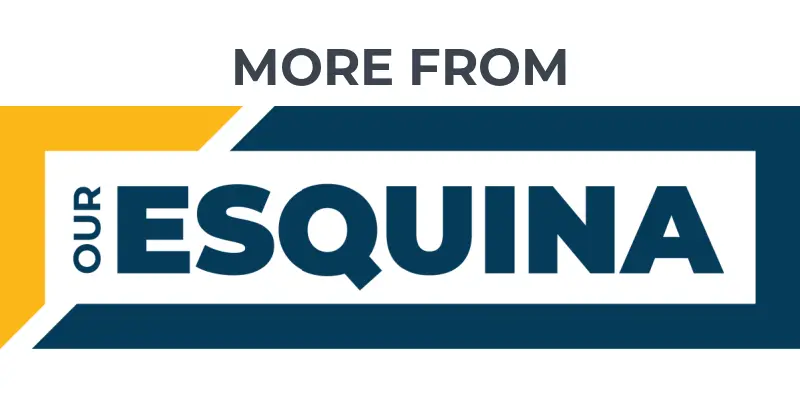 Canelo explodes at Messi for perceived jab
22 blessings this Thanksgiving
Aaron Judge leads list of Top 10 MLB free agents
South Alabama kicker Diego Guajardo nailed three PAT's and two field goals, including a 46-yarder as the first half expired, in a 27-20 win over Old Dominion. 
Miami's Andres Borregales nailed a 25-yard field goal and a PAT in a 42-16 loss to Pittsburgh. Hurricanes quarterback Jake Garcia was 17-of-27 for 192 yards and two touchdowns. Wide receiver Xavier Restrepo had four catches for 22 yards. 
LSU kicker Damian Ramos kicked a 34-yard field goal in the team's 38-22 road loss against Texas A&M. Jonathan Cruz of Ole Miss hit on all three field goal attempts and a PAT. But it wasn't enough for the Rebels in a 24-22 loss to Mississippi State. 
Texas punter Daniel Trejo punted twice, averaging 44.5 yards, in a 38-27 win over Baylor. 
Damien Martinez adds another 100-yard effort
Oregon State running back Damien Martinez surpassed the 100-yard rushing mark for the sixth consecutive game. The freshman from Lewisville, Texas, rushed for 103 yards on 15  carries.
The three-time Latino Player of the Week was the workhorse in a stunning come-from-behind 38-34 win over Oregon. The Beavers completed only six passes against their bitter rivals.
Oregon Ducks cornerback Christian Gonzalez was a major reason Oregon State preferred to run the ball. Gonzalez had an interception, which he returned for 30 yards and five tackles. UTEP running back/wide receiver Reynaldo Flores had 11 carries for 74 yards and a touchdown. He also had two catches for 23 yards. 
Fresno State defeated Wyoming 30-0 with contributions from wide receiver Jalen Moreno-Cropper and defensive end David Perales. Moreno- Cropper caught three passes for 20 yards. Perales finished with one tackle. 
JuanCarlos Santana dominates Houston
Tulsa wide receiver JuanCarlos Santana caught six passes for 169 yards as the Golden Hurricane upset Houston 37-30. University of Texas – San Antonio tight end Oscar Cardenas caught one pass for 11 yards and a touchdown as the Roadrunners rallied back from a 24-point deficit to defeat UTEP for a sixth consecutive time. 
In a 51-33 loss to Washington in the annual Apple Cup, Washington State rush end/ linebacker Ron Stone, Jr. had a quarterback hurry. Defensive lineman Christian Mejia added a hurry of his own while adding two tackles.  
In his final home game, San Diego State wide receiver Jesse Matthews hauled in four passes for 29 yards in a 13-3 loss to the Air Force Academy. North Carolina tight end Kamari Morales caught two passes for 19 yards in a 30-27 loss to in-state rival N.C. State. 
Notre Dame redshirt freshman defensive lineman Gabriel Rubio had a tackle in a road loss to USC, 38-27.
Iowa backup quarterback Alex Padilla came in early to relieve an injured Spencer Petras in the Hawkeyes 24-17 loss to the Nebraska Cornhuskers. Padilla was 16-of-33 and threw for one touchdown, while also throwing an interception. Hawkeyes safety Sebastian Castro had four tackles in the win. 
Minnesota and standout  linebacker Mariano Sori-Marin retained possession of Paul Bunyan's Axe, the trophy awarded to the winner of the Minnesota-Wisconsin contest. Sori-Marin had six tackles in the victory over Wisconsin. 
Get the Our Esquina Email Newsletter
By submitting your email, you are agreeing to receive additional communications and exclusive content from Our Esquina. You can unsubscribe at any time.