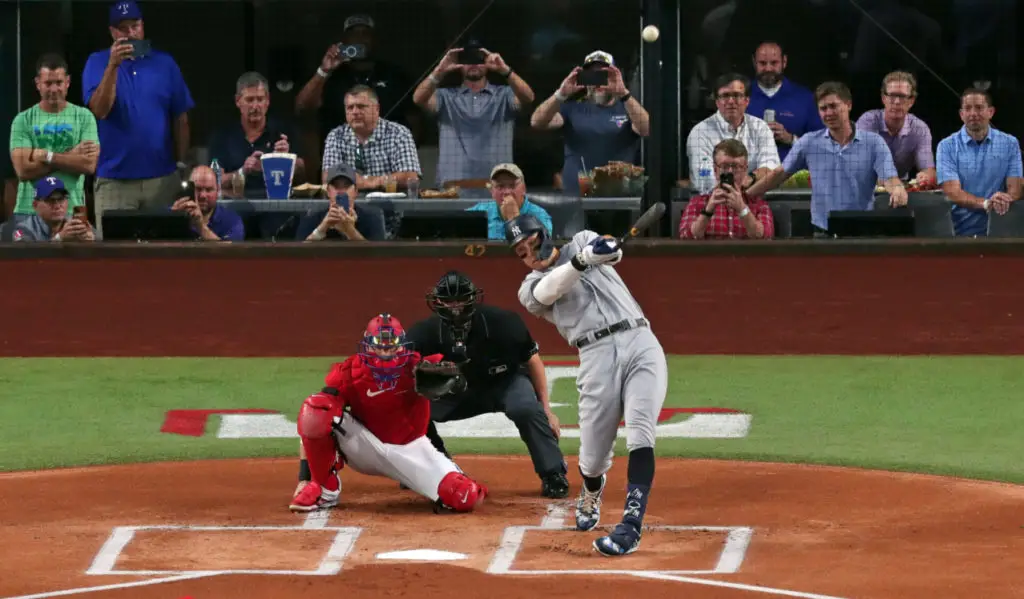 Aaron Judge leads list of Top 10 MLB free agents
Top 10 free agents list includes four Latinos.
Spring Training is more than 80 days away. With temperatures dipping, baseball fans are heating up by the Hot Stove. Fortunately, this is one of the most stacked MLB free agent classes in memory, so staying warm isn't a problem.
Today, we're going to compile a list of the Top 10 free agents. The list includes Cy Young award-winning pitchers, Platinum Glove shortstops, MVP outfielders and more.
We will begin our list with the No. 10 player and work our way up to No. 1. We will also identify which teams are the best fit for given players. This doesn't always take into account whether or not reports link the player to the team.
With that, let's look at the Top 10 MLB Free Agents.
An MVP and two World Series champions
10. Jose Abreu, 35, 3.9 fWAR, 4.2 bWAR
The Houston Astros have shown interest in the former MVP after losing out on Anthony Rizzo. 
It has been reported that Abreu has spoken with the San Diego Padres. The Pads have identified the veteran first baseman as a top priority, according to MLB Network's Jon Morosi.
BEST FIT: Padres
9. Willson Contreras, 30, 3.3 fWAR, 3.9 bWAR
The Houston Astros tried trading for Contreras at the trade deadline last season. With Christian Vazquez gone, there is continued interest in the three-time All-Star. 
The St. Louis Cardinals are also said to be pursuing the veteran catcher, according to the New York Post's Jon Heyman.
BEST FIT: Cardinals
8. Dansby Swanson, 28, 6.4 fWAR, 5.7 bWAR
The Atlanta Braves have expressed "pessimism" about bringing Swanson back. Both sides appear far apart after it was reported that the Gold Glove winner rejected a deal worth around $100 million from the Braves. 
There is speculation that the Los Angeles Dodgers could be a good fit for the All-Star shortstop.
BEST FIT: Braves
A Silver Slugger and a pair of aces
7. Xander Bogaerts, 30, 6.1 fWAR, 5.8 bWAR
The Philadelphia Phillies have shown interest in Bogaerts. The organization is in need of a shortstop. Considering the Dave Dombrowski connection, there's a real chance that the four-time All-Star could wind up in South Philly. 
In fact, the Boston Globe's Peter Abraham reported that the Phils were "eager" suitors for the two-time Silver Slugger winner.
BEST FIT: Phillies
6. Justin Verlander, 39, 6.1 fWAR, 5.9 bWAR
With a number of big-market teams showing interest, it doesn't appear that Verlander will be returning to Houston. Most recently, The Athletic's Ken Rosenthal reported that the New York Mets have met with the three-time Cy Young Award winner. This would reunite the nine-time All-Star with Max Scherzer, a one-two punch no MLB team will want to face.
BEST FIT: Mets
5. Carlos Rodon, 29, 6.2 fWAR, 5.4 fWAR
Rodon solidified his standing as a true MLB ace last season with the San Francisco Giants. Still there doesn't appear to be any teams linked to the two-time All-Star. 
With Rodon's injury history, it seems that he'll have to wait for Verlander and Jacob deGrom to find homes before any team takes a flyer on the Cuban-American ace.
BEST FIT: Giants
A Platinum Glover and a two-time Cy Young among MLB Free Agents
4. Carlos Correa, 28, 4.4 fWAR, 5.4 bWAR
Who would have thought that the worst professional mistake Correa has ever made was declining to extend his tenure with the Houston Astros in 2021. Now, the team's he is rumored to be linked to all failed to make the MLB Playoffs in 2022. 
The Chicago Cubs are said to be in pursuit of the Platinum Glove award winner, but they don't appear to be close to an October run anytime soon. Fortunately, the Minnesota Twins are "motivated" to keep the two-time All-Star, according to the New York Post's Jon Heyman.
BEST FIT: Twins
3. Jacob deGrom, 34, 2.2 fWAR, 1.4 bWAR
According to various reports, many teams have "checked in" on deGrom. This includes the Mets' crosstown rival, the Yankees. Given negotiations with slugger Aaron Judge, this type of move seems unlikely.
The only real report to have come out of deGrom's camp, is that the two-time Cy Young award winner has reached out to the Texas Rangers. The Rangers have been aggressive in free agency of late. Last season, they spent a half-billion dollars on Corey Seager and Marcus Semien. A high-priced ace pitcher doesn't appear to be out of the question.
BEST FIT: Mets
The Top 2 MLB Free Agents
2. Trea Turner, 29, 6.3 fWAR, 4.9 bWAR
Trea Turner is one of the most versatile MLB players. He can play multiple defensive positions, can hit for contact and for power, and is elite on the basepaths. 
As it stands, very few reports have been attached to the two-time All-Star. Most recently, the Seattle Mariners are said to have "checked in" on the Silver Slugger. This would be an exciting move for Seattle, but staying in Los Angeles appears to be more likely for Turner at this time.
BEST FIT: Dodgers
1. Aaron Judge, 30, 11.4 fWAR, 10.6 bWAR
Ahead of the 2022 MLB season, Judge bet on himself. He turned down an extension north of $210 million, and then carried the Yankees into the postseason.
Now, the Yankees will have to compete with other teams for the 2022 AL MVP. The San Francisco Giants are said to be willing to do "whatever it takes" to sign Judge, according to Randy Miller of NJ.com. Judge is a California native. Don't be surprised if the four-time All-Star took his talents back home
BEST FIT: Yankees
Get the Our Esquina Email Newsletter
By submitting your email, you are agreeing to receive additional communications and exclusive content from Our Esquina. You can unsubscribe at any time.