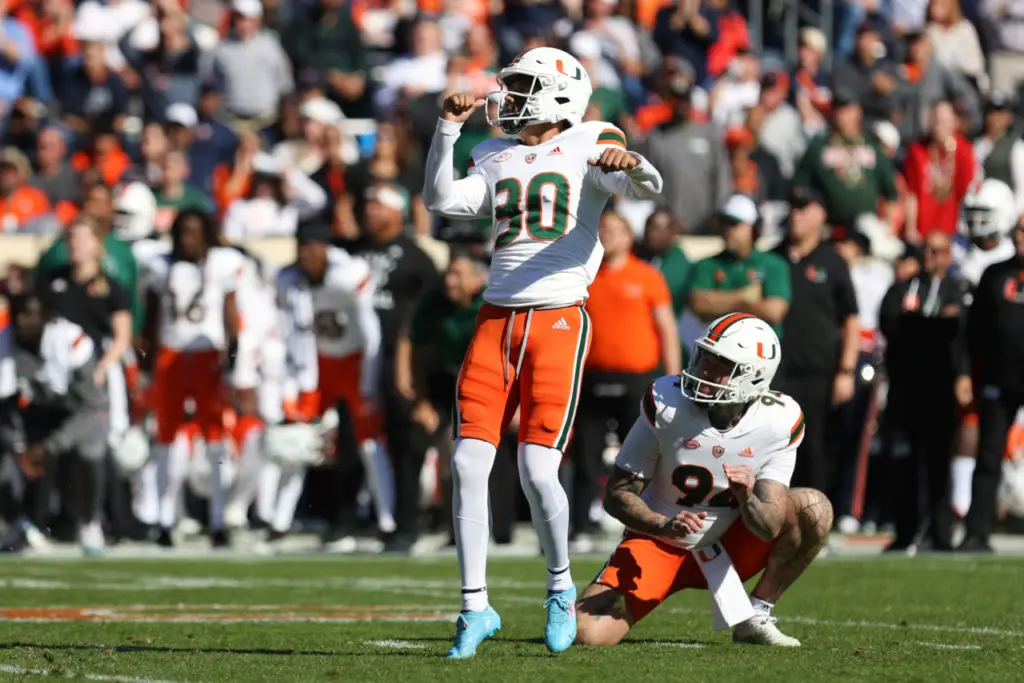 Miami kicker Andy Borregales lifts Hurricanes
Andres Borregales highlighted contributions by Latinos in College Football
It was an impressive weekend for Latino kickers in college football, and the University of Miami's Andy Borregales had arguably the most important kicks.  
Borregales nailed four field goals in the Hurricanes' four-overtime thriller against Virginia. Miami won it 14-12 on a two-point conversion in the fourth overtime. Otherwise, it was all defense and Borragales, who is Our Esquina's Latino Player of the Week this week. 
He accounted for 12 of Miami's points in the Hurricanes' victory over Virginia. 
Andy Borregales has plenty of leg
"Wow. Wow," Miami coach Mario Cristobal told the Miami beat writers. "I mean, well he does it in practice all the time. "Actually, on Tuesdays and Wednesdays when we do [the] two-minute [drill], we've made the kick line the 36, 37-yard line and he kicks 52, 53 yarders. 
"Unfazed, even before halftime even, even with the double freeze and whatnot that went on. Ironically, we said we might have to win some games [55-54] and some, 3-0. It almost played out that way."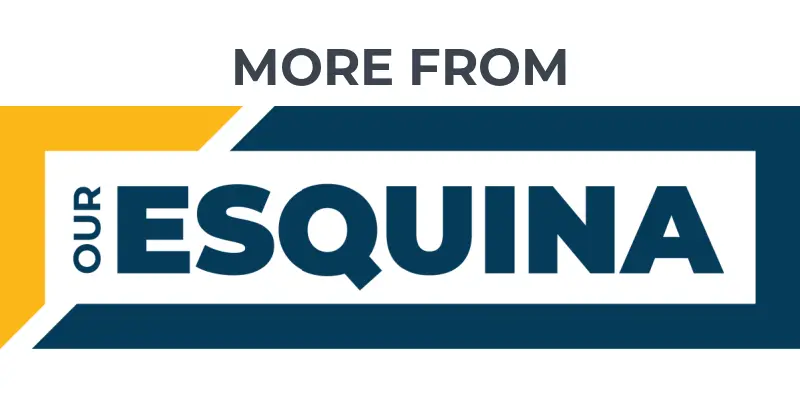 Framber Valdez welcomes dad to World Series
Jose Altuve is back, and the Astros are happy
J.T. Realmuto sparks Phillies Game 1 comeback
Borregales gave Miami a 3-0 lead with a 38-yard field goal as the first half expired. His 20-yard field goal at the end of regulation sent the game to overtime. Then he hit field goals of 41 and 31 yards in overtime.  
"Going 4-for-4 in a game like this means a lot," Andy Borregales told the Miami media. "It means a lot to the team. We came out with a 'W.' Seeing how the team reacted after, it just got me excited."
Miami's winning points came courtesy of sophomore quarterback Jake Garcia's two-point conversion on a scoring run. Garcia completed 15 of 29 pass attempts for 125 yards. Hurricanes wide receiver Xavier Restrepo grabbed one pass for 11 yards. 
Former University of North Carolina – Charlotte kicker Jonathan Cruz continues to leave his mark at Ole Miss. 
He hit a 46-yard field goal in the second quarter for Ole Miss to cut the deficit against Texas A&M to 14-10. Considering Mississippi beat the Aggies 31-28, that kick was crucial.
Diego Pavia also shines
New Mexico State quarterback Diego Pavia challenged for the Latino Player of the Week honors. He completed 7-of-12 passes for 194 yards and two touchdowns.
Pavia also rushed eight times for 56 yards in New Mexico State's 23-13 victory over UMass. The Aggies snapped a 21-game road losing streak. The junior from Albuquerque was not the Aggies' starting quarterback. Pavia replaced starter Gavin Frakes late in the second quarter trailing 10-3. 
Washington State defensive lineman Christian Mejia had five tackles, including two for a loss. Rush end/ linebacker Ron Stone, Jr. pitched in with a tackle in Washington State's 21-17 loss against No. 14 ranked Utah. University of Oregon cornerback Christian Gonzalez had eight tackles in a 42-24 rout over Cal.
Jalen Cropper-Moreno starred against San Diego State
Fresno State scored 15 points in the final 1:09 to defeat San Diego State 32-28.  Bulldogs wide receiver Jalen Cropper-Moreno had six catches for 67 yards.
Defensive end David Perales had a tackle and sack. Bulldogs kicker Abe Montano was 1 for 2 on field goal attempts, connecting on a 35-yard field goal and three PATs.
San Diego State wide receiver Jesse Matthews caught four passes for 37 yards and a touchdown. UTEP Reynaldo Flores caught three passes for 31 yards in a 24-13 loss to Middle Tennessee State. 
North Carolina tight end Kamari Morales hauled in two passes for 30 yards in the 21st- ranked Tar Heels 42-24 win over the Pittsburgh Panthers.
Notre Dame redshirt freshman defensive lineman Gabriel Rubio had a tackle for loss in Notre Dame's 41-24 win over Syracuse.
Mariano Sori-Marin continues to shine
Minnesota linebacker Mariano Sori-Marin finished with five tackles and a pass defended in a 31-0 shutout over Rutgers to snap a three-game losing streak. South Alabama kicker Diego Guajardo only needed to kick three extra points in the Jaguars 31-3 destruction of Arkansas State. 
Tulsa wide receiver JuanCarlos Santana caught four passes for 45 yards in a 45-34 loss SMU. Iowa safety Sebastian Castro had one tackle in the 33-13 victory over Northwestern. 
Eastern Michigan defensive end Jose Ramirez had nine tackles, two for loss, a sack, two quarterback hurries. He also had a pass defended, but it wasn't enough as the Eagles fell 27-24 to Toledo. Jesus Gomez kicked a 34-yard field goal and hit all three extra point attempts for ECU. 
Get the Our Esquina Email Newsletter
By submitting your email, you are agreeing to receive additional communications and exclusive content from Our Esquina. You can unsubscribe at any time.