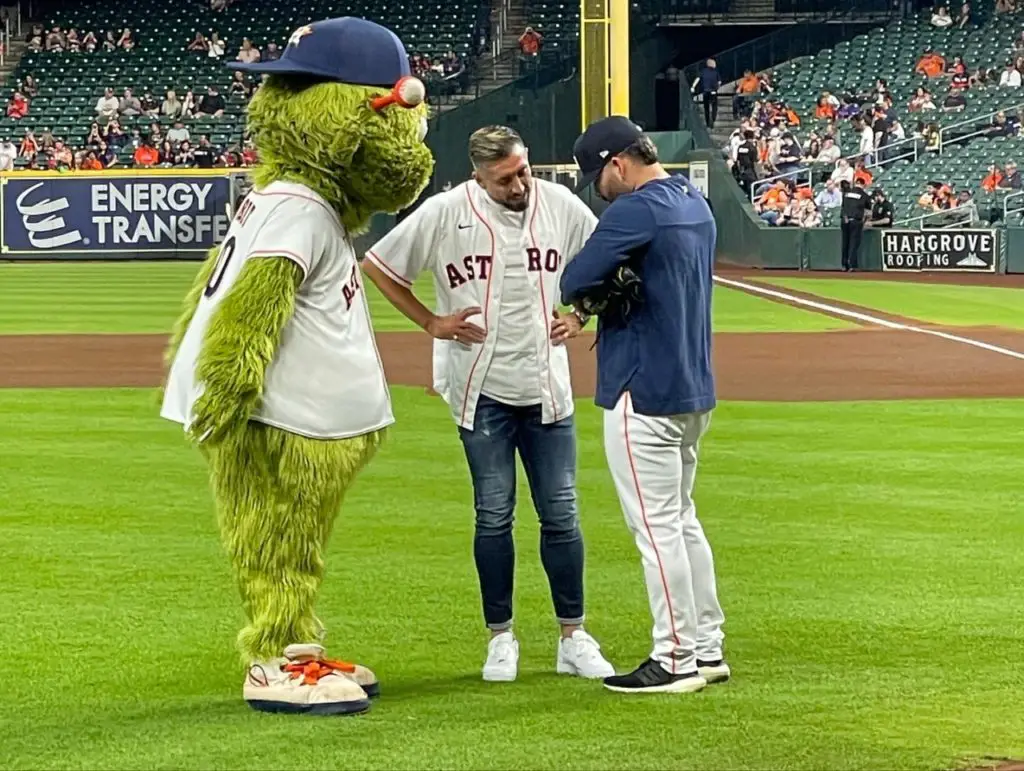 Hector Herrera, Jose Urquidy raise Mexican flag
Hector Herrera throws first pitch to countryman Jose Urquidy
HOUSTON – Hector Herrera has played on the biggest stages without showing much nerves. He led Mexico's soccer team to an Olympic gold medal a decade ago, and he'll be at his third World Cup representing El Tri next month. Not much fazes El Zorro.
Herrera is one of Mexico's greatest and most popular athletes of his generation, after all. For that reason, the Astros' Jose Urquidy volunteered to catch his countryman's first pitch Tuesday night at Minute Maid Park.
With one of his most devoted fans in the stands waving Mexico's green, white and red flag and another fan behind the plate in an Astros uniform, the Mexican national captain was the one asking for a cherished autograph.
"The honor is for me," Herrera said of having Urquidy catch his first pitch. "First of all because we're paisanos and because it's his sport, and it's an honor to see him lift the name of Mexico up high. I'm very happy that he's the one who is catching the pitch."
Hector Herrera brought the heat
The 60 feet, six inches between the mound and home plate proved quite daunting for Herrera. He threw some high heat, prompting Urquidy to make a leaping catch.
"Yeah, you also feel nervous there," Herrera said. "And more because it's not my sport, and it's not so close."
Herrera gestured at Urquidy before the pitch by lifting his arm, telling him to go get it if he throws high. The veteran midfielder said that Urquidy told him he threw the ball hard.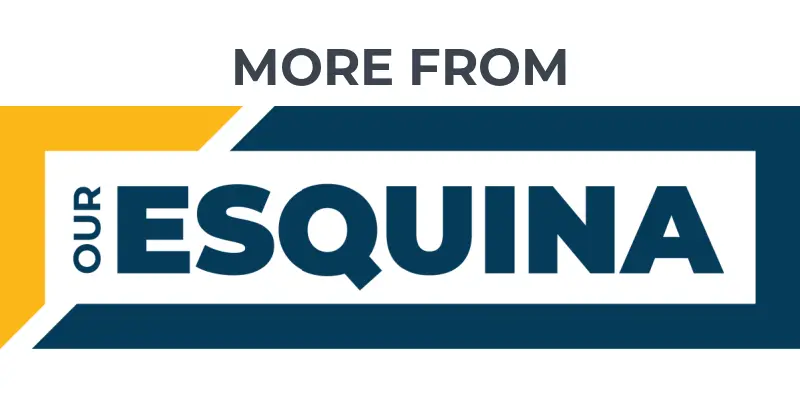 Adrian Martinez continues to shine
Roberto Clemente, the first of 7 Latinos in 3,000-hit club
El Tri jersey honors Mexico's indigenous roots
Mexican national team remains America's Team
"I thought it was much closer," Herrera said. "I asked a friend who told me it was closer. But when you're up on the mound, I think it's the nerves. I did have some nerves."
Urquidy signed the ball and wrote, "To my compa Hector." (To my compadre Hector.)
Herrera says he will cherish the autographed baseball and place it among his favorite mementoes from his career. Urquidy, who was born in the Mexican state of Sinaloa, is a big fan of the Mexican national team.
Mutual admiration
He grew up playing soccer as a hobby in the streets as a child in Mazatlan. He played all positions in the neighborhood, even goalkeeper.
Urquidy's favorite soccer player growing up was Mexican legend Cuauhtémoc Blanco. Herrera, 32, never played organized baseball growing up in Tijuana across the border with San Diego.
He did, however, play baseball in the neighborhood using sticks for bats. After a successful stint in Spain, Herrera joined the Dynamo this summer. Shortly thereafter, he and Urquidy struck a friendship after meeting for dinner at a local restaurant.
During their first dinner together, Urquidy told Herrera that he would volunteer to catch his first pitch when he made it at Minute Maid Park.
Urquidy excited to catch Hector Herrera
Urquidy was almost giddy for the chance to catch one of his country's most famous athletes.
"It's exciting," Urquidy said. "Truly, it's very good that he's going to appear here. He has a lot of fans here. It's good that he's going to spend time with us. And for me it's an honor to catch the first pitch. I hope it all goes well and the paisano makes a good pitch to my chest."
Herrera's pitch wasn't quite at Urquidy's chest. It didn't matter, though. The moment was important to both of them because it shone a positive light on their beloved Mexico.
The pitcher with the most World Series victories in history by a native of Mexico shared a special moment with one of Mexico's top sports heroes of their generation. It was a special moment for Herrera, Urquidy and Mexican sports fans in Houston. 
"There are a lot of Mexicans here in Houston," Hector Herrera said. "It's true that in the Dynamo they support us a lot. And here at the Astros' games there are a lot of Mexican people who support them. That fills us with great pride."
Get the Our Esquina Email Newsletter
By submitting your email, you are agreeing to receive additional communications and exclusive content from Our Esquina. You can unsubscribe at any time.