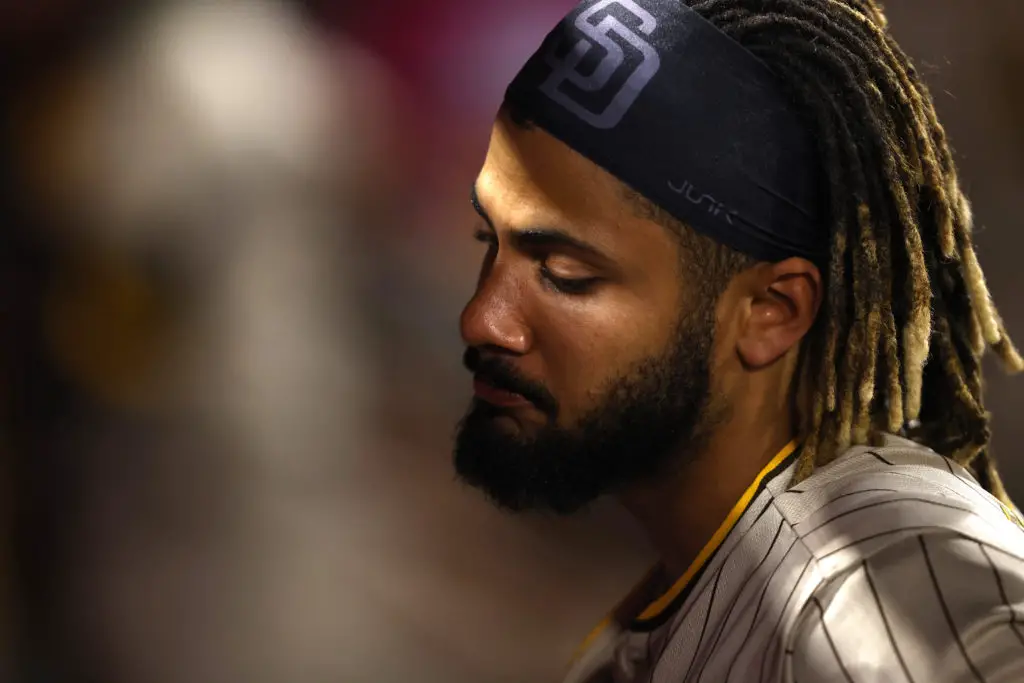 Fernando Tatis gets valuable lesson, again
Fernando Tatis Jr. to miss three months with a wrist fracture.
It should come as no surprise that San Diego Padres shortstop Fernando Tatis Jr. rides motorcycles in the Dominican Republic. They are everywhere in Quisqueya, as it is a more fuel-efficient, less expensive mode of transportation.
It's not out of the question to see entire families – mother, father, and multiple children – navigating busy streets on a single motorcycle. It's also not rare to see motorcycle taxis – also known as "motoconchos" – delivering multiple passengers on a single ride.
They serve as a way to navigate through rough terrains, like off-road excursions. And, when used for sport, they offer the type of adrenaline rush you might get from amusement park rides people of Tatis' age group tend to love.
This week, when it was revealed that "El Niño" suffered a broken wrist during the offseason, folks began to wonder why Tatis would ride motorcycles. Why would Tatis – who is in year two of a 13-year, $340 million deal – decide to risk it all by getting on a motorcycle multiple times in the offseason? The answer is unclear.
What happened?
Last December, a story leaked out of the Dominican Republic, claiming that Tatis Jr. was involved in a motorcycle accident. In the days that followed, people began to speculate as the superstar went radio silent.
A few days later, Fernando Tatis Sr. downplayed the rumors, denying that his son had fallen off of a motorcycle at all. According to the Associated Press, Tatis Sr. claimed the accident happened on his own two feet.
"He is fine, in perfect condition, he has not had to go anywhere and he is here in the country (Dominican Republic)," Tatis Sr. said. "It is nothing to write home about, simply a fall. He scraped his knee and hands a little."
A few days after his father spoke, Tatis Jr. corroborated the same message. 
"I didn't have any accident," he told Hector Gómez of Z Deportes. "Nothing happened that they posted. It's just people talking for the sake of talking, without knowing what they're putting at risk, especially me as a person."
As it turns out, Tatis wasn't being very truthful, but why?
Fernando Tatis Jr. is still learning
Tatis Jr.'s time with the Padres has certainly been eventful. He has embraced being considered the face of baseball by many. He has demonstrated excellence on and off the field.
As with any 23-year-old kid, however, "Bebo" is still learning.
This is evidenced by many incidents on and off the field – some forgivable, some not – that should only make him better moving forward.
Some of the controversies were innocent, like when he broke the unwritten rule of swinging at a 3-0 pitch with the bases loaded and his team up 10-3. Some raised eyebrows, as when he and teammate Manny Machado had an altercation in the dugout last season, or even now, with the motorcycle debacle. 
Tatis Jr. has in the past accepted responsibility for his actions. He vows to do the same in the aftermath of the motorcycle injury.
After learning about his fractured wrist, which will sideline him for at least three months, Tatis pledged to no longer ride motorcycles. He believes that he owes that much to the Padres organization, his teammates, the fans, and, most importantly, to himself.
That's all his fans can ask for.
Get the Our Esquina Email Newsletter
By submitting your email, you are agreeing to receive additional communications and exclusive content from Our Esquina. You can unsubscribe at any time.