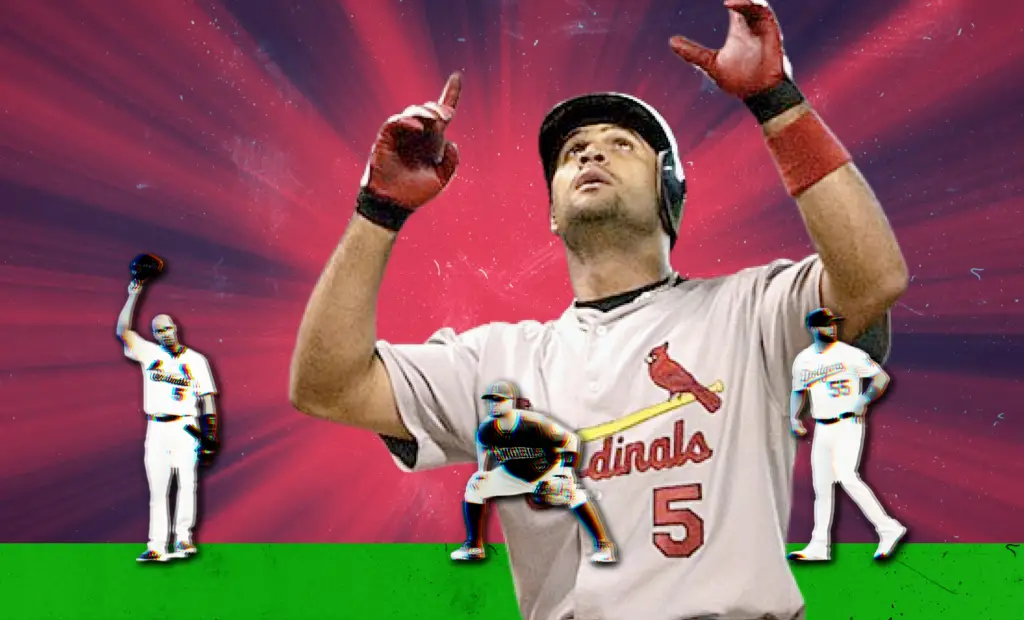 Dreaming of Albert Pujols back to St. Louis Cardinals
Imagine Albert Pujols returning back to the St. Louis Cardinals?
Soon after all 30 MLB owners voted to ratify the new Collective Bargaining Agreement, the entire baseball world turned their attention to free agency. With a stacked market of players – including Albert Pujols – searching for new homes, fans and analysts all began to play the speculation game. 
I too am guilty of imbibing in the fantastical world of free agency speculation. In my perfect world, "The Machine" would make his way back to the St. Louis Cardinals. That is the place where he won three National League MVP awards, two World Series championships and a batting title.
Though the 42-year-old's best days are certainly behind him, he has given little indication of retirement. With the new CBA officially introducing a universal designated hitter, what better place than St. Louis to reinvigorate an aging, legendary slugger.
It's clear that Pujols still has a love for the game. Why else would he make his way back to Winter Ball in the Dominican Republic? There, he even took part in a choreographed postgame celebration after a walk-off hit.
"I mean, I have pretty much everything you said. I have accomplished everything," he said. "But I think that the love that I still have and the passion that I still have for the game. Yeah, that's what gives me drive and keeps me going."
Albert Pujols by the numbers
For 11 seasons, Albert Pujols was a force for the Cardinals. In that time, he established himself as one of the greatest hitters of all time. Some would argue that his 11 years in St. Louis are the best in the history of the game.
In that time, the Santo Domingo native had an on-base percentage of .421 and a .617 slugging, which is good for a 1.037 OPS. To put this in perspective, in the first 11 seasons of any hitter since 1920, Pujols ranks top five in slugging and OPS, and 10th in on-base percentage.
| | | | | |
| --- | --- | --- | --- | --- |
| | PA | OBP | SLG | OPS |
| Babe Ruth | 3186 | .511 | .777 | 1.288 |
| Ted Williams | 6451 | .484 | .634 | 1.117 |
| Lou Gehrig | 6161 | .442 | .636 | 1.078 |
| Jimmie Fox | 5242 | .440 | .640 | 1.080 |
| Albert Pujols | 7433 | .421 | .617 | 1.037 |
Source: Baseball-Reference
Sure, he's not the same player anymore. He's not hitting for average or for much power anymore, but he still has something to accomplish, and what better place than St. Louis to do it?
As it stands, Pujols sits at fifth all-time with 672 home runs and is within reach of becoming only the third player ever to hit 700 or more homers. He is third all-time with 2,150 runs batted in, just 64 RBIs shy of Babe Ruth who has 2,214 RBI.
It isn't beyond the realm of possibility that Pujols has a season in which he hits 28 home runs and 64 RBIs. Or is it?
I could just still be living inside of my fantastical baseball world. Where one of the game's legends, a player who rivaled Barry Bonds in his heyday without any allegations of using performance enhancers, etches his name in baseball history right before hanging up his cleats back where it all started.
Get the Our Esquina Email Newsletter
By submitting your email, you are agreeing to receive additional communications and exclusive content from Our Esquina. You can unsubscribe at any time.