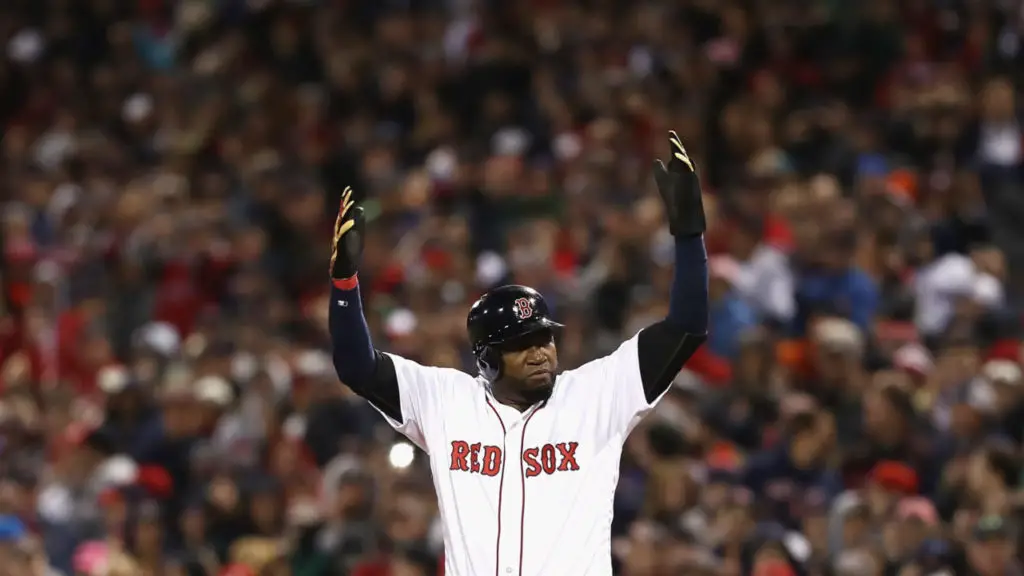 David Ortiz Hall of Fame election a Latino feat
David Ortiz battles adversity to make Hall of Fame history.
David Ortiz was sitting beside his father Americo Ortiz in a room draped in Dominican flags when the BBWAA called with the news. His compadre Pedro Martinez stood behind him with his hand on his shoulder, bracing him for what was to come.
"This is Jack O'Connell with the Baseball Writers' Association of America," the voice on the other end announced. "I'm calling you from Cooperstown, N.Y., to let you know that the Baseball Writers have elected you into the National Baseball Hall of Fame."
After a beat, "Big Papi" jumped to his feet, pumped his fist, and shouted in celebration.
Ortiz could never have imagined this day when he signed with the Seattle Mariners at 17. He remembers being in the minor leagues and comparing Hall of Famers to the Justice League. Only instead of superheroes, he was looking at a group of ballplayers with varying baseball powers.
After a 20-year career that saw him make 10 All-Star appearances and win three World Series championships, here he sits. Among the elites. A Hall of Famer in his own right.
Rags to Riches
It's emblematic of the immigrant story in America. His journey resonates for those who come from other countries and fight through adversity, learning a new language and culture just to provide a better life for their families. The Santo Domingo, Dominican Republic, native sees this as an accomplishment for them.
"This is a Dominican achievement and that of all Latinos," Ortiz said. "This is something that is beautiful and very positive for the Latino community that struggles every day looking for that American dream."
Ortiz himself is no stranger to adversity. After being traded by the Mariners to the Minnesota Twins organization, he found that he wasn't being used properly. 
Though he showed the ability to hit for power in the minor leagues, once he was called up to MLB, he was encouraged not to swing for the fences.
"When you look at my numbers in the minor leagues, it tells you that I was a feared hitter," he said. "That I was in the learning process, and once I figured it out, it was going to be a wrap."
Following the 2002 season, after being designated for assignment, a chance encounter with Boston Red Sox ace Pedro Martinez would be the first step in him "figuring it out." As it turns out, Papi was headed to Beantown.
---
---
Lighting a fire
David Ortiz found in Boston what he lacked in Minnesota. Walking into Fenway Park, he knew that there were players out there with more talent, but none with more patience, discipline, and dedication.
So, he absorbed as much information as he could from the likes of Pedro Martinez, Manny Ramirez, Nomar Garciaparra, and others. 
Little did he know, the heated rivalry between the Red Sox and the New York Yankees would provide the fire he needed to catapult to stardom. 
"Every time I see a guy like Joe Torre, Mariano Rivera, Derek Jeter … you name it," he said, "I thank them so much, because they pulled the best out of me."
Against the Yankees, Ortiz posted a .303 batting average and a .961 OPS. His 53 home runs and 171 RBIs against them each represent the third most against any other organization for his career.
He was also a major contributor in the 2004 ALCS against the Yankees. His walk-off hits in Games 4 and 5 provided the boost the Red Sox needed to erase an 0-3 series deficit and clinch the American League Pennant.
That postseason, the Red Sox broke a near century-old curse, winning the World Series. For the remainder of his career, Ortiz brought his "f'ing city" two more rings.
David Ortiz goes to bat for Bonds and Clemens
For players like Barry Bonds and Roger Clemens, their alleged involvement in baseball's steroid scandal was a kiss of death. Though both players never tested positive for performance-enhancing drugs, in the court of public opinion, each wears the scarlet letter of a user.
For that reason, despite posting their highest vote totals in 10 years, neither Bonds or Clemens will ever have the chance to be voted into the Hall of Fame by the BBWAA.
"When I see these guys, to be honest with you, I don't even compare myself to them," he said of Bonds and Clemens. "It was something that it was very special. So, not having them join me at this time, it's hard for me to believe because those guys, they did it all."
Ortiz himself was no stranger to the PED scandal. Having his name leaked as a part of the anonymous 2003 survey test, many toiled with his Hall of Fame worthiness.
All throughout, he remained steadfast in his innocence. The fact that he never tested positive for an illegal substance, was enough to push him through.
Now, he has completed the Mount Rushmore of Dominican Republic baseball legends. He is the fourth native of the Dominican elected to the Hall of Fame and just the second first-ballot Hall of Famer from his beloved island.
He joins Juan Marichal, Martinez and Vladimir Guerrero as hermanos in the National Baseball Hall of Fame. From Santo Domingo to Cooperstown, David Ortiz now has baseball immortality with Babe Ruth, Ted Williams and Roberto Clemente.
Get the Our Esquina Email Newsletter
By submitting your email, you are agreeing to receive additional communications and exclusive content from Our Esquina. You can unsubscribe at any time.