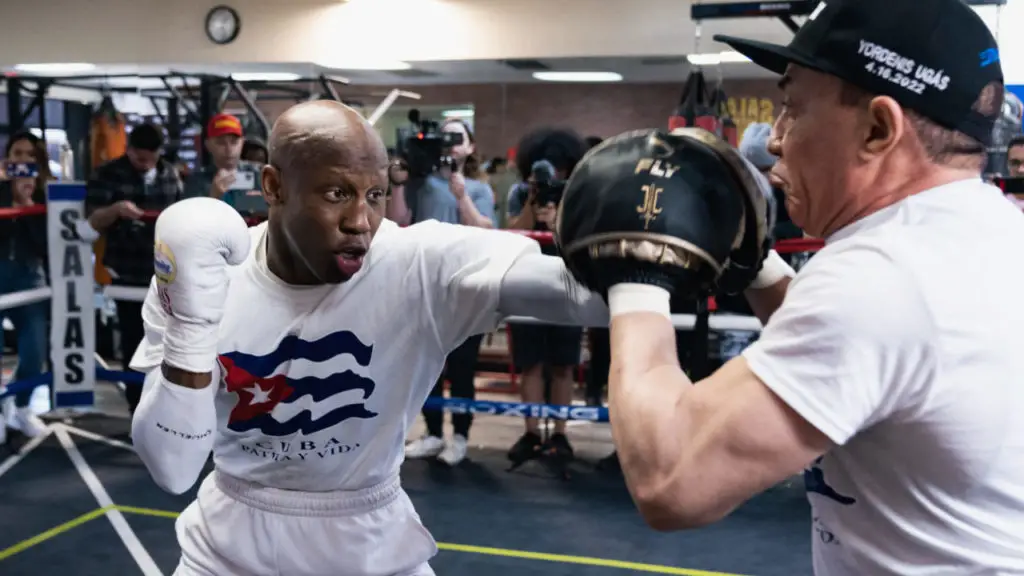 Cuba's Yordenis Ugas eager to face Errol Spence Jr.
Yordenis Ugas ready to send another message
Until last summer, most casual sports fans in America didn't know much about Cuban welterweight champ Yordenis Ugas. His story is a rich one full of determination and many setbacks, and it finally got major exposure last August after he beat the great Manny Pacquiao.
There has been too much pain along the way to consider Ugas' tale out of Cuba a storybook one. In many ways, however, his journey is worthy of a feature film regardless of what happens on April 16 when he faces IBF champion Errol Spence Jr.
Ugas came up through Fidel Castro's amateur boxing program, where glory for the patria often wasn't enough to feed the family. He earned a bronze medal at the 2008 Olympics for Cuba, an island where some Olympians from previous Games had sold their gold medals to feed their families. 
So it shouldn't have been a surprise when Ugas wore his support for Cuban protesters on his trucks during the biggest moment of his career. The message "Patria y Vida" (homeland and life) was on Ugas' trunks when he beat the legendary Pacquiao on Aug. 21.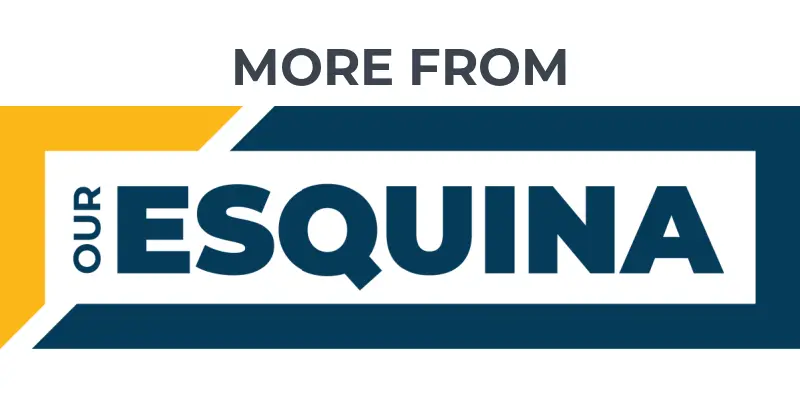 Yordeni Ugas is still proudly supporting the protesters who took to the streets of Cuba last July to demand change.
Patria Y Vida
He wore a white shirt with a Cuban flag and the message "Patria y Vida" During a recent workout in Las Vegas. Cuban protesters, defectors and refugees have taken up the Patria y Vida slogan as a play off Castro's old "Patria o Muerte" (homeland or death) slogan.
Ugas attempted to defect Cuba six times. He has said he landed in jail after each failed attempt before he finally made it out and landed in Mexico before settling in the United States in 2010. 
A decade later, he won the WBA welterweight title at 34 years old.
"It's been a process for Ugas to get back to this point," trainer Ismael Salas said. "He had to regain his confidence when he first joined our gym. We had to make a transition from the Cuban style and make him more aggressive. 
"Yordenis Ugas is a master of the middle distance. He knows how to make you miss and make you pay."
Ugas caught a major break when Spence had to withdraw against Pacquiao because of a detached retina.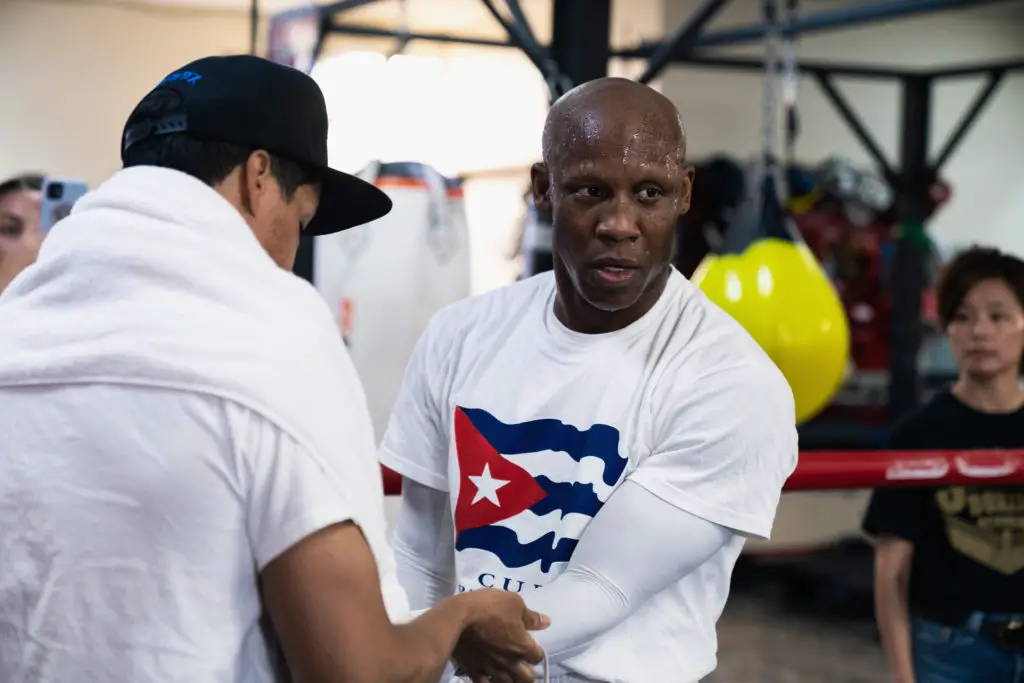 Ugas beat Pacquiao and claimed the WBA super welterweight title last August.
"The Pacquiao fight was a great night for me. After that fight my life changed in even more ways," Ugas said. "But I've always kept myself humble. I showed everyone who the WBA champion was. I have my eye on continuing to make history."
Yordenis Ugas, underdog
If not necessarily an underdog against an aging legend, Ugas wasn't the crowd favorite either. But Ugas took care of business. 
He's the underdog again against Spence, the IBF and WBC welterweight champion. The crowd at AT&T Stadium at Arlington, Texas, will likely not favor Uga on April 16.
The fight is essentially at home for Spence, a Long Island, N.Y., native who was raised in Dallas. 
"I'm happy to be fighting in Spence's backyard, because they have great fans down there in Texas," Ugas said. "It just adds extra motivation."
At 35, Ugas is living the American dream. He has settled in New Jersey, where he's just a short drive from where his best friend pitches for the New York Yankees in the Bronx. 
Alopecia battle
Just this past week, he reminded his followers about another important fight in his life. While America pondered actor Will Smith's actions at the Oscars, Ugas spoke out against Smith's violence.
Ugas mentioned his battle with alopecia last month on Twitter. He tweeted a picture of himself on March 11 holding his championship belt. In that picture, you can see that Ugas is bald with no eyebrows or any facial hair.
Ugas knows there's nothing funny about that auto-immune disease, but he condemned Smith's attack on comedian Chris Rock.
"Bad to see Smith behave like this," Ugas tweeted on March 27. "I have Alopecia and any idiot who makes fun of the fact that I don't have eyebrows I'm going to beat him up. Imagine. There is no justification for violence and more in that scenario. When you are a public figure you have to be above any joke."
A day later, Ugas added another post that quote tweeted his March 11 post. In that post, he said that his encouraging words for folks battling alopecia was also meant for Jada Pinkett even though they didn't know each other. 
"I am here to motivate you and help you build a high and strong self-esteem," he wrote.
Fourteen years after winning a bronze medal at the Beijing Olympics, Ugas is preparing for another championship bout. He is a proud Cuban able to speak freely in the United States on subjects of political or cultural importance in his new country.
In that way, he has already won.
"Being an underdog means nothing to me," he says. "I was the underdog against Pacquiao and now again against Spence. I've always been the underdog and it doesn't faze me."
Get the Our Esquina Email Newsletter
By submitting your email, you are agreeing to receive additional communications and exclusive content from Our Esquina. You can unsubscribe at any time.