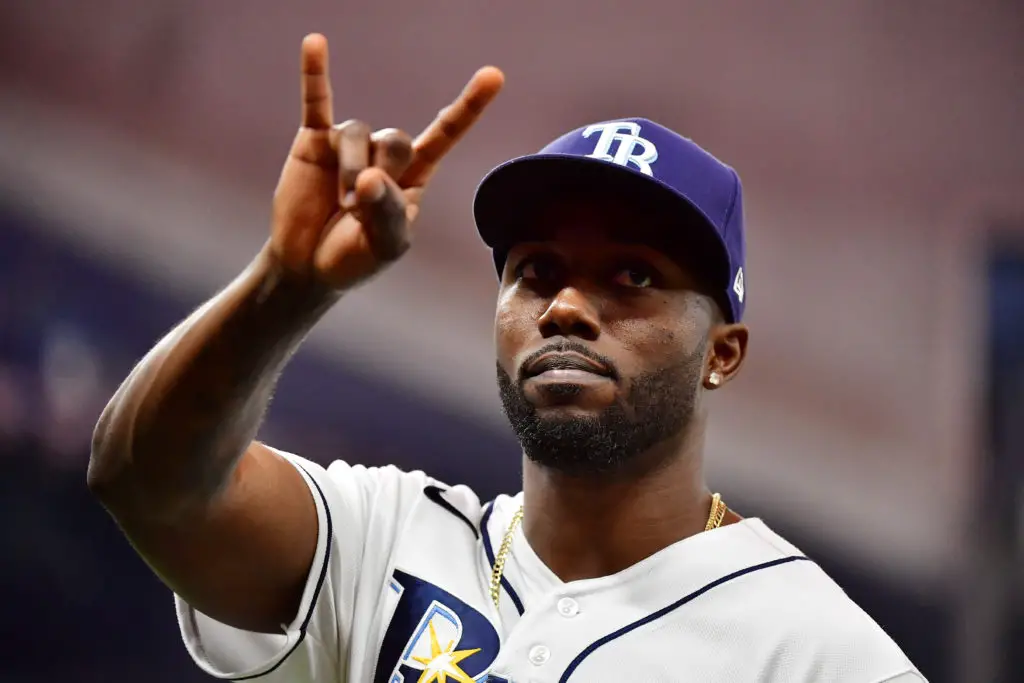 Rookie of the Year Randy Arozarena has Cuba on mind
Randy Arozarena urges Cuban protesters to stay "firm" to be free
As a child in Cuba, American League Rookie of the Year Randy Arozarena did everything he could to play baseball. He didn't have a glove or even a pair of shoes to wear, so he played barefoot. 
In those days, he yearned to one day play Major League Baseball. With the support of trainers and good friends, Arozarena overcame his circumstances. Now, he sits with his wife Cenelia Pinedo and daughter Lia Antonella, among others, being acknowledged with one of the most prestigious MLB awards. 
However, Monday night wasn't all about celebrating after the Baseball Writers' Association of America voted him the 2021 AL Rookie of the Year.

On a day when many nationwide protests for the liberation of Cuba were largely thwarted by Cuba's communist government, Arozarena had a message for the Cuban people.
"For the Cuban people, I represent you from here in the big leagues," he said in a conference call with the BBWAA. "I also tell them to stand firm and one day you will be free. I am very sorry for what you are going through, but one day you will also achieve victory for the Cubans."
Randy Arozarena by the numbers
After a historic 2020 postseason, one which saw him set MLB records for most hits (29), home runs (10), and total bases (64), there were a lot of expectations that he would win the award before the season. Still, he felt no pressure to live up to the hype. Instead, he just wanted to help the Tampa Bay Rays win.
This season, the Rays won 100 games for the first time in franchise history. Much of it would not have been possible without Arozarena and many other rookies.
Though he didn't feel pressure to continue performing like he did in the 2020 postseason, Arozarena still managed to have the best season of any rookie in baseball.

He led all rookies with a .274 batting average, and all AL rookies with 94 runs, 32 doubles, 56 walks, a .356 on-base percentage, and an .815 OPS.
What's more, he produced a 20 home run and 20 stolen base season. This is something only two other rookies have ever done in MLB history — Mike Trout in 2012 and Andrew Benintendi in 2017.
It takes a village…
Though the Rookie of the Year is an individual award, Randy Arozarena was clear that he didn't win this on his own. Many folks played a part in this accomplishment.
Among them, Arozarena mentioned a trainer in Cuba named Jose, his coaches in Mexico, especially one named Carlos, and his childhood friend Alejandro Hernandez, who has been by his side since he was four years old.
Another major player — no pun intended — in his journey to becoming an MLB player is Texas Rangers outfielder Adolis Garcia. Garcia placed fourth in the AL Rookie of the Year voting this season, but in Arozarena's mind, they're on equal footing.
"We are Cubans and we have to support each other," Arozarena said. "It was something very important that happened to me having him by my side because he continued to support me, even when he was called up before me. He helped me a lot and I want to tell him this triumph is also his. I share it with him 50-50."
Sure, he didn't do this alone.

But today, we will celebrate him, not just because he is the AL Rookie of the Year, but also because he represents the good in humanity. We can all learn something from Arozarena's humility.
Get the Our Esquina Email Newsletter
By submitting your email, you are agreeing to receive additional communications and exclusive content from Our Esquina. You can unsubscribe at any time.