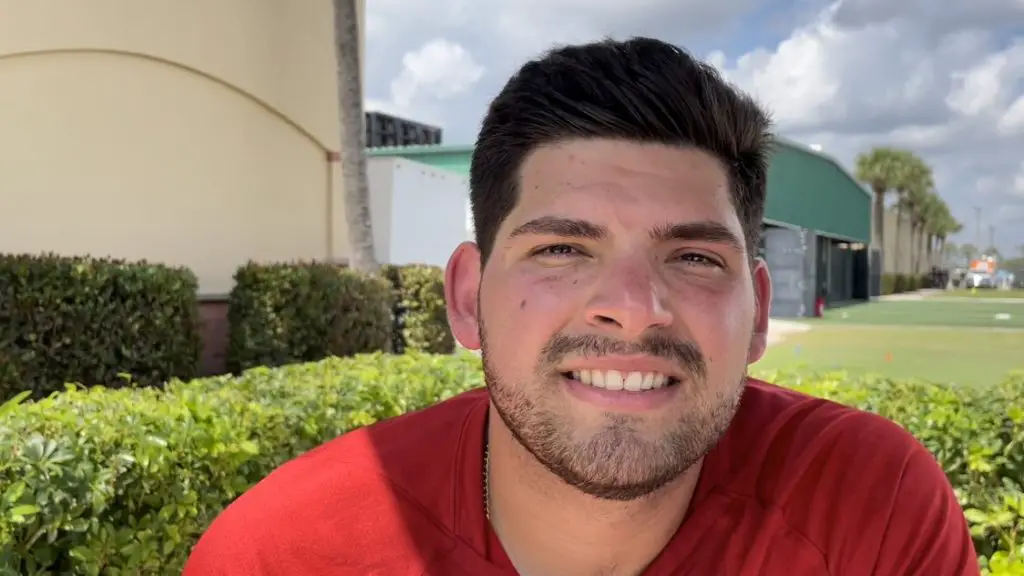 Cardinals prospect Juan Yepez close to Christmas dream
Juan Yepez is fighting for a spot on the Cardinals' Opening Day roster
JUPITER, Fla. – As Christmas Eve approached about 18 years ago, Juan Yepez followed the Venezuelan tradition of writing a letter to "Baby Jesus" with his list of wishes. The child didn't mention material gifts other than to say he'd take whatever other surprises came his way.
Those letters in Venezuela are similar to the ones American kids send Santa each December, and Yepez shared his dreams in loopy cursive. 
"He asked 'Baby Jesus' to let him play in the Little League World Series and in the big leagues one day," Yepez's father Omar Yepez Sr. said via phone from Caracas, Venezuela. "From early on, he's had those goals."
Juan Yepez, who is fighting for a spot on the St. Louis Cardinals' Opening Day roster, didn't just dream. He dreamed big as a child.
"I want to be the best player in baseball and reach 1,000 home runs," he wrote in Spanish in rather impressive cursive for a child barely learning how to write. "And in Little League, if I get there, in each at-bat, (I want to) hit a home run."
A letter to Niño Jesus, Baby Jesus
Juan Yepez's parents – Omar Yepez and Maria Eugenia Alvarez – still have that letter in a scrapbook his mother keeps in their home in Caracas. He was six or perhaps seven at the time.
None of them can remember the exact year.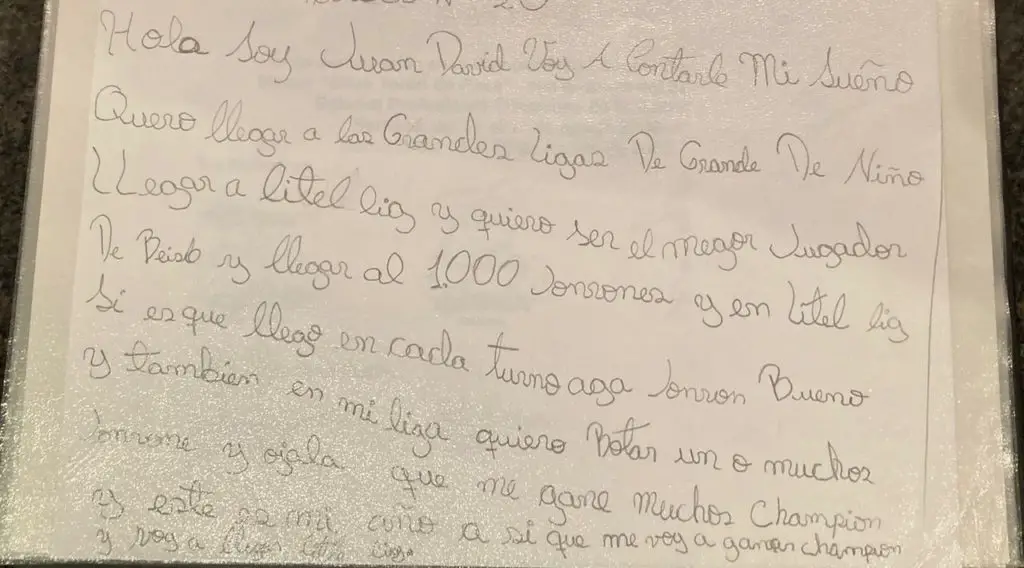 In a family full of college-educated professionals, Juan Yepez never strayed away from his childhood dreams. Although he never reached the Little League World Series, he represented Venezuela as a 12-year-old in the Latin American equivalent in the 2010 Criollitos Youth World Cup.
Yepez actually faced the Cardinals' Cuban righthander Johan Oviedo in that Criollitos international tournament. Four years later, Juan Yepez was one of the prized prospects of the July 2 international market. 
The Atlanta Braves gave him a $1 million signing bonus as a 16-year-old in 2014. By comparison, the Braves gave eventual superstar outfielder Ronald Acuña Jr. only $100,000.
The Braves traded Yepez to the Cardinals in 2017 for Matt Adams. Two years later, Yepez found himself at a crossroads when the Cardinals kept him at extended spring training in 2019.
A huge step back for Juan Yepez
Juan Yepez was stunned by the Cardinals' decision. He had not been kept in extended spring training since his first season in professional baseball when he was only 17. Even at his first extended spring training it was somewhat of a compliment because he was starting his career in the United States. 
Most international prospects his age begin their careers in the Dominican Republic Summer League. At 21, though, it's rarely a good thing when a club keeps a healthy player at extended spring training.
"It was pretty rough when I was left out in extended," Juan Yepez said. "I signed with the Braves for a good amount of money, so I played extended my first year when I was 17 years old. Then being back when you're 21 years old after five years playing professional baseball and you go back. 
"It's like, 'Man, I'm starting all over again.' That was pretty tough, but it made me who I am."
Parental support
Juan is grateful that his parents, Maria Eugenia Alvarez and Omar Yepez Sr., were in Jupiter at the time. They encouraged him to keep working and fighting to accomplish those dreams he wrote about when he was a little boy.
The 6-foot-1 slugger was somewhat of a line drive hitter while hitting only two home runs and 22 RBIs with a lowly .208 batting average at High Class A Palm Beach.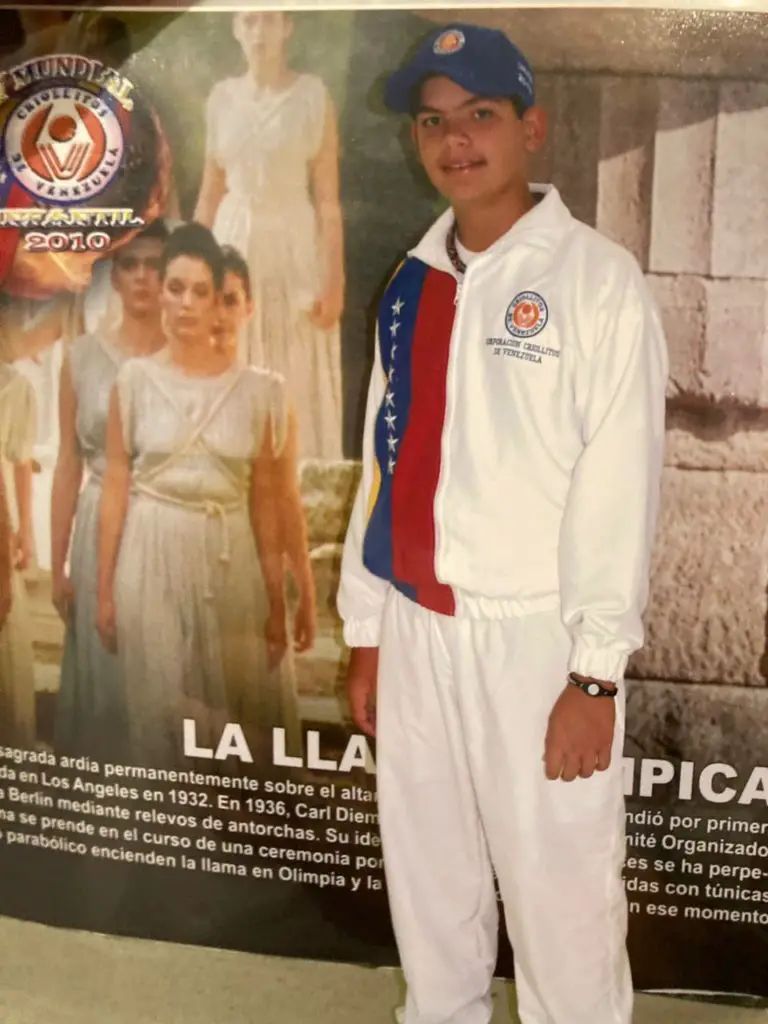 He joined a gym in Jupiter soon after he was told that he had not been assigned to a minor league team yet. He also extra batting practice at a nearby field in the early evenings on his own after working out with the other minor-leaguers in camp.
Fearing a release
Yepez and his parents feared that the Cardinals would give up on him and release him during extended spring training. He reworked his swing, focusing more on launch angle. His ego survived as well after he was shipped to Low Class A Peoria to start the 2019 season.
"Obviously, it's never ideal to have someone that feels like they should be moving forward then all of a sudden feel like they're a little bit stuck in their progression," Cardinals president of baseball operations John Mozeliak said. "But in Juan's case, we were always someone that believed in his bat.
"He still had some defensive struggles early on. But as you know, hitters hit. When they hit, you find them places to play. I'd say over the last couple of years, especially last year, he really distinguished himself as an offensive player."
Juan Yepez surged in 2021
Yepez finished the 2019 season at Class AA Springfield, where he hit two home runs and drove in 10 runs in 17 games. Like most minor-league players, he had his 2020 season washed out by the COVID pandemic.
His career took off in 2021. He had 27 home runs and 77 RBIs between Class AA Springfield and Class AAA Memphis last year, hitting 22 homers in 92 games at Memphis. The Cardinals thought enough of his bat to add him to their Division Series roster even though he had never played a game in the majors.
Yepez was also named the Cardinals' 2021 co-Minor League Player of the Year with Jordan Walker this week. He can play first base and third base. Those spots are manned by established superstars in St. Louis now.
For now, the Cardinals view him as an option as a designated hitter for the Opening Day roster.
"To receive that honor, that's saying a lot," Mozeliak said. "As I look at his future, he's someone, especially now that we have a DH in the National League, he's going to have enormous opportunity. He just has to continue to grow as a player, especially this year.
"Get as many at-bats as possible, whether it's here or at Triple-A and make the most of it. He's a talented young man, and I'm very excited about his offensive capabilities."
That little kid is now 24. His childhood dreams remain, though.
Yepez is as close as ever to reaching those dreams he first mentioned as a child in that Christmas letter.
"It's not been an easy road, a lot of lows," Juan Yepez said. "I know God has been there for me. I've been in those lows to learn so when I get to highs remember how I was in those times. It's unbelievable to think that I'm so close."
Get the Our Esquina Email Newsletter
By submitting your email, you are agreeing to receive additional communications and exclusive content from Our Esquina. You can unsubscribe at any time.