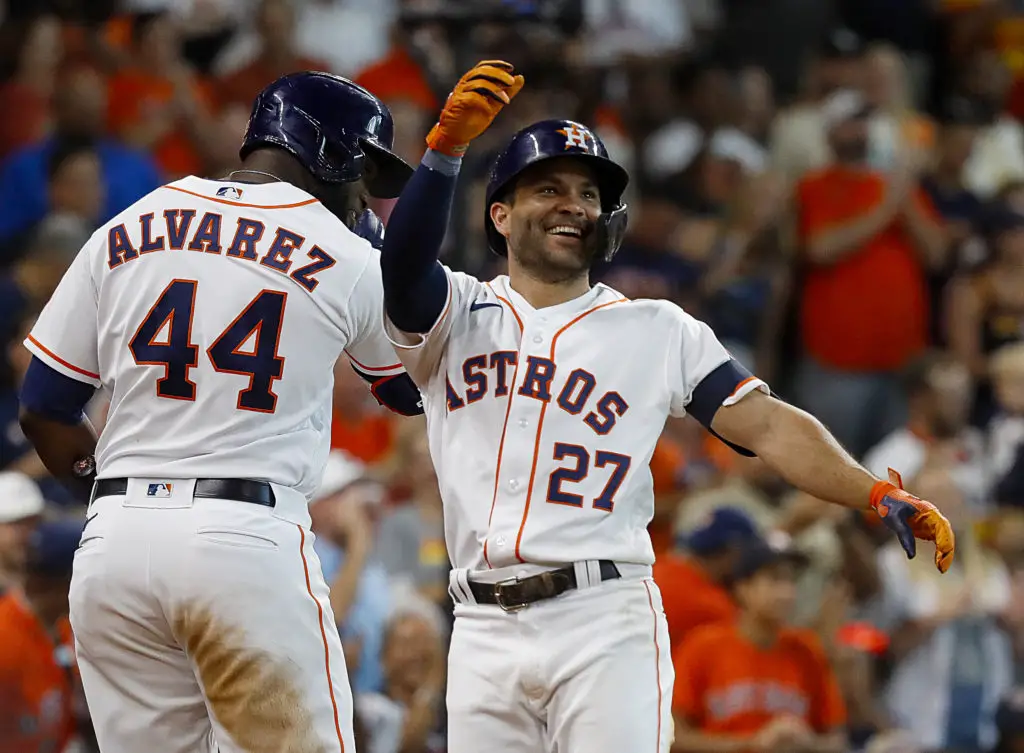 2022 MLB All-Star Voting: The Finals
Who fills out the rest of the starting lineup in the Summer Classic?
Phase 2 of the 2022 MLB All-Star voting officially opened up Tuesday. Voters will have until 1:59 p.m. ET on July 8 to submit their ballots to determine the eight remaining starting positions in each league.
In Phase 1, New York Yankees slugger Aaron Judge and Atlanta Braves outfielder Ronald Acuña Jr. received the most votes in the American League and National League respectively. As such, they are guaranteed a starting spot in the Midsummer Classic.
As a baseball aficionado, I decided to vote this season and share my MLB All-Star picks. Interested in joining me? Here's the link to Phase 2.
First Base
The top two vote-getters for AL first basemen are Toronto Blue Jays slugger Vladimir Guerrero Jr. and Seattle Mariners infielder Ty France. Though Guerrero definitely wins the popular vote, statistically France deserves to start the game.
France currently boasts a top three fWAR in the AL. He's done so by posting a .316 batting average and a .867 OPS. By contrast, despite having 19 home runs, Vladdy is hitting just .266 with an .848 OPS.
Sure, there's room for improvement, but time is limited. My pick is Ty France.
---
In the NL, the top two first basemen are two-time Home Run Derby champion Pete Alonso and St. Louis Cardinals veteran Paul Goldschmidt.
This one is easier to decide. Already an elite player, Goldy is having the best season of his career. He leads the NL with a .340 batting average and a 1.042 OPS. As a result, he has an MLB-best 4.2 fWAR among first basemen. My pick is Paul Goldschmidt.
More MLB All-Star Votes
Second base
In the AL, fans will decide between Houston Astros veteran Jose Altuve and Toronto Blue Jays infielder Santiago Espinal. Despite continuing to hear boos in many MLB stadiums, Altuve has the edge over Espinal.
Altuve has embraced hitting for power, and it has paid off. Currently, he leads AL second basemen with 16 home runs and a .532 slugging percentage. Compare this with Espinal's six home runs and .406 slugging and it's really no contest. My pick is Jose Altuve.
---
In the NL, it's between Atlanta Braves second baseman Ozzie Albies and Miami Marlins star Jazz Chisholm. This, like the NL first base race, is no contest. Statistically, there's just no way Albies should start over Chisholm, and i'll let the numbers do the talking:
Albies vs. Chisholm
Batting Average – .244 vs. 254
Home Runs – 8 vs. 14
RBI – 33 vs. 45
OPS – .694 vs. .860
My pick is Jazz Chisholm.
Third Basemen
Of all the picks, the battle for starting AL third baseman was the toughest because of how even Rafael Devers and Jose Ramirez are statistically In the end, I opted to go with Devers for a few reasons.
First, he leads Ramirez in most traditional stats.
Devers: .327 AVG / .383 OBP / .579 SLG
Ramirez: .289 AVG / .374 OBP / .577 SLG
He leads in the major advanced metrics too!
Devers: .409 wOBA / 168 wRC+ / .962 OPS
Ramirez: .400 wOBA / 166 wRC+ / .952 OPS
In the end, I had to side with wins above replacement (WAR). Even then, Devers prevails!
Devers: 4.1 fWAR / 3.7 bWAR
Ramirez: 3.9 fWAR / 3.4 bWAR
Therefore, my pick is Rafael Devers.
---
In the NL, San Diego Padres star Manny Machado(4.3 fWAR) edges out St. Louis Cardinals veteran Nolan Arenado (4.1 fWAR), in my opinion. Statistically, Machado is having an NL MVP-caliber season. It should only get better as teammate Fernando Tatis Jr. is set to return soon.
For that reason, my pick is Manny Machado.
Shortstops and Catchers
In the AL, Chicago White Sox star Tim Anderson takes on Toronto Blue Jays shortstop Bo Bichette. Neither have been the best shortstop in the league – Boston Red Sox infielder Xander Bogaerts and Houston Astros rookie Jeremy Peña are – but they were the top two vote-getters.
Anderson gets my vote for two reasons. He's better than Bichette statistically and his swagger is much better for the game.
My pick is Tim Anderson.
---
In the NL, the race for starting shortstop is between Atlanta Braves shortstop Dansby Swanson and Los Angeles Dodgers star Trea Turner. Though both players are having near-identical seasons, Swanson has a slight edge.
Swanson vs. Turner
Batting average – .302 vs. .307
On-base percentage – .359 vs. .355
Slugging percentage – .502 vs. .484
For that reason, my pick is Dansby Swanson.
---
In the AL, Toronto Blue Jays catcher Alejandro Kirk is having the best season at the position. His 3 fWAR is 1.1 points better than the next best guy, Jonah Heim (1.9 fWAR).
My pick is Alejandro Kirk.
In the NL, Chicago Cubs catcher Willson Contreras is the clear starter. His 2.8 fWAR is 0.6 points better than J.T. Realmuto's 2.1 fWAR.
My pick is Willson Contreras.
MLB All-Star Outfielders and DH
In the interest of saving you time, here are my picks and a brief description why.
In the AL, my first outfield pick is Mike Trout. Though the Los Angeles Angels continue to disappoint, leading to rumors of him being trade bait, Trout has returned to form somewhat. His 3.7 fWAR is top 10 in MLB and his 23 home runs puts him only behind Judge (29 HR) and Yordan Alvarez (25 HR) for the AL lead.
My second AL outfield vote goes to Giancarlo Stanton. Of the top vote-getters, Stanton leads with 20 HR, 58 RBI, and an .834 OPS.
For this reason, my picks are Mike Trout and Giancarlo Stanton.
---
In the NL, my first pick is Mookie Betts, who leads all NL outfielders with a 3.5 fWAR. Betts' .901 OPS trails only Joc Pederson's .909 OPS.
For that reason, my picks are Mookie Betts and Joc Pederson.
---
I had a difficult time deciding between Yordan Alvarez and Shohei Ohtani for the AL designated hitter. In the end, I decided that I couldn't take Ohtani's pitching prowess into account when making my decision. In doing so, the only conclusion is that Alverez is a far better offensive player than Ohtani.
That's why my pick is Yordan Alvarez.
---
The role of starting DH in the NL most certainly belongs to Bryce Harper. His injury will keep him from playing, therefore my pick is William Contreras.
This will make it the first time that brothers are selected as MLB All-Stars since Brett Boone and Aaron Boone in 2003. That's close to two decades!
Get the Our Esquina Email Newsletter
By submitting your email, you are agreeing to receive additional communications and exclusive content from Our Esquina. You can unsubscribe at any time.