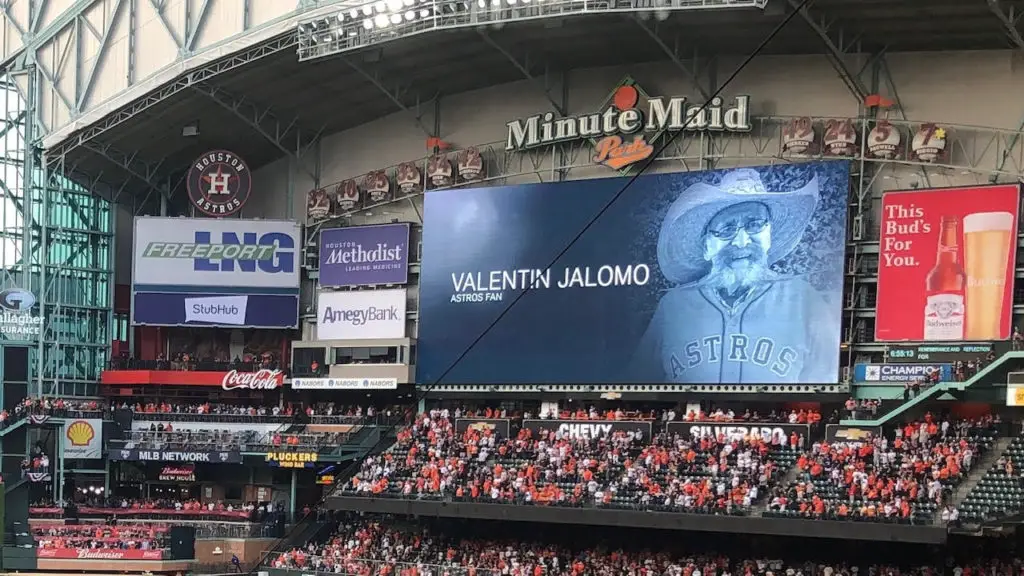 Valentin Jalomo's legacy remains at Minute Maid Park
Commissioner Adrian Garcia honors late Astros super fan Valentin Jalomo
Valentin Jalomo's family was back at Minute Maid Park last Thursday. His daughter Valerie and granddaughter Jazmin Torres were at the home opener. They returned on Friday and Saturday and every Astros home game this season, just as the Astros' mustached super fan would have wanted.
Perfect attendance, after all, was important to the retired bilingual teacher and his family, at Minute Maid Park and at school.
The season tickets Valentin Jalomo renewed before he died are in the upper deck. They remain empty, though, just as they have been over the years. Valerie preferred to stand along the concourse behind the Crawford Boxes in left field because she wanted to feel close to the most famous Astros fan in America, her mustachioed father. 
Valentin Jalomo would have been so happy, so fulfilled, as the two most important things in his life converged again: his Astros and his family, one and the same in many ways.
"We're going to give him perfect attendance," Valerie Jalomo said. 
The Astros give fans who attend each home game bats in honor of their perfect attendance, and Valentin collected them. He earned so many, the family lost count of them. They haven't had time to count them, but it's somewhere between seven and 10.
Special notes from Valentin Jalomo
Valentin Jalomo died of Covid on Jan. 19 at 81. He wrote notes for friends and family from his deathbed until the final hour of his life. Valerie sat at his side, ducking to hide from hospital officials when she stayed past the one-hour limit.
One of the final highlights of Valentin Jalomo's life was the video Astros All-Star Alex Bregman made wishing him well. By the time Valerie showed Valentin the video, she had already stayed in the room five hours.
She hid each time hospital officials in black coats walked by, prompting her dad to ask if she was still there. Valerie would assure him that she was still in the room, and then she'd take the notes he was writing. 
Bregman's video provided some comfort and lots of joy near the end. 
"He was so excited," Valerie said. "He felt like he was on Facetime with (Bregman). He kept on waving to the phone. He wrote all these notes on who to contact. He did say he had a good life."
Valentin Jalomo told Valerie that he wanted his family to pray. He asked her not to cry.
"But it's kind of hard," she says through tears.
Even owner Jim Crane got letter from super fan
From his deathbed, the father of four wrote a letter to his wife of 47 years, Carmen. He wrote lots of letters, including one to Astros owner Jim Crane. He wanted a statue for people to remember him at Minute Maid Park, where he was one of the most popular fans. People from all over the world came to see him at his regular standing-room-only spot behind the Crawford Boxes. 
Other than the players, he was the most photographed person each night. And even the players didn't grant as many selfies as he did on a daily basis. 
The Astros honored Valentin Jalomo during a moving video tribute to those who died over the last year. The former bilingual elementary school teacher who first started attending games at the Astrodome in 1965 would have loved the company he had in the video. 
He was honored along with Hall of Famers Joe Morgan and Don Sutton and Astros icons Jimmy Wynn and Bob Watson and beloved Houston Police Officer Jerry Flores and other popular fans.
"Well, I've been saying he leaves a legacy," said Jazmin Torres, Valentin's granddaughter. "I always say for him to be remembered like this is an honor because not everyone gets the opportunity to get something like this after they pass."
Harris County Precinct 2 Commissioner Adrian Garcia honored Valentin Jalomo with a proclamation during Commissioner's Court on Tuesday. He paid tribute to Jalomo's devotion to the community. 
"On January 19, 2021, our community lost Valentin Jalomo, a great mentor, bilingual education teacher in Houston Independent School District, and diehard Astros fan …" the proclamation read.
Jalomo may have been known for his bodacious handlebar mustache to Astros fans, but his legacy is much more impressive. He was a pillar of the East End, the famed Segundo Barrio that has been the anchor of Houston's Latino community.
Valentin Jalomo "impacted thousands of lives"
"I chose to honor Mr. Jalomo because of his more than 20 years of service to students in the Precinct 2 community at Tijerina Elementary," Garcia said. "Former students, colleagues, and fellow Astros fans all rave about how great of a man he was. 
"Clearly he impacted thousands of lives in a major way; and I'm happy to have presented this measure to Commissioners Court."
Valentin, a native of Taxt, graduated from Texas A&I. He began teaching in Houston in 1973 and then moved to the East End's Tijerina Elementary School.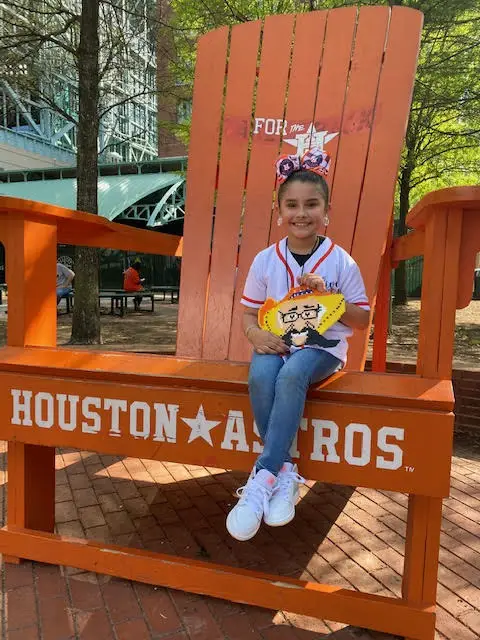 As if fate would have it, one of Jalomo's former students headed to the concourse behind left field before the Astros played the Tigers on Monday night. He saw Valerie in her blue Astros jersey with a No. 13 and "Jalomo" on the back.
The student approached Valerie, offered condolences and then told her that Valentin had taught him and his entire family at Tijerina Elementary.
Many fans approach the family to offer condolences and share a memory of Valentin Jalomo. He threw the ceremonial first pitch several times over the years at Minute Maid Park. The family knew the Astros would include him in their video tribute on Opening Day. Nonetheless, they were overwhelmed to tears.
Super fan's family overwhelmed with tears
"Oh my God, it was great," Torres said. "We expected to see it, but it was very emotional. … It was really nice what they did. I was sitting next to my mom, so I know it's been hard for her. I was trying to stay strong for her because I didn't want her to see me cry.
"We kind of laughed a little bit because every time he would come out on TV he would get so excited and call my aunt or my grandma. He would call and say, 'I came out on Fox 26, make sure you record it.'"
Valentin Jalomo appreciated the love and attention he got at Minute Maid Park. He is missed.  The video tribute on Opening Day reminded the family what he meant to fellow Astros fans.
"You could hear the crowd when it came to his picture," Valerie said. "He was loved by so many. I have the season tickets that he already paid for, so I'm going to the games. Everyone is saying how he was loved. 
"It helps, actually. Like yesterday I got there extra early. It helps me to go and, I guess, bond with him now that he's not here because that's what he loved to do." 
Get the Our Esquina Email Newsletter
By submitting your email, you are agreeing to receive additional communications and exclusive content from Our Esquina. You can unsubscribe at any time.