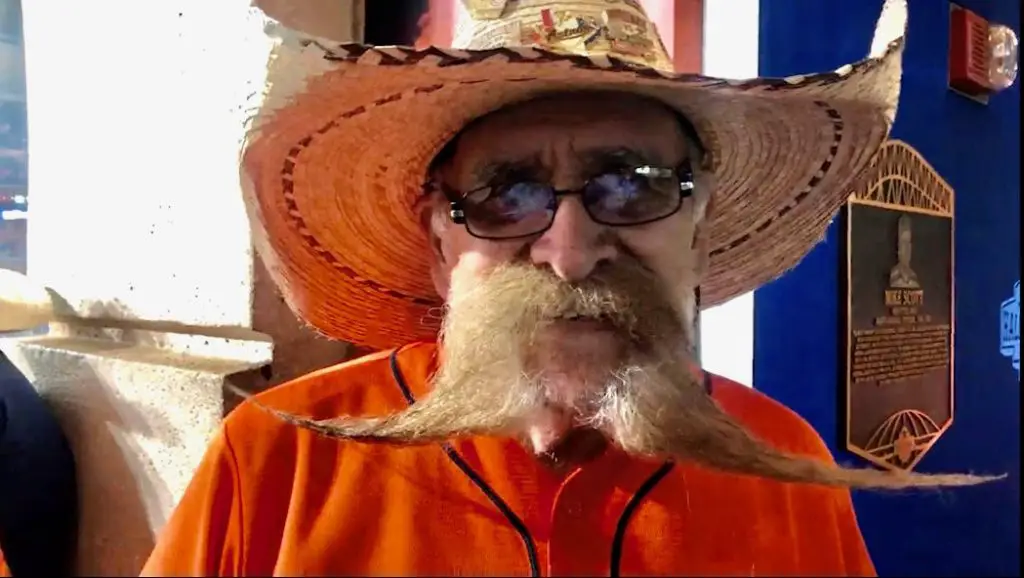 Astros fans pull for mustached super-fan Valentin Jalomo
Astros fans pull for retired bilingual teacher, Minute Maid Park mainstay Valentin Jalomo
People from all over the world made pilgrimages to the Minute Maid Park concourse behind left-center field for more than a decade to see Houston Astros super-fan Valentin Jalomo.
They would come from as far away as China and India and as close as the home clubhouse in search of the man with the impressive mustache, Panama cowboy hat and orange Astros jersey with No. 17 and "Jalomo" on the back.
Whether they were a $100 million slugger like Carlos Lee or a fan attending a game for the first time, Jalomo greeted them all the same. He had a ready smile for everybody. And a hug and a pose too for the thousands of fans who asked to pose with him for a photo.
Jaloma, a retired bilingual teacher, has been a major part of the Astros' extended family. With a bodacious mustache, he drew plenty of airtime, especially during the postseason. That large following sent out a call for prayers after the 81-year-old was reportedly admitted into a local hospital with Covid-19 and pneumonia. 
Hundreds of fans have wished him well on social media. Many of them shared pictures with Jalomo. 
The outpouring of support and collection of pictures wasn't surprising. 
Everybody, it seems, had wanted a picture with Jalomo's impressive mustache, which curled like a handlebar twisting into fine points. 
Jalomo had attended Astros games since the Astrodome opened in 1965. He had season tickets in the top deck at Minute Maid Park, but he preferred to stand on the concourse behind left-center field. 
Valentin Jalomo was part of Los Caballitos
That was his post since the 2007 season, when he gained a cult following as a member of "Los Caballitos" fan group that galloped on stick horses after each home run by "El Caballo," Lee.
Lee once presented Jalomo with an autographed bat. 
"One year (Lee) even paid for all our season tickets," Jalomo said before a game at the 2019 World Series. 
He was often surrounded by fans during the 2019 postseason all the way through Game 7 of the World Series against the Nationals. 
Jose Altuve, Alex Bregman and Justin Verlander were his three favorite Astros in 2019. He said there were too many to name when asked to name his all-time favorite Astros. 
When pressed, he named Jose Cruz, Jimmy Wynn and Joe Morgan.
He had seen plenty of Astros baseball over the years. He was in attendance at the Astrodome on Sept. 26, 1981, when Nolan Ryan threw his fifth no-hitter. That game was among his top three favorite memories as a fan.
He actually saw two Astros no-hitters at the Astrodome and one at Minute Maid Park.
The last time Jalomo cut his mustache, Lee hadn't even been born and Ryan was playing for the California Angels in 1975. 
Jalomo has styled the mustache with hairspray. 
"It takes me about an hour or so," he said. "Like 30 minutes (each side)."
I'm praying for Jalomo to beat Covid. I cannot wait to chat with him at Minute Maid Park again and to see the fans asking to take a picture with him.
"People from all over the world come here (for a picture with Jalomo)," he said. "From China, Japan, India, Pakistan, you name it. Mexico, the same way."
Get the Our Esquina Email Newsletter
By submitting your email, you are agreeing to receive additional communications and exclusive content from Our Esquina. You can unsubscribe at any time.