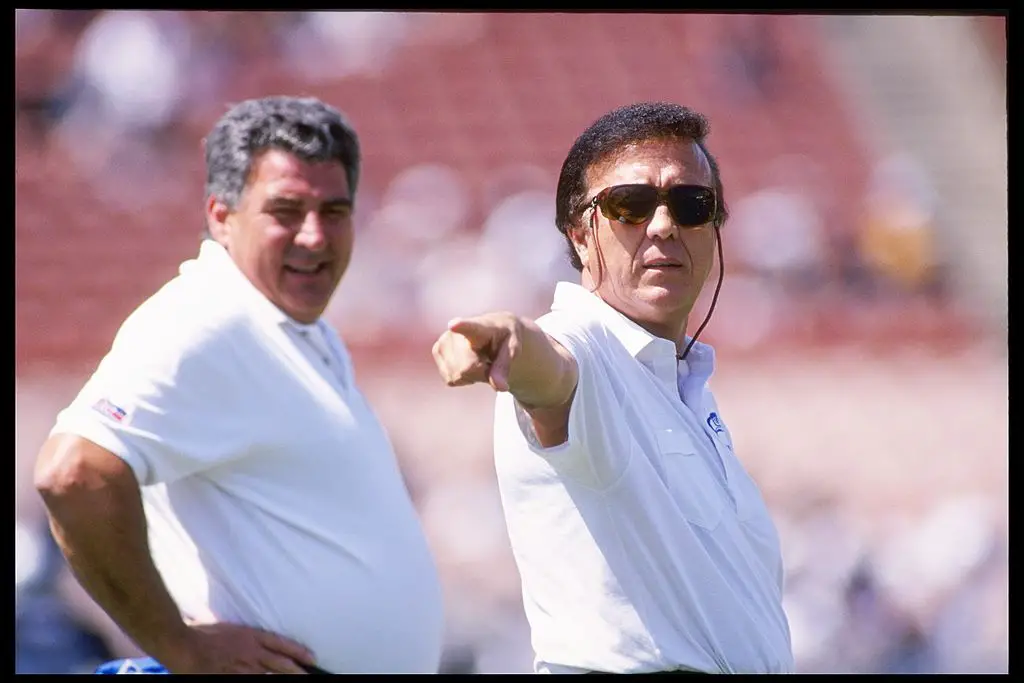 Tom Flores Brought Latinos on Hall of Fame Journey
Tom Flores finally joins immortals at Pro Football Hall of Fame
Tom Flores' reign as the Raiders' head coach from 1979-1987 was at a time when people weren't conditioned to be proud of their Latino heritage.
The Raiders were the team for Latinos in Southern California, arriving in Los Angeles from Oakland in 1982 after the Rams departed the city and the Los Angeles Memorial Coliseum for Orange County and Anaheim Stadium.

The Raiders and Flores, who will finally be enshrined in the Pro Football Hall of Fame, created a large fanbase in Los Angeles.

This makes sense considering Flores came from Sanger, a farming community southeast of Fresno, an area that is considered neither Northern or Southern California. 
The Raiders and Flores' popularity wasn't exclusive to urban areas or California, though. 

"Coach Flores was an inspiration as when you love a game, you naturally look for someone that looks like you," said Oscar Rodriguez, the inside linebackers coach at the University of Akron.
Growing up in the small town of Liberal, Kansas, playing football was a challenge for Rodriguez.

"It's probably 70% Latino now," he said. "When I was growing up it was about 10%, let alone anyone that played the sport. I never had a Mexican coach. And if I had a Mexican teammate, I was related to them."
Now as Liberal has grown, the percentage of Mexicans playing the sport has grown as well. 
Flores' agrarian roots resonate with Central Union (California) head coach David "Rookie" Peña and his family.  

Tom Flores roots resonate
El Centro is located in California's Imperial County, an area that hugs San Diego County as well as Arizona and Mexico. It is known for the cultivation of lettuce, melons, onions and other produce. 
Peña's grandfather settled in Imperial County after spending time in Sanger as a migrant worker. 
Peña's dad and grandfather felt and explained that Flores "was one of ours." 
This resonated with Peña and his family because Flores was someone who worked his way out of the fields." Flores represents the mobility of leaving the fields to pursue other opportunities,  including one's own dreams and accomplishments. 
For many younger coaches like Peña, their parents and grandfathers viewed Flores and his success in the context of what it meant for the culture. 
Former Azusa Pacific Head Coach and current University of Hawaii defensive line coach Victor Santa Cruz's family excitedly pointed out Flores and his accomplishments to the young Santa Cruz growing up in northern San Diego County. 

Inspirational figure
Rice tight end coach Jim Jackson's father's admiration of Flores stemmed from Flores' relationship with Al Davis
"My father loved and adored coach Flores," said Jackson, the son of a Mexican mother and white dad. "My Dad was a lifelong Raiders fan, and he loved coach Flores because in his words, 'He is the only one with the guts to stand up to Al Davis.' In his mind, that took courage, toughness, and knowledge of what he wanted in the team."
Flores first won a Super Bowl as a player in Super Bowl IV with the Kansas City Chiefs. He won his second ring as an assistant coach in Super Bowl XI.

Then with the Raiders Tom Flores became the first head coach of color to win a Super Bowl in Super Bowl XV. He won it all again in Super Bowl XVIII.
One of Peña's first sports memories was of Flores' second Super Bowl victory. 
It's that winning that amazingly got little recognition outside of the community until recently, according to Oscar Rodriguez. 
"As a player as an assistant coach and a head coach, he should've got more recognition for being the first minority to win a Super Bowl," Rodriguez said. "Just like Eddie Robinson.
"He transcended the game and he hasn't gotten the credit. Unless you did your research you didn't know about him."
Connecting with other coaches
The admiration isn't just from a distance. Some of us have had the pleasure of getting to meet Tom Flores. 
In 2010, I was a Director of Football Operations at New Mexico State University, a perennial doormat in the old Western Athletic Conference.

Coach Flores was in town to speak to the Boys & Girls Club. I arranged for him to come visit our team. 
I sensed that very few were as into Flores. Then I scanned our team meeting room and saw the look on two faces, those being of the Rodriguez brothers, Jourdan and Robert, from the oil town of Artesia, New Mexico. 
"When I was in college, there weren't very many Hispanics on our football team at New Mexico State," Jourdan Rodriguez said. "When our football staff brought coach Flores in to speak with us, those few Hispanics gleamed with joy.
"It was awesome to see a man who won at the highest level of the sport, look like us. It was an inspiring moment and I ran back to the locker room after that day, like a child to call my dad. I called him to let him know that I met coach Flores. He reminded me to not take any moment for granted and always remember that I just met a legend. A legend for what he did in his own career, and how his achievements opened doors for many behind him."
Get the Our Esquina Email Newsletter
By submitting your email, you are agreeing to receive additional communications and exclusive content from Our Esquina. You can unsubscribe at any time.