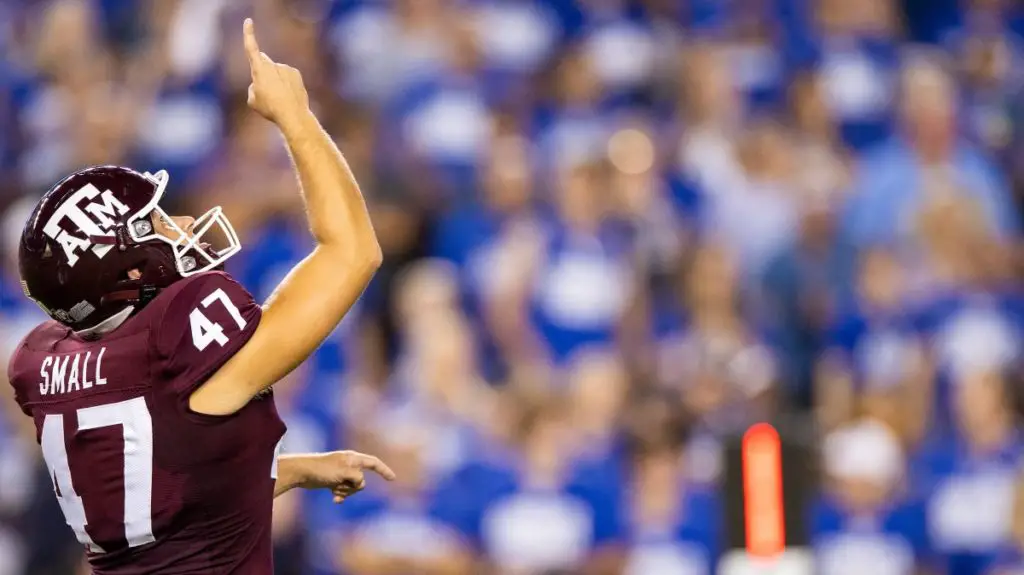 Texas A&M's Seth Small is a Groza Award semifinalist
Small is joined by UNLV's Daniel Gutierrez, Texas Tech's Jonathan Garibay as Groza semifinalists
Seth Small, the Texas A&M kicker who sealed the Aggies' upset over No. 1 Alabama in October, is a semifinalist for the most prestigious kicking award in college football.
The Katy (Texas) High School graduate was among the 20 semifinalists named for the 2021 Lou Groza Collegiate Place-Kicker Award.
Small is one of three Latinos named as semifinalists for the Lou Groza Award, which is presented by the Orange Bowl. Texas Tech's Jonathan Garibay and University of Nevada-Las Vegas senior Daniel Gutierrez also are among the 20 semifinalists.
Small has been a four-year starter at Texas A&M. Garibay is in his second year at Texas Tech after transferring from Riverside (Calif.) Junior College. Gutierrez is a three-year starter who walked on the first three seasons before finally earning a scholarship in August.
More College Football
'Cuban Missile' Zach Calzada Embodies American Dream
Ohio State's Chris Olave shines again
Texas A&M Kicker Seth Small Embraces Mexican roots
Small made one of the biggest kicks of the college football season on Oct. 9 at Kyle Field. He set off pandemonium after he nailed a 28-yard field goal as time elapsed to beat No. 1 ranked and defending national champion Alabama.
Seth Small downs Alabama
That was his second "walk-off" field goal in as many years to defeat a Top 5-ranked opponent. The son of Mexico City native Ricardo Small nailed another game winner last season as time elapsed to beat Florida.
Until Seth Small downed Alabama on Oct. 9, no field goal had been hit as time expired to defeat the No. 1 team in America since Boston College beat Notre Dame 41-39 on Nov. 20, 1993.
Small's family also became viral sensations after a video showed them nervously waiting for, watching and then reacting to his winning field goal against Alabama.
Small has made 14 of his 18 field goal attempts this season with a 49-yard field goal as his longest. He has made 63 of his 82 attempts in his career with a 52-yard field goal as his longest. 
Chasing Texas A&M record
Small's next field goal will make him Texas A&M's career leader in field goals. He's tied with Randy Bullock, who hit 63 from 2008 through 2011.
Moreover, he is in 13th place on the SEC career list for field goals.
The 6-foot-1, 215-pound Garibay is a perfect 10-for-10 with a long of 49 yards and 37 out of 38 on point after tries this season at Texas Tech. 
A year ago, Garibay had his own walk-off shot. The Rubidoux, Calif., native set off the fireworks in Lubbock, Texas, on Nov. 14, 2020, with his field goal to beat Baylor.
He also retaught himself to punt last season to help the Red Raiders. Garibay had five punts for an average of 47.5 yards with a high of 56 yards last season. but Tech hasn't needed him to punt so far this year.
The 5-foot-11, 220-pound Gutierrez has made eight of his nine field goal attempts this season, including a 53-yarder on Oct. 21 against San Jose State.
Get the Our Esquina Email Newsletter
By submitting your email, you are agreeing to receive additional communications and exclusive content from Our Esquina. You can unsubscribe at any time.