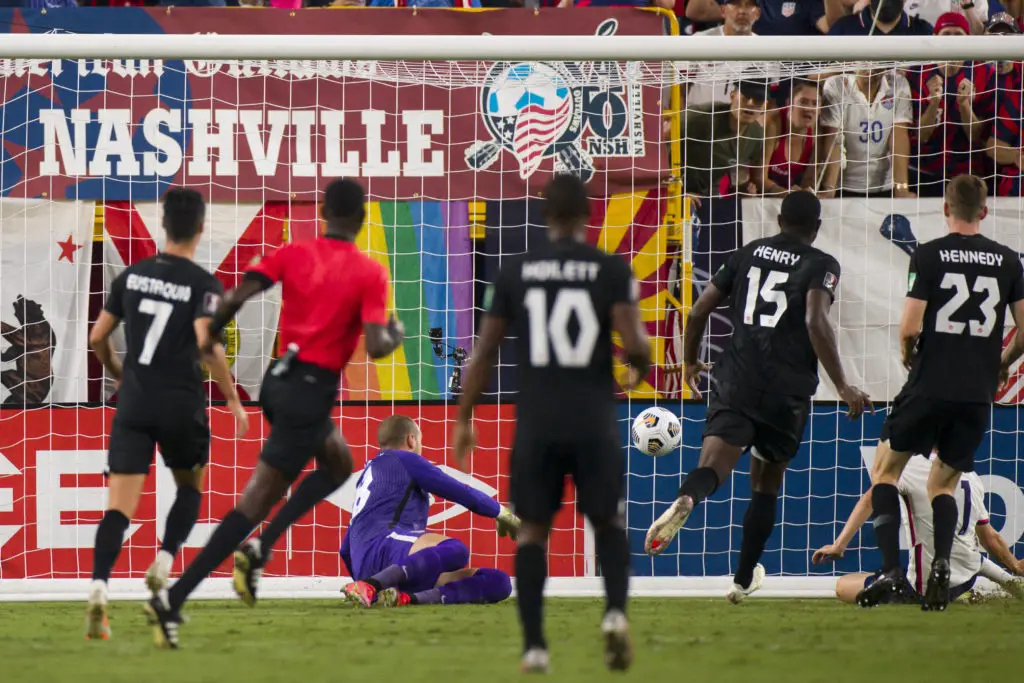 U.S. Men's National Team Stumbles Again in World Cup Qualifying
U.S. rival Mexico perfect 2-0 to lead Concacaf standings
U.S. Soccer's "Only Forward" campaign is in reverse. The most positive thing you can say about the U.S. men's national team is that it could be worse. Barely.
Boos rained down at the final whistle Sunday night in Nashville after Canada tied the U.S. at 1. The Americans have only two points after their first two matches of Concacaf's octagonal World Cup qualifying round.
The young team that beat rival Mexico in consecutive regional finals this summer has stumbled early in its quest to return to the World Cup. It's too early to worry about the U.S. missing the World Cup for consecutive cycles, but there is reason for concern.
The scoreless draw on the road in El Salvador on Thursday was acceptable even against a Concacaf minnow. Tying at home against Canada, though, was not.   
"We're disappointed, I think disappointed with the performance, particularly tonight," U.S. coach Greg Berhalter told the media afterward. "I think the effort was good. The effort was outstanding, but the performance wasn't up to what we expect.
"I think looking at this and keeping it in perspective, we knew it was going to be a difficult road. We knew they were going to be tough games, and we're getting into it and we're finding out that they are tough games."
The Nissan Stadium crowd roared when Brenden Aaronson gave the U.S. a 1-0 lead in the 55th minute. The lead didn't last very long, though.
Cyle Larin tied it in the 62nd minute, and the U.S. never responded.
Men's national team hampered by injuries
Berhalter's squad has been hampered by injuries. Young star Gio Reyna was out with a hamstring injury. Juventus midfielder Weston McKennie was suspended Sunday for violating team rules.
McKennie, 23, claimed on social media that he violated the team's COVID protocols. He plays for one of the biggest club's in Europe. Moreover, he's old enough to know and act better. 
The U.S. men's national team, which has missed three consecutive Olympic Games, is trying to return to the World Cup after missing the 2018 Cup.
"Looking at this and keeping it in perspective, we knew it was going to be a difficult road," Berhalter said. "We knew there were going to be tough games, and we're getting into it. We're finding out that they are tough games.
"That's something that we have to deal with. Our success is going to depend on how we deal with that as a team. There's ups and downs and bumps in the road, and we're just going to have to keep responding when we're called on."
Plenty of time to recover
Fortunately for the U.S., it's early. Christian Pulisic and crew are in a four-way tie for third place with Canada, Honduras and El Salvador.
Mexico sits atop the region with six points after beating Jamaica and Costa Rica. Panama, which routed Jamaica 3-0 Sunday, is in second with four points.
Teams get three points per victory, one point per tie. Mexico hasn't looked very good either, but El Tri escaped with a 2-1 victory over Jamaica on Thursday at home. Mexico beat Costa Rica 1-0 Sunday night.
Mexico was without head coach Tata Martino on Sunday as he recovered from surgery. El Tri is also missing key forwards, but they are in good position heading into Thursday's visit to Panama.
"It was a very important victory," Mexico's interim coach Jorge Theiler said. "We produced a good first half. We were a just winner, and we gained three crucial points."
Mexico and Panama will play the biggest match of the octagonal round Wednesday at Panama City's Estadio Rommel Fernandez.
The U.S. will go on the road to Honduras for what should be a difficult but winnable match.
Although loaded with young starlets who play for major European clubs, the U.S. has played down to opponents so far.
The U.S. men's national team must treat each opponent the way they play Mexico. Moreover, McKennie must grow up.
After missing the World Cup in 2014, the U.S. cannot afford to take anybody in the region for granted.
Featured photo by Brett Carlsen/Getty Images.
Get the Our Esquina Email Newsletter
By submitting your email, you are agreeing to receive additional communications and exclusive content from Our Esquina. You can unsubscribe at any time.