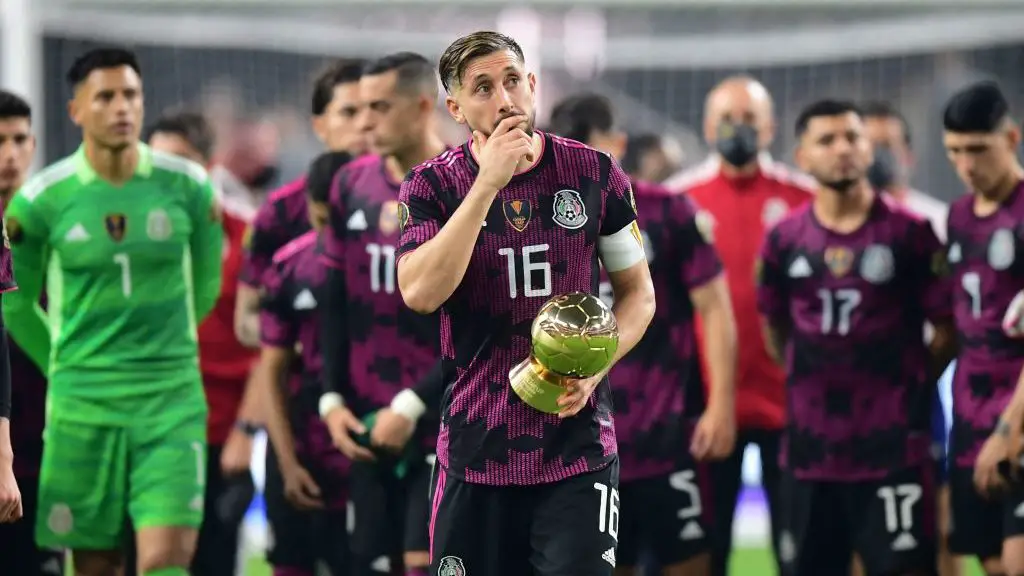 U.S. Beats Mexico Again, Leaves El Tri At Crossroads
Set pieces doom Mexico again
Mexico star Hector Herrera knew what was coming. The Atletico Madrid midfielder found no solace in being declared the best player of the 2021 Gold Cup. El Tri coach Gerardo "Tata" Martino also braced himself for the criticism. 
A month's worth of positive results was overshadowed on one glorious night in Las Vegas, where El Tri dominated possession but little else. For the second consecutive tournament, the United States beat Mexico in a tournament final.
Both games went into extra time, so there isn't much difference between the sides. It's also true that Mexico dominated possession in both games. Not that many Mexican fans care, though. 
"First of all, the people are sad," Herrera said after the U.S. beat Mexico 1-0 in the Gold Cup final Sunday night. "They're hurting with what's happened today. 
"But at the same time we're calm because I think we owned the game. We created lots of opportunities that we couldn't finish. Today we needed that finishing touch that we had in the other games."
Beating minnows not enough
Mexico pounded the minnows and the middleweights of CONCACAF during the Gold Cup. That's expected, of course. The standards are much higher, though, for a country that aspires to compete with Brazil, Argentina, Italy, Spain and the rest of the world's heavyweights.
Losing to the United States in soccer is still considered a fireable offense by a large segment of the Mexican population. It's even more damning when El Tri loses to its neighbor's B Team while essentially fielding its A team.
The U.S. beat Mexico 3-2 in the CONCACAF Nations League final in early June with its A Team of Europe-based young stars. Mexico sent its brightest young soccer stars to the Tokyo Olympics, where they reached the semifinals against Brazil.
With Diego Lainez and Co. in Tokyo, Mexico sent what is essentially its A Team to the Gold Cup. Therefore, the Gold Cup failure is deemed a greater for El Tri in Mexico and the United States.
"No doubt," Martino said, "all teams and all losses in these circumstances are all painful."
Mexico can atone a bit if the Olympic team beats Brazil in the semifinals or at least leaves Tokyo with a bronze medal. 
The questions will remain, though. Is Martino the man to lead El Tri? 
Can Mexico learn to defend set pieces? That question is almost as old as Tequila and Mariachi music. Mexico's weakness on set pieces is practically part of the country's identity.
Set pieces doom Mexico
Miles Robinson's goal in extra time was on a header off a set piece. It was the fourth goal the U.S. has scored in the last two tournament finals against Mexico, and all of them have been on set pieces.
That's as much on the players as the coach.
"We know that in any way in a set piece or long ball they can hurt us," Martino said. "That's what happened. I don't find a reason why we should change (the system of play). 
"I don't think that's the situation. If we were dominated in the final or the previous final. We were not (dominated) in this final or the previous final."
Martino insists that he won't change Mexico's style of play. He noted that Mexico dominated possession and had more scoring chances. 
They couldn't finish those chances, however. Martino will likely survive, but his hold on the job is no longer secure. 
He'll surely be fired if Mexico stumbles early in World Cup qualifying. He must decide if the Los Angeles Galaxy's Javier "Chicharito" Hernandez, El Tri's all-time leading scorer, should return to the team.
"In reality we are prepared to work to lead a team, to compete," Martino said. "The rest is a situation that I can't handle. Simply, I believe that the wins put you in one place and the losses put you in others. Up to there that's what we can resolve."
Martino on hot seat
In other words, he knows the scrutiny has magnified. His job is on the line. Meanwhile, the U.S. picked up another regional title at the expense of its rival.
Mexico is a soccer nation. Soccer in the U.S. is still growing in the shadow of more popular football, baseball and basketball. 
There's enough talent in the U.S. to beat Mexico's A team with a B Team of Major League Soccer-based players. That's great for the U.S. and a problem for Herrera, Martino and the rest of the Mexican federation.
"We've got a lot of young guys in this group," Robinson said. "We've got a lot of young guys that are willing to fight for each other and fight for this country and prove the United States is a country that has to be taken seriously. 
"I think we really put our head down and grinded out results through the tournament. It's just a matter of this group being so confident with the ball, without the ball, and how we really stuck together like a family. I'm really excited for this group."
Get the Our Esquina Email Newsletter
By submitting your email, you are agreeing to receive additional communications and exclusive content from Our Esquina. You can unsubscribe at any time.