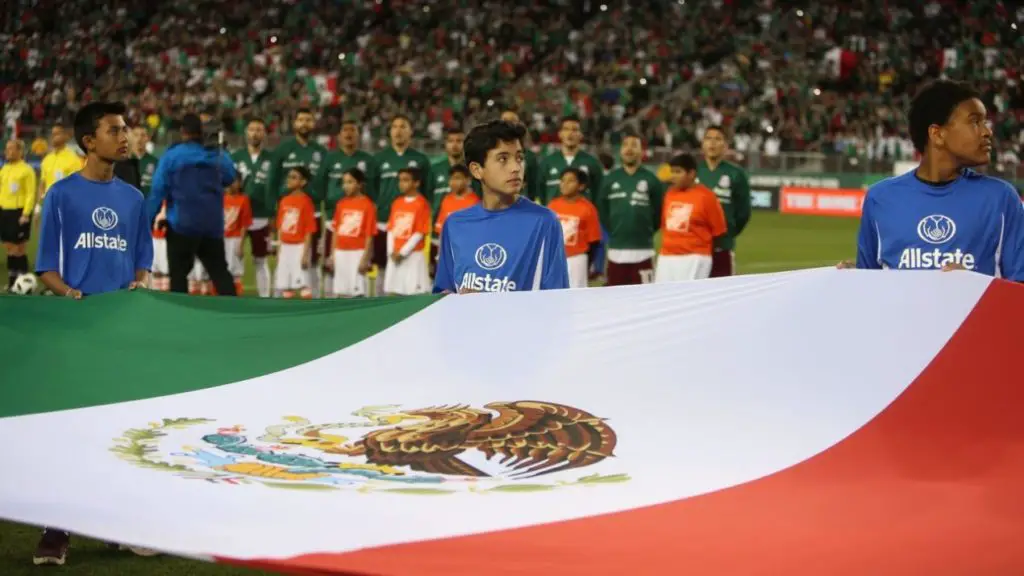 El Tri aims to show Mexicans are better than 'Puto' chant
Mexican Soccer Federation campaign urges fans to stop using gay slur
It's time to end the chant. It's time to show the world that Mexican national team fans are better than their homophobic "Puto!" chant. Don't get stuck on the semantics of what El Tri fans mean or might mean when they yell "Puto!"  
Yes, the word has different meanings. It could mean prostitute if used in the feminine version in Spanish's gendered nouns. The masculine form could be a euphemism for coward. It could also mean f—ing. It's also a gay slur, and that's why Mexican soccer fans should stop chanting it when opponents take goal kicks.
FIFA fined the Mexican Soccer Federation during the 2018 World Cup in Russia after fans hurled the slur during a game. FIFA has issued further threats, prompting the FMF to launch campaigns in Mexico and the United States to end the chant.
In many ways, Mexico's men's national team is the most popular team in America. They are often the home team in America even when they play the U.S. national team. The crowds for the U.S. national team don't compare to Mexico's. El Tri routinely sells out the biggest stadiums in Los Angeles, Houston, Chicago, Dallas and everywhere else it plays in America.
Mexico is never truly made to feel like a road team in the U.S., whether playing a team from Europe, Africa, South America or the U.S. So the chant has been a fixture at the Dallas Cowboys' AT&T Stadium just as much as it has been at Mexico's Estadio Azteca.
FIFA has threatened to fine the federation if Mexican fans continue the chant. Moreover, FIFA has given referees the authority to stop matches temporarily to boot individual fans for hurling the slur. If it persists, referees can abandon the match.
Mexico wants to get its message out in time for it's current tour, which starts Saturday against Iceland at AT&T Stadium.
"Don't forget who we are"
Refs can pause the match at the first incident to have the public address announcer inform the crowd of potential repercussions. The campaign's message is rather simple: "Don't forget who we truly are as Mexicans, support without offending others."
That message is followed by emojis of the Mexican flag, a flexed muscle and fire. It also has an emoji of a screaming fan followed by the "no entry" emoji. The campaign's hashtag is #SupportWithoutOffending.
Fans who defend the use of the chant would argue that they don't mean to mean it as a gay slur. That doesn't matter. It's foolish that we even have to argue that slurs shouldn't be used, but here we are.
Yon de Luisa, the president of the Mexican Federation, is eager to let Mexican fans know that FIFA will fine the Federation if the chants continue. The slurs could cost Mexico games and money. Imagine if referees force Mexico to abandon a crucial World Cup qualifier? That's extreme, of course, but it's a possibility.
Even if the FIFA threats didn't hang over the Mexican Federation, Mexico fans should do better. For many of us who were born in the U.S., our love of El Tri was passed down by our parents. 
Puto chant tradition not worth passing along
I grew up going to see El Tri play when they visited the Los Angeles Coliseum or the Rose Bowl. We watched all of El Tri's World Cup matches on television. I've passed that love to my children.
I've always felt safe watching El Tri, whether in Houston's NRG Stadium, the Dallas Cowboys'  AT&T Stadium, Azteca Stadium or the Rose Bowl or Coliseum. I wonder if gay fans felt that same comfort each time they heard most of the crowd chant "Ehhhhhhhhh … Puto!"
The slur is chanted to intimidate the goalkeeper on the pitch. It's also used on the streets to intimidate and harass homosexual men. 
We are better than that. We should be better than that. And if we're not, FIFA should fine and threaten to have Mexico play games without fans in the stands. De Luisa wants Mexican fans to know what's at stake. 
It's good to see fan favorite Memo Ochoa and several Mexican national team stars join El Tri's campaign. They are national heroes in Mexico. They have the largest platforms. For better or worse, kids listen to them. Young adults respect them, and de Luisa knows it would be impossible to send the right message without the players' participation. 
El Tri stars pivotal to campaign
"We need the players to send a clear message that this cannot happen, that we are playing with their jobs, that we're playing with their dreams and that we are affecting our idols directly if we do this," de Luisa said. "Because something that might be fun or that we believe … might be fun just for a second to yell 'puto' this is affecting many people, many people.
"And now it is affecting especially the players. That's why when we spoke to our players on the national team everybody said, 'Yes, please bring me into the campaign. I want to be part of the campaign. I want to be part of the message.' Because it begins with the players and it ends with the players."
Sadly, it's not that easy. It begins and ends with the fans. We as Mexican Americans must join our Mexican brothers and sisters, primos and primas and amigos to do the right thing.
Get the Our Esquina Email Newsletter
By submitting your email, you are agreeing to receive additional communications and exclusive content from Our Esquina. You can unsubscribe at any time.