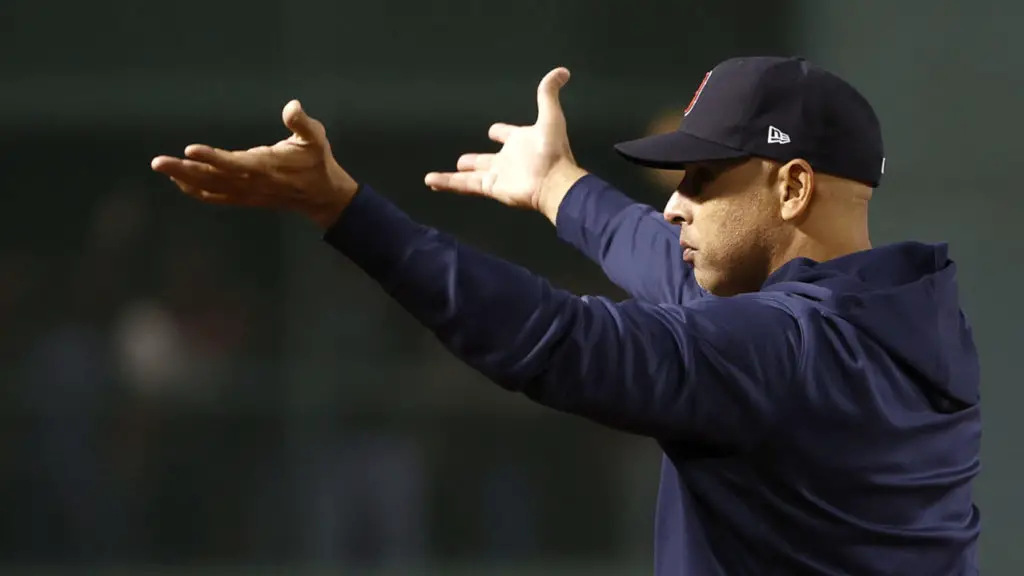 Red Sox's Alex Cora Back Where he Belongs
Red Sox manager Alex Cora puts more distant between 2017 Astros
Alex Cora was back in his element Tuesday night at Fenway Park. It's October, and he belongs on this stage. It suits him. The bunting was out, and the spotlight was brightest. The tension is palpable, especially in one of America's toughest media markets.
Cora loves it. Thrives in it. 
The one-year suspension from Major League Baseball seems but a distant memory even if it was served just last year. He's four years removed from the Astros' 2017 World Series. The native of Caguas, Puerto Rico, apologized and paid his penance. 
He has moved on, and so should you and everybody else.
Now he's showing why the Red Sox wanted him back after he served his suspension. He is one of the best managers in baseball. Actually, he's among the best leaders in professional sports – baseball, football, basketball, hockey and soccer.
Even the worst COVID outbreak in MLB hasn't been enough to sink Cora's Red Sox, and that's a testament to him too. 
Alex Cora returns to Division Series
Now the man who led the Red Sox to the 2018 World Series title has them in the Division Series. 
"It's fun," Cora said after his Red Sox defeated the rival New York Yankees 6-2 in the American League Wild Card game Tuesday night at Fenway Park. "This is what you (want when) you want to be a big league manager. I just got lucky that in 2018, I had a great team and we did what we did. 
"Obviously 2019 didn't go the way we wanted and in 2020, we all know what happened."
Everybody knows what happened. Although he wasn't the manager of the 2017 Astros, Cora received the same punishment handed out to manager AJ Hinch and general manager Jeff Luhnow.
Carlos Beltran, who was a veteran leader of the 2017 Astros, essentially drew a punishment too because the Mets pushed him out before he ever managed a single game in 2020. 
Alex Cora finds redemption
Here's hoping Cora's and Hinch's returns and Cora's redemption helps open a door for Beltran to manage soon. 
Almost immediately after MLB commissioner Rob Manfred handed out that suspension, many of us speculated that Cora would be back in baseball soon. He and Hinch were too well respected and successful to remain out of baseball long.
Alex Cora showed his worth as a rookie manager when the Red Sox won the World Series. He appreciates October baseball. 
"To be able to play in October, we're blessed," he said. "We're lucky. That's a great group of guys. They have been amazing throughout the process. It's been a roller coaster, but, you know, to be able to advance, beating a great team; that's a great baseball team."
Get the Our Esquina Email Newsletter
By submitting your email, you are agreeing to receive additional communications and exclusive content from Our Esquina. You can unsubscribe at any time.