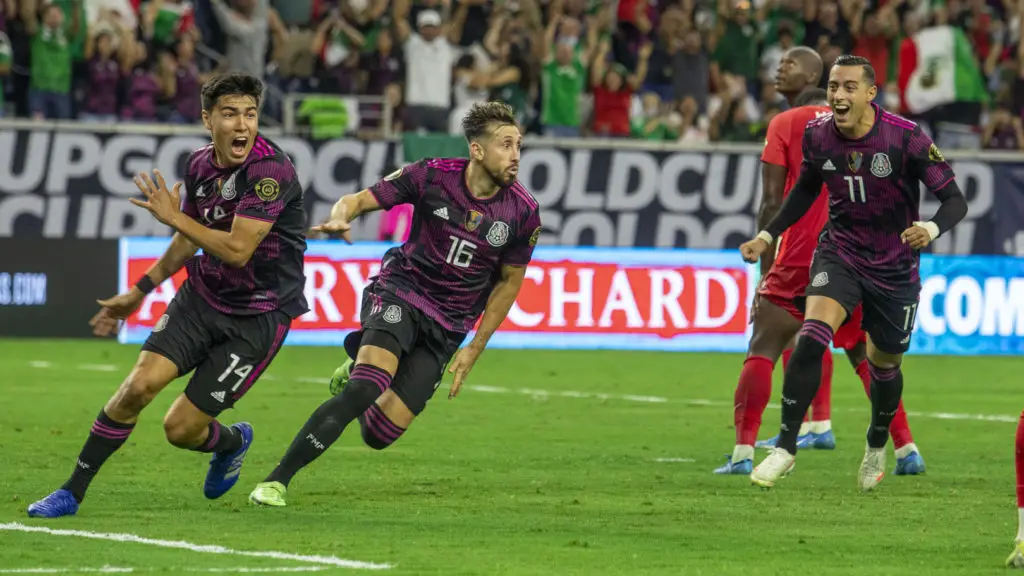 Mexican National Soccer Team at Home Against Canada
Mexico clinches spot in Gold Cup finals hours after Jonathan Dos Santos' father dies
HOUSTON – A few hours before the Mexican national soccer team took the pitch, the Banda music was already thumping at NRG Stadium. You could hear the brass and percussion instruments and the booming drums all the way from the street.
It wasn't just one either. There were multiple bandas playing at the NRG Stadium parking lot before Mexico faced Canada in a Gold Cup semifinal. There were several mini fiestas for the pro-Mexico crowd all over the place.
There's a reason why many have declared the Mexican national soccer team the most popular team in the United States. Thursday night in Houston was merely the latest example.
El Tri rewarded its fans with a thrilling 2-1 victory over Canada to earn a spot in the Gold Cup final against the U.S.
The party literally lasted into the final minute, when Hector Herrera gave Mexico the lead for good in stoppage time of the second half. Until the Atletico Madrid midfielder scored it appeared as though Canada would force the game into two extra-time periods.
Fortunately for El Tri, Herrera sealed the victory in stoppage time. Then he sprinted to the Mexico bench and hugged teammate Jonathan Dos Santos, who started hours after his father Zizinho died of COVIC19 complication.
Mourning Dos Santos' father Zizinho
Herrera hugged Dos Santos and looked him in the eyes. Then he pointed skyward in a tribute to Zizinho, the Brazil native who settled in Mexico after a distinguished career playing for Monterrey and Club America.
Mexico coach Tata Martino started Dos Santos in part because Dos Santos wanted to play.
"First of all, we received with profound sadness the news," Martino said. "Then we tried to cover him and give him strength. Only he knows how he feels in such a sad time. After a conversation with his mother he chose to stay and play.
"Based on his words and his mother's words, it was what his dad would have wanted. It wasn't the ideal spirit for absolutely anybody to play a game like this."
Martino says Dos Santos had the team's full support whether he had decided to play or not.
"Truly it was a very strong and very complicated opponent from the start," said Orbelin Pineda, who gave Mexico a 1-0 lead.
Mexican national soccer benefits from replay
Pineda gave Mexico a 1-0 lead when he converted a penalty kick in the 45th minute. The referee had initially missed the foul in the box. He let play continue, but he was summoned to check video replay.
After reviewing the play, he ruled a penalty. Tajon Buchanan tied the score in the 57th minute with a brilliant, creative run inside the box before delivering a rocket into the right corner of the net.
Mexico got another penalty kick, but defender Carlos Salcedo missed. His shot was parried wide when goalkeeper Maxime Crepeau guessed correctly and made a diving stop to his right.
Martino noted that the players decided Salcedo should take it, in part because they didn't want the same shooter.
Martino prefers to have the players choose the shooter.
Ultimately, though, Mexico was pleased to reach the final on a difficult day in which they mourned Dos Santos' father.
"The group truly is always united," Pineda said. "I think it makes us strong. Unfortunately, truly it's not easy. What (Dos Santos is) going through is very difficult.

"Now it's time for us to get closer to him and let him know we're a united team and let him know we're always with him and for him to know it's very important to have him with the national team."
Get the Our Esquina Email Newsletter
By submitting your email, you are agreeing to receive additional communications and exclusive content from Our Esquina. You can unsubscribe at any time.