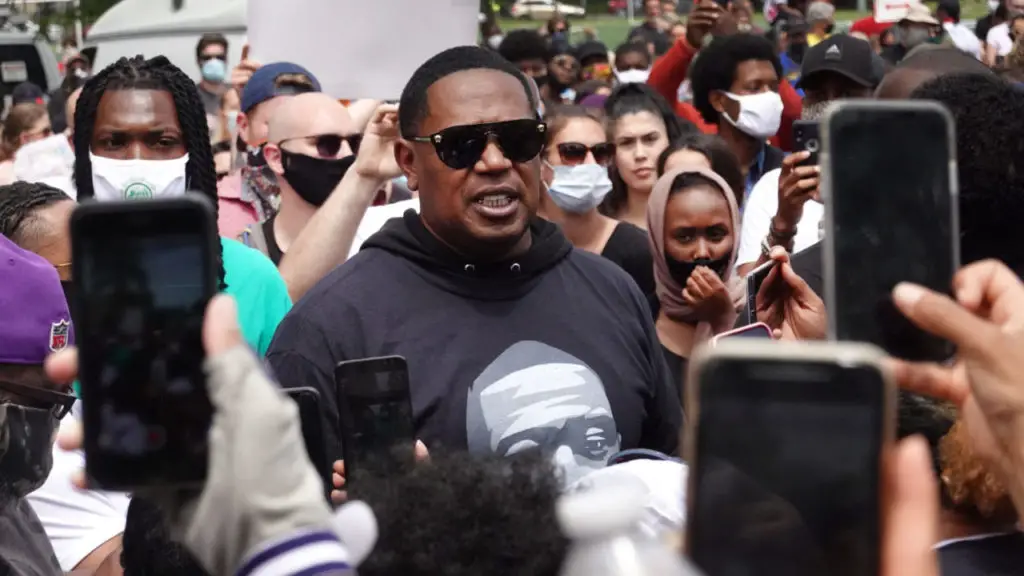 Master P Hopes Blacks and Latinos Build Wealth Together
Master P encourages Latinos and Blacks to work together
Percy Miller wants to change the narrative in Black and Latino communities. The famed rapper known artistically as Master P wants to help empower and educate his people, especially those in the poorest communities.
To that end, Master P recently visited Houston's Fifth Ward, one of the Bayou City's historically Black wards. The award-winning rapper and accomplished entrepreneur held a panel discussion on Culture and Money for Black and Latino entrepreneurs.
"When you look at Blacks and Latinos, we have the same problems," Master P said. "We all minorities. So I look at it as one. We all in the same boat. We just have to learn to work with each other. 
"We have to start appreciating each other. I think that we don't realize that we (are) the minorities so we have to do all the labor, all the hard work. But now we have to start thinking smarter. We have to start thinking with our minds. That's what this whole Chase thing is to me. Let's start using our minds instead of just using our labor."
Master P was the featured guest at JPMorgan Chase's Building Black and Brown Wealth seminar.
The daylong event was held at one of Houston's poorest neighborhoods, the Fifth Ward. He capped the schedule, which included seminars on Advancing Racial Equity and Power of Partnerships.
The Racial Equity seminar focused on the $30 billion commitment JPMorgan Chase made to advance racial equity in the aftermath of George Floyd's killing last year in Minnesota. The message was specifically tailored to how that fund can benefit Houstonians, whether business owners, institutions or families looking to buy a home.
The Power of Partnerships panel focused on overcoming structural barriers to wealth in the United States. Master P's panel was more personal, however. 
Master P story resonates
His story resonated more because he grew up poor in the projects of New Orleans, a city with demographics similar to Houston's Fifth Ward.
"I grew up in the inner city," he said. "And when you talk about underprivileged communities, we don't think about ownership. We're always consuming products, but we're not producing products. To build economic empowerment we have to change that narrative. 
"We have a lack of education. I want to change that. I want to make sure that if we educate our community and culture we can be better. We don't have to wait for other communities and cultures to take care of us if we're empowering each other."
Master P's artistic story is well known. Even his sports career has been covered extensively. He arrived at the University of Houston on a basketball scholarship. 
"I came here to be a professional athlete," he said. "When I got hurt, I lost my scholarship. I went back to the projects. But that's what happened to a lot of the kids."
Avon lady's assist
He started selling CDs and tapes out of the trunk of his car, following the example he saw from an Avon lady who also sold Tupperware in his neighborhood.
His curiosity led him to the Avon lady. Assuming he was in law enforcement, she immediately told him she had a legitimate business. Master P assured her that he merely wanted to see what she was doing.
"Now we want to take these people and show them how to make LLCs and make corporations, go to the bank," he said. "Let's give some money. Let's finance your business."
Credit, he insists, is the most important thing an American can have.
Examples of success are also important. He hustled and used his artistic skills to build wealth, but that's not enough. He aspires to build generational wealth.
Working hard is just one key for Master P
He grew up working hard, which is what he was taught. Working hard isn't enough, though. He wants folks to ask, "What about working smart?"
"We got to use our minds," he said. "I think we come together because we create a lot of stuff, but we don't own any of it. We always sell it, give it to somebody else. I think this is where the change starts. …
"They say we make up 13 percent, and then Latinos make up just a little under that. So imagine together we make up 22 percent or 23 percent. I think the spending power or buying power that we use, if we did this together they're going to have to take us seriously."
Get the Our Esquina Email Newsletter
By submitting your email, you are agreeing to receive additional communications and exclusive content from Our Esquina. You can unsubscribe at any time.