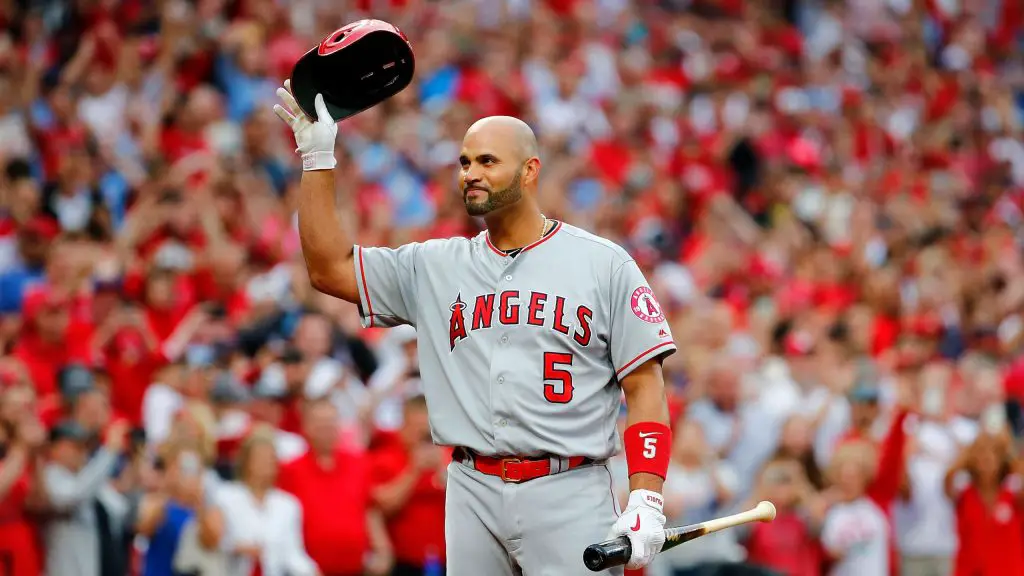 Que Onda: 2021 MLB need-to-knows
Welcome to Que Onda, all you need to know in Latino sports and culture today.
Feliz Spring Training
Happy pitchers and catchers report day! The theoretical winter is over and with it comes a new baseball season. Already your favorite players are reporting to camp in either Arizona or Florida ahead of what will be another exciting season.
For today's Que Onda, we're not going to inundate you with Top 100s, biggest offseason acquisitions or projections. Instead, we'll shed some light on some Latino storylines we believe are important to know. So let's get started: 
Farewell Machine?
Albert Pujols is entering the final year of his 10-year, $240 million contract he signed with the Los Angeles Angels ahead of the start of the 2012 season. 
It's no secret that the 41-year-old has struggled mightily since arriving to the Big A. And while he has achieved some major career milestones with the Halos, he's been nowhere near the productive hitter he was with St. Louis.
With that in mind, this final contract year could very well be it for Pujols. He hasn't publicly commented whether it is or isn't, telling ESPN Digital and Enrique Rojas, "Right now, I don't have a plan for the future." 
With the American League West being wide open for the first time in several years, and the Angels returning much of their core roster with some necessary additions, one could hope that we will see The Machine in October one more time. 
Miguel Cabrera's milestones 
Over in Detroit, Miguel Cabrera is entering the fifth year of his eight-year, $248 million contract with the Tigers.
Much like Pujols, Cabrera has been ineffective as of late, particularly the last four seasons since last making the All-Star team in 2016. 
Cabrera, who's accumulated 70.8 fWAR en route to winning back-to-back MVP titles, seven Silver Sluggers and 11 All-Star Game nominations to go along with baseball's first triple crown in decades, is extremely close to reaching both 3,000 career hits and 500 home runs.
As it stands, Cabrera is 134 hits and just 13 home runs away from both milestones. So will he get it? Last season, Cabrera finished with 51 hits and 10 homers in 57 games of play out of a possible 60. 
If Cabrera would like to reach both milestones in the same season, he'd need to replicate his 2019 season when he finished with 139 hits and 12 home runs in 136 games. It's possible that he could do that, further adding to his Hall of Fame career. 
Speaking of 500 homers
While we're on the topic of 500 home runs, both Edwin Encarnacion and Nelson Cruz stand as the two players closest to the milestone behind Cabrera with 424 and 417 each. 
The obstacle with reaching the milestone is twofold. Both of them are pushing into very old territory. Encarnacion just turned 38, and Cruz entering his age-40 season.
Both of them also do not have long-term homes. Cruz re-signed with the Twins on a one-year, $13 million deal, while Encarnacion is still a free agent. The lack of a universal DH in 2021 further complicates Encarnacion's contract prospects, but he could end up with a team stuck experiencing a key injury during Spring Training.
Assuming both of them play the 2021 season, there's a good chance they will come even closer to reaching the coveted milestone. Their journeys will be worth following.
Will King Félix make it?
Félix Hernández stands as the last Latino to win a Cy Young when he took home the BBWAA award back in 2010. 
Hernández, who is still just 34, did not pitch last season after opting out of the season due to the COVID-19 pandemic. At the time, Hernández was trying to make the big league roster for the Atlanta Braves after signing a minor league deal with the team following a storied career in Seattle.
He impressed early during camp after posting his worst season just several months prior. He would have likely made the roster had he not opted out.
Hernández finds himself in the same position this Spring Training. This time with the Baltimore Orioles. Barring injury or a bad showcase, Hernández should find himself on the roster come Opening Day. 
With as many innings Hernández has pitched in the majors (2729 2/3), it remains unlikely that he will ever return to his prime form, but his presence in the league alone is what matters most.
For a generation of fans, Hernández was the man to watch. As the last Latino to reach major pitching milestones, it will be a sad day when King Felix is no longer standing tall on the mount. 
The Year of the Latino Shortstop 
Shortstop is one of the most important positions in baseball, and in 2021 we're betting big on its impact on the pennant race. That's why we're calling this season: The Year of the Latino Shortstop
Here's some things you should know: 
Fernando Tatís Jr.'s continued ascent 
There's no denying that Fernando Tatís Jr. is a bon a fide superstar. After an injury shortened rookie campaign, Tatís broke out in a big way in 2020.
With a full 162 games slated for 2021, we're expecting sustained numbers from El Niño as the San Diego Padres attempt to overtake the Los Angeles Dodgers for best in the NL West.
Perhaps we'll also see the first steps in a long-term extension as well.
Free Agent Slugfest 
The 2021-22 free agent class is jam packed with shortstops, with Latinos Francisco Lindor, Javier Baéz and Carlos Correa at the top. All three players will be vying for a mega contract from their respective ball clubs or elsewhere.
All three also are part of teams vying for the playoffs. Expect these peloteros to show out in a big way in 2021. 
Don't sleep on these guys 
The above mentioned shortstops aren't the only ones to keep an eye out for. The Kansas City Royals' Adalberto Mondesí, the New York Yankees Gleyber Torres, the Cleveland Indians' Amed Rosario and Los Angeles Angels' José Iglesias are all worth keeping an eye on.
While the Royals aren't expected to contend in 2021, Mondesí's speed and switch-hitting capabilities coupled with some sneaky pop make him a fun player to watch on a rebuilding team.
After committing several errors in 2020, expect Torres to step up his defense big time as New York aims to win the AL East outright.
Meanwhile, former top prospect Rosario will attempt to put it all together in a smaller market that is still a contender. Finally, Iglesias, a very underrated player, will look to push the Angels over the edge. 
Look out for this guy 
No shortstop list is complete without mentioning the No. 1-ranked prospect in baseball, Wander Franco of the Tampa Bay Rays. 
Franco is still just 19 years old, but he could see some time in the big leagues at some point in 2021. His switch-hitting bat is electric and could be just the jolt the Rays need to make it back to the World Series. 
En Social
Please enjoy Fernando Tatís Sr. schooling his kids in stickball. 
After all, the man did do this in his career.
Our Gente
If you're interested in more about Pujols and his future, then please give this story by Enrique Rojas a read. 
En Historia
While we're on the subject of shortstops, this week in 2004 the Texas Rangers traded superstar Alex Rodriguez to the New York Yankees.
Rodriguez, who played shortstop most of his big league career, slid over to third base given the presence of Derek Jeter at short.
As a Yankee, Rodriguez would slash .283/.378/.523 with 1,580 hits, 351 homers and 1,096 RBIs across more than a decade of play. He'd go on to win two MVP awards, a World Series championship, and garner multiple All-Star Game nominations before unceremoniously retiring. 
Rodriguez has stayed in the spotlight since his retirement as a commentator and analyst for regular and postseason games. He will make his Hall of Fame ballot debut in 2021. 
Get the Our Esquina Email Newsletter
By submitting your email, you are agreeing to receive additional communications and exclusive content from Our Esquina. You can unsubscribe at any time.