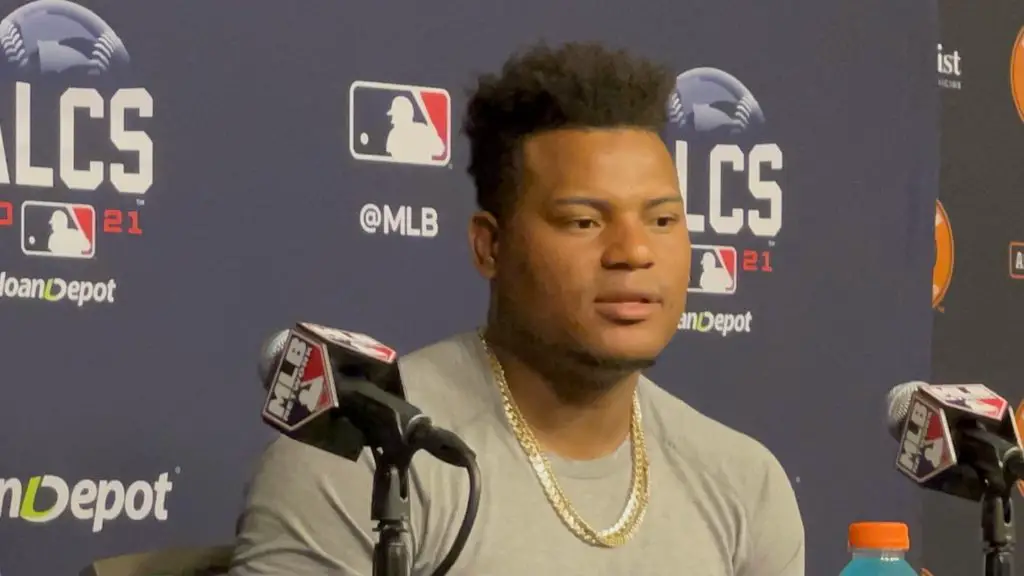 Framber Valdez goes from humble shack to ALCS
Astros lefthander is ready for Game 1 of the ALCS
HOUSTON – Framber Valdez had bigger priorities and concerns than baseball as a child. While most of his countrymen were fixated on Pedro Martinez, David Ortiz and the 2004 Boston Red Sox, he was more worried about playing on the street with friends or securing his next meal.
The Astros' lefthander lived in a humble shack with a corrugated silver steel roof panel in Sabana Grande de Palenque, Dominican Republic. His home had no tile or wooden flooring over the cement slab. The roof leaked often. 
The shack didn't even have enough bedrooms, much less beds, for him to sleep there. The Astros' starter in Game 1 of the American League Championship Series slept on the floor at a nearby church as a child. Baseball, he notes, wasn't a priority. 
"As Americans say, it was a poor house, poor, poor," Valdez said. "That's why I always thank God first of all for giving me the chance to be here. Now my mom has a good home. I have a good home. My brothers are comfortable."
MORE ALCS COVERAGE
Previewing the 2021 ALCS: Red Sox vs. Astros
Russ Ortiz: 'I always knew Dusty Baker cared'
Scorching hot Red Sox riding October wave
Many in his baseball-mad Caribbean island will be tuned into his start against the Boston Red Sox Friday night at Minute Maid Park. Valdez, 27, began to change his family's fortunes in 2015 when the Astros gave him a modest $10,000 signing bonus.
By then he was already 20 years old, four years past the age when most top Dominican prospects sign with Major League Baseball organizations. He had already signed and failed a physical with the Milwaukee Brewers, nixing that deal after he had spent months training at their Dominican academy.
He was a late bloomer in part because he started playing baseball later than most kids.
"Baseball wasn't such a priority when I was a child," he said. "In my situation and in my pueblo and my family, there was no ballplayer. There was nobody I could say, 'Oh in my family he plays baseball.' I came to learn about baseball when I started playing at around 11."
Framber Valdez builds on last season
Valdez was 11-6 with a 3.14 ERA in the regular season, building off the 5-3 record and 3.57 ERA he posted during last year's 60-game season. He was 3-1 with a 1.88 ERA in four postseason appearances last year. Valdez earned his first postseason victory in relief in the 2020 AL Wild Card series against the Twins.
He then beat the A's in the Division Series and went 1-2 against the Tampa Bay Rays in the ALCS. Now he hopes to bounce back after giving up four runs in 4 ⅓ innings against the White Sox in the Division Series.
"He has been here before," Astros manager Dusty Baker says of Valdez. "He was our main guy last year. For a young kid to have done and been in a situation, you know, you don't find that much. The last really young kid — I mean, not kid, but young man — that I was around was Fernando Valenzuela in L.A. 
"He wasn't in all the situations. I mean, he pitched far beyond his years. And I like Framber's determination. I like the fact that he is loose as heck. You know what I mean? Which will take him a long ways. … You don't expect Framber to get or be tight."
Valdez is definitely loose and confident. He wants to be on this stage. He cherishes the opportunity to compete in the ALCS. 
Strong build, loose attitude
If he had grown up in the United States, he might have been an NFL player. The 5-foot-11, 239-pound lefty reminds Baker of a running back or middle linebacker. 
When the Astros' 72-year-old manager sees Valdez, what stands out is how strong and loose the lefthander is. 
Valdez is a man who appreciates these moments. He knows his island is watching, and he wants to put on a show.
"I think that the confidence is something that you earn out there with the performance that you have when you go out there," he said. "You demonstrate time after time that the team can count on you to get through innings, to keep you in games. That's where you earn the confidence of your team.
"So I feel really good about it because I know that I've worked really hard to be able to have the results that I have and be able to have the performances that I have. It means a lot that they have the confidence in me to be a starter for (Game 1)."
Facing Pedro's team
He is now facing a team that is beloved in the Dominican Republic. It's the team that Dominican stars Martinez, Ortiz and Manny Ramirez led to the 2004 World Series to break the so-called Curse of the Bambino. 
Valdez is trying to help the Astros return to the World Series for the third time since 2017.
He's the one on the mound inspiring the next generation of Dominican ballplayers, whether they can see him on television or not.
"Yeah, in reality I didn't really have a way to watch too many games as a kid in the Dominican, but I heard about baseball a ton," he said. "I've seen videos of guys like Pedro Martinez throwing. And now that I'm in this situation and they have a chance to watch me pitch, it just gives me a lot of happiness, you know, to be able to know that every time I throw a pitch, someone is celebrating it.
"It means a lot for the people back in the Dominican, for my family as well. I'm really proud just to know that I'm able to give some happiness to people back home who are watching me pitch."
Get the Our Esquina Email Newsletter
By submitting your email, you are agreeing to receive additional communications and exclusive content from Our Esquina. You can unsubscribe at any time.