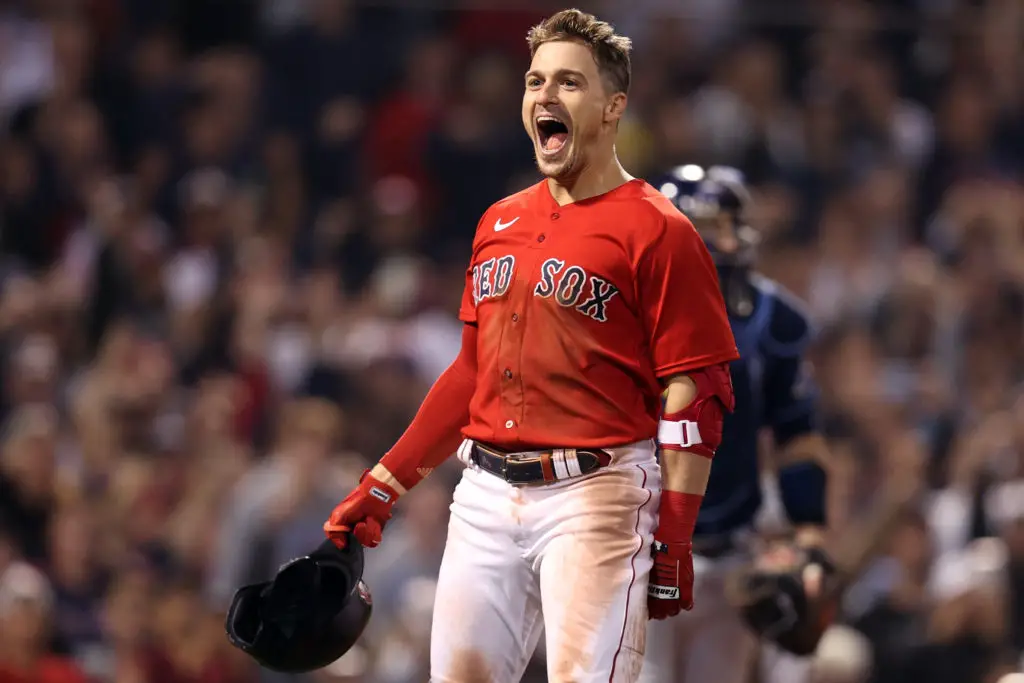 Scorching hot Red Sox riding October wave
Alex Cora leads sweltering Red Sox to ALCS.
The Boston Red Sox have defeated all the odds. After an abysmal 2020 season, most preseason prognosticators rated them fourth in their division, a far cry from a postseason team. Now look at them, one step away from the World Series.
For the team's outfielder Kiké Hernández, there is no question that the team is right where it belongs.
The Red Sox are headed to Houston to play the American League Championship Series against the Astros. That best-of-seven ALCS starts Friday night at Minute Maid Park.
"I mean, here we are surprising everybody but ourselves," Hernández said. "We knew in spring training we had the team to make it this far, and here we are."
In all honesty, the Red Sox are a flawed team. Their designated hitter was out multiple game with an ankle injury. They're relying on a Rule 5 draft pick to close games. Their third baseman is experiencing forearm discomfort. But Nick Pivetta – a starter – has tossed 8.2 brilliant innings out of the bullpen.
None of it has stopped them from barreling through the New York Yankees in the AL Wild Card game and the Tampa Bay Rays in the Division Series. Now, they're ready to take on the Houston Astros for the AL pennant.
"We always said we had a good baseball team that had some holes, and we still have some holes, but at the end, for how bad it looked sometimes, we're still here," manager Alex Cora said. "We're still in the dance. We're still in the tournament, and we're moving on to the ALCS."
A recipe for success
It is widely believed that the World Series winner is not always the best MLB team, but the hottest team in the postseason. This bodes well for the Red Sox, who aren't just hot right now. They're sweltering.
Of all the teams in the postseason, the Red Sox rank first in the following categories:
.328 batting average
.372 on base percentage
.547 slugging percentage
11 home runs
63 hits
32 runs
What's more, they're doing it with their skipper back at the helm. Since returning, Alex Cora has earned his team's trust and respect back.
"He's a guy you'd run through a wall for," Red Sox reliever Garrett Whitlock said. "Like I said, if he told me to run through that wall, I'd believe that he had something there to make sure it would fall for me. That's the kind of leader he is."
There's no better example of this than Eduardo Rodríguez. 
After losing Game 1 of the best-of-five series, Cora handed the ball back to Rodríguez on three days' rest in Game 4. His manager showed faith in him, and in exchange he delivered five innings of two-run ball.
"Like I always say, he's like a father, brother, manager, whatever, however you can call it to us," Rodríguez said of Cora. "It means a lot to have him. It's really good to have him. He trusts us. He trusts everybody in that clubhouse."
In turn, they believe in themselves.
Get the Our Esquina Email Newsletter
By submitting your email, you are agreeing to receive additional communications and exclusive content from Our Esquina. You can unsubscribe at any time.