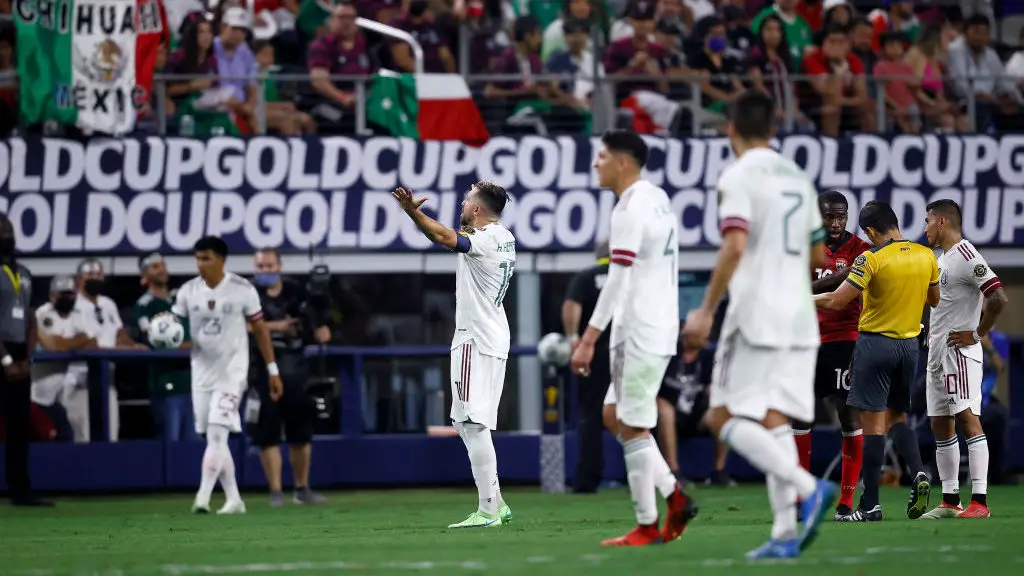 El Tri should avoid Arlington
Soccer ratings are up in the U.S., but boorish fan behavior stain sport
The data is quite clear for El Tri. When the Mexican men's national soccer team plays in Arlington, Texas, a number of idiot fans are incapable of attending without uttering a slur. 
To these mouth-breathers, Mexico's infamous homophobic slur is apparently necessary to their enjoyment of soccer. Forget that the team they claim to love will suffer repercussions such as a possible World Cup ban because fans use the word. They need to use the word.  
The Arlington games attract "los maleducados," a Spanish word to describe ill-mannered and boorish people.
Last Saturday night in Arlington, Mexican fans were warned in the 87th and 94th minute in the scoreless tie against Trinidad and Tobago about their use of the chant. 
Mexico fans in Arlington don't learn lesson
The fans clearly did not learn their lesson. In late May Mexico's contest against Iceland was stopped for five minutes because fans insisted on using a gay slur. This is alarming also considering how much effort the Mexican soccer federation and the players make toward educating and pleading with the public to end this most stupid of traditions. 
Arlington has shown they aren't worthy of having El Tri. 
Other cities that can host El Tri without FMF risking penalties that some Mexican fans in the United States incur for the federation.
After all, Nashville and Los Angeles, among others, managed to behave in a civilized and evolved fashion. 
Arlington isn't Mexico's only problem
Yet, Arlington isn't alone. FMF should avoid scheduling games in Denver as well after their performance in CONCACAF Nations League. 
At this point it's very simple. If you are using slurs, you're a discredit to the fanbase and country. 
If the FMF wants to continue to have games in these cities, it's totally on them and they deserve the sanctions FIFA hands down. They are on notice that Mexican fans in Arlington, Texas, and Denver can't behave according to socially acceptable standards. At some point, perhaps those fans can embrace modernity and progress.
England also has boorish fans
English fans must have seen that the Mexican fans took their shine. After England's loss in the EuroCup 2020 final, British fans resorted to slurring black team members online. Prior to the  game, England's fans stormed the stadium and just started hitting each other. 
This is to say nothing of their semifinal contest behavior when English fans shone a laser pointer at the eyes of the Danish goalkeeper during a crucial part of the game.  
Honestly, it would be more of a surprise at this point, if we didn't see this type of behavior from English fans either. 
Perhaps FIFA should bar England from hosting international competitions for the foreseeable future. 
Enough is enough. 
Great ratings for soccer
This past week was a great week for soccer fans. All three UEFA Euro 2020 games, two semifinals and the final went to extra time and two of the three went to penalties. 
The Copa America final was played in Rio de Janeiro by the two giants of Latin American soccer, Argentina and Brazil with the Argentine side taking home the title.
As Paul Kennedy, Editor-in-Chief of SoccerAmerica pointed out, the ratings for both of these events in the United States were the best in recent years, suggesting a growing American interest in the sport. 
For example, the UEFA Euro 2020 Final between Italy-England had more viewers than:
Every Stanley Cup Final game
Every game of the 2020-21 NBA season (except for Christmas Day Mavs-Lakers broadcast, two conference semifinal Game 7s and the three NBA Finals games) 
Any MLB broadcast since Game 6 of the 2020 World Series. 
As positive as those developments were for the game in the United States. 
World Cup qualifying
The pandemic wreaked havoc on the sporting calendar in 2020, forcing the postponement and cancelation of events. Copa America was delayed by a year and the tournament was played in Brazil, rather than Argentina and Colombia as was originally planned. 
In 2021,  while domestically, intercollegiate and professional leagues brag about the return to play in front of potentially full stands, free of restrictions, there are problems internationally as the upcoming Olympic games in Tokyo will be played in stadiums absent fans. 
Now the pandemic threatens World Cup qualifying. El Salvador will play four World Cup qualifying games, including their World Cup qualifying match against the United States on Sept. 2 in an empty stadium. 
The Central American country announced new Covid-19 related gathering restrictions that will remain in place until at least mid-October.  
La Selecta's three other games (against Honduras, Panama and Mexico) are also at risk of being played with no fans. 
However, there may be a silver lining. Hugo Carrillo, El Salvador's Federation President confirmed that there is a possibility that some of those World Cup Qualifying matches may be held in cities in the United States, namely, Houston, Los Angeles and Washington D.C. in response to the new country-wide restrictions.  
The ability to see their national team would be an outstanding development for El Salvador's American-based supporters and perhaps El Salvador's Soccer Federation. 
MLB hiring practices
In the last 10 years, we've been treated to countless articles promoting front office "masterminds"in all sports. After years of front office executives working in the shadows, we've had a front row seat to "processes" and "building" and the executives pulling the strings. (Thanks Moneyball!) 
The fans are asked to place their faith in these team-building processes because of the people behind these plans. Oftentimes, it is not because of any sort of track record, but simply because the people are graduates from "elite" universities. Well, of course the degree means they can run a team! The elite university pedigree is meant to give the "process" an element of legitimacy that it otherwise would not have if it was just an old area scout running the operation. 
Occasionally the result of the "process" is a deep postseason run or even a championship. Many times it isn't. After all, winning isn't easy.
The MLB Draft is one of those times when we learn all about the new talent selected by a team. 
We also learn about the evaluators, the scout who evaluated the player, and watched the player numerous times and, of course, the decision makers who select the player they can see fit into the team's long-term plans.
While we know the names of many of the general managers, we often don't know much about the scouting directors who are integral to the draft process. 
Major League Baseball recently highlighted scouting directors for each of the 30 teams. 
As I read about each of these directors, I could not help but notice that of the thirty:
All are male
2 are African-American 
1 is Asian 
1 is Latino  
This speaks for itself. 
Latino sports media on the move
Even though Major League Baseball teams aren't hiring Latinos en masse to prominent roles in organizations, we want to highlight when one of us does get hired. 
Congratulations to Brandon Benitez, new weekend sports anchor at KRGV, the ABC affiliate in Texas' Rio Grande Valley. 
We congratulate you and look forward to seeing your work. 
Until next week, as Melvin said to Jody in John Singleton's 2001 box office smash "Baby Boy," "stay up." 
Get the Our Esquina Email Newsletter
By submitting your email, you are agreeing to receive additional communications and exclusive content from Our Esquina. You can unsubscribe at any time.