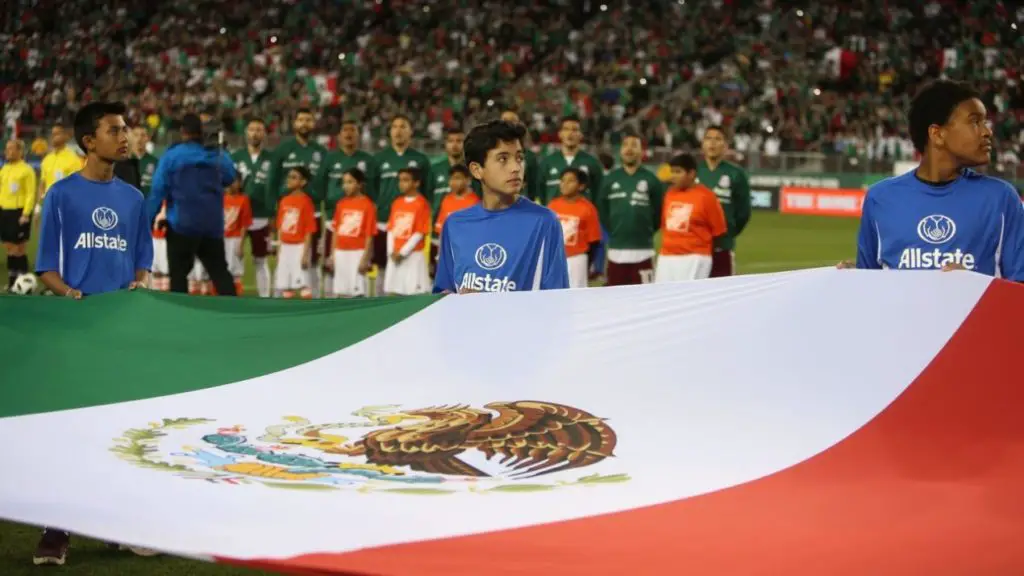 FIFA hammers Mexican Soccer for gay slur
Mexico must play next two home games without fans for continued use of "Puto" chant
The Mexican Soccer Federation has drawn its harshest penalty yet for El Tri's fans' continued use of a gay slur. FIFA will force Mexico to play its next two home games without fans. The threat of harsher penalties exists as well.
Despite prolonged media campaigns and pleas from some of Mexico's biggest soccer stars, El Tri's fan base has continued its infamous "Puto" chant.
Mexico is renowned for having one of the most intimidating home field advantages in the CONCACAF region. El Tri is on the verge of losing that advantage and more. FIFA also fined the Mexican Federation the equivalent of 60,000 Swiss Francs.
"If we don't stop this now, the effect it can have on the football industry in México can be devastating,"  Mexican Federation president Yon de Luisa said. "I hope this is the first and last sanction that FIFA imposes."
Mexican soccer in danger of more punishment
More sanctions might follow after FIFA issues its report on the fan behavior from Mexico's game in Dallas on May 29 and this month in Denver during the Nations League final against the United States.
FIFA outlined several potential disciplinary measures in July 2019 for Mexico. Those penalties ranged from fines to playing at least one match without fans. FIFA also mentioned point deductions or losing a match. Exclusion from a competition or tournament like the World Cup is also a possibility. Liga MX teams also could be relegated to a lower level.
Mexico had already been fined once. El Tri drew these sanctions for behavior during the CONCACAF Olympic Qualifying Tournament in games against the United States and the Dominican Republic on March 18 and 24, respectively. 
Mexican soccer fans infamously chant "Puto!" when opposing goalkeepers take goal kicks. The chant is similar to the thunderous roar some college football fan bases make during kickoffs. 
Mexican soccer Fans have been warned before
FIFA and CONCACAF have asked referees to pause matches after they hear the gay slur. Public address announcers then plead with the crowd to stop the chant. El Tri's last two games in the United States had to be stopped temporarily by the referees to warn the crowd. 
Home field is crucial in international matches, especially during regional tournaments and Olympic qualifying and World Cup qualifying.
"We have great concern, for everything that is to come, for the sanctions this might bring," El Tri coach Gerardo Martino said. "Any national team depends on its team and the support of its fans."
De Luisa, who received his MBA from the University of Texas, has practically begged Mexican fans to end the chant. With the help of Soccer United Marketing, which handles El Tri's tours in the U.S., he held an intimate roundtable discussion last month with American media to explain what was at stake.
FIFA can sanction El Tri for behavior in the U.S.
El Tri is essentially the home team when it plays in the United States.
The Mexican Federation has enlisted popular Mexican soccer broadcasters from different outlets, and El Tri stars for multiple public service announcements and media campaigns urging fans to end the chant.
"We will continue to make an effort," Martino said, "so that people's behavior is modified and we can play as it should be played." 
The chant didn't even register on television when Mexico drew more than 70,000 fans in Atlanta earlier this month. 
Still, Mexico must await further word from FIFA regarding El Tri's recent matches in the U.S. FIFA is also looking at games in Mexico's first division Liga MX. 
Get the Our Esquina Email Newsletter
By submitting your email, you are agreeing to receive additional communications and exclusive content from Our Esquina. You can unsubscribe at any time.