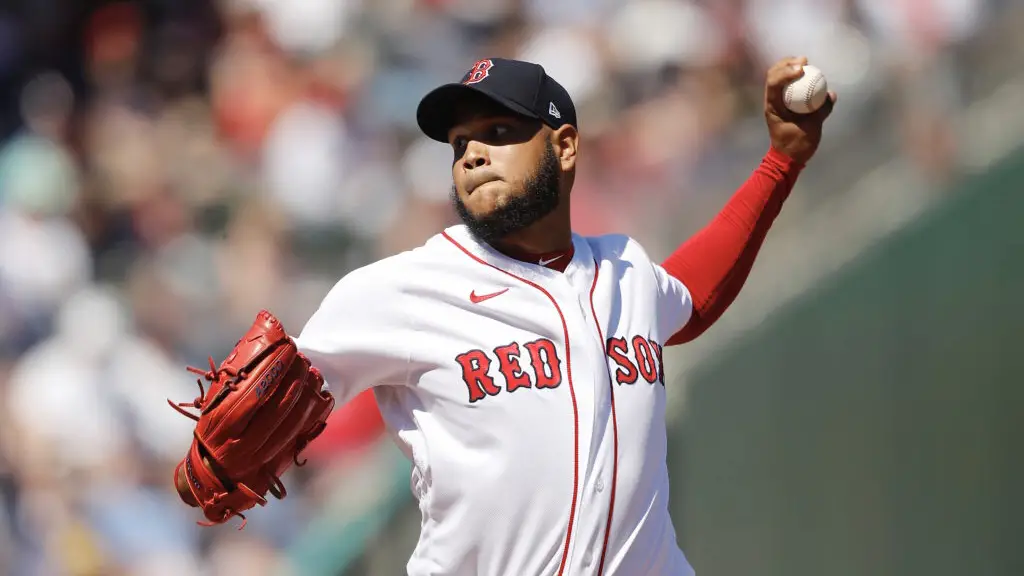 Eduardo Rodriguez to make Red Sox Opening Day history
Eduardo Rodriguez highlights Qué Onda, Our Esquina's weekly roundup of all you need to know in Latino sports.
Rodriguez to make Red Sox history
When the Boston Red Sox open the season on April 1 against the Baltimore Orioles at Fenway Park, Eduardo Rodriguez will take the mound a year removed from missing the entirety of the 2020 season due to myocarditis, a potential aftereffect of the COVID-19 virus.
In doing so, he will become just the third Latino and the first native of Venezuela to start for the Red Sox on Opening Day.
Hall of Famer Pedro Martínez and Luis Tiant are the only other two natives of Latin America to get the Opening Day nod.
Rodriguez, 27, went 19-6 in 2019 with a 3.81 ERA in a league-leading 34 games started. He struck out 213 batters and finished sixth in American League Cy Young Award voting.
Juan Soto will do what now?
What if we told you that by the time Juan Soto was 36 years old he would have 2,317 hits, 562 home runs, 1,996 RBIs and a .593 slugging percentage to go along with 91.1 WAR.
These outrageous numbers may one day come true if Dan Szymborski's ZiPS projections are anything to go by.
Check out the fascinating piece here:
Hang it in the Louvre
Here's something you don't see every day. On the left Vladimir Guerrero Sr. is sharing wisdom with a young Miguel Cabrera, and on the right Miguel Cabrera is doing the same for Guerrero's son, Vladimir Jr.
Cabrera enters the season looking to beef up his Hall of Fame numbers. He is 134 hits away from 3,000 career hits and 13 home runs away from reaching the 500-home run club. Meanwhile, Vladito is looking to prove the doubters wrong and return to the form that made him the No. 1-ranked prospect in all of baseball.
Francisco Lindor mic'd up
Earlier this week we highlighted José Mota's elevation to color commentator/analyst at Fox Sports West for the upcoming Los Angeles Angels season and its potential to impact the future of baseball broadcasts.
If you need any further proof that Francisco Lindor would be an excellent commentator one day, here's him mic'd up and having fun.
King Félix sidelined
If you're like us and were hoping to see Félix Hernandez pitch another big league season those hopes took a slight gash on Tuesday when Hernandez left the Orioles game against the Rays with right elbow discomfort.
Hernadez, who signed a Minor League deal with the Orioles, did not pitch in 2020, citing health concerns amid the COVID-19 pandemic. He entered Orioles camp with a legitimate shot at making the rotation despite his decreased velocity.
At 34 years old and with 2,729 2/3 professional innings pitched, Hernandez cited the Hall of Fame as his drive to keep pitching.
"I think I have a shot, but I have a few numbers that need to tick up," Hernandez told reporters. "If I get to those goals, I think I have a good shot at the Hall of Fame."
The extent of Hernandez's injury is not known, but any extended period of injury certainly impacts his chance of making the Opening Day roster, and, more importantly, potentially pitching at all in 2021.
Should Hernandez be forced to miss this upcoming season, he will have gone two seasons without pitching and would be entering his age-35 season hoping to get back to his former self.
It's another tough break for Hernandez, the long-time Seattle Mariners icon, and the last Latino to win a Cy Young Award in either league.
Improved defense coming to MLB: The Show
It's no secret that we at Our Esquina are major fans of all things MLB: The Show. The long-standing baseball simulation game is one of the best ways to virtually experience playing baseball, and its Diamond Dynasty mode is chock full of some of the game's biggest Latino stars both past and present.
Since Fernando Tatís Jr. was named 2021's cover athlete, we've been highlighting all the news and updates coming to this year's edition of the game, and will continue to do so through the game's release.
On Thursday, the team at San Diego Studio highlighted the newly improved defense in the game, including changes to how home runs are robbed, balls are played off the wall and catcher pop time situations.
The game launches on April 20, with special edition copies gaining access four days earlier on April 16. Stick with Our Esquina for more updates.
En Social
Toronto Blue Jays fans get to know the team's newest center fielder George Springer, who carries Panamanian and Puerto Rican heritage.
En Historia
On this day in 2013, the Dominican Republic won the 2013 World Baseball Classic, beating Puerto Rico 3-0.
The win would mark a perfect tournament run for the D.R., who won all eight games played, and make them the first team in history to go undefeated.
Robinson Canó is named the tournament's MVP after going 15-for-32 with four doubles, two home runs and six RBIs, good enough for a .469 average.
Closer Fernando Rodney gets the save, converting all seven of his opportunities. He helped lead a bullpen that finished with a 25 1/3 scoreless inning streak.
Relive the historic finale here:
Our Gente
With just a couple of weeks until Opening Day remaining, Ildemaro Vargas is currently in the thick of a roster battle on the Chicago Cubs.
That pressure may seem monumental, but it's just another step in the journey for Vargas who's experienced roster cuts, independent league baseball and even manual labor.
Marquee Sports Network's Andy Martínez chronicles Vargas' journey in a fantastic piece for the site.
Get the Our Esquina Email Newsletter
By submitting your email, you are agreeing to receive additional communications and exclusive content from Our Esquina. You can unsubscribe at any time.