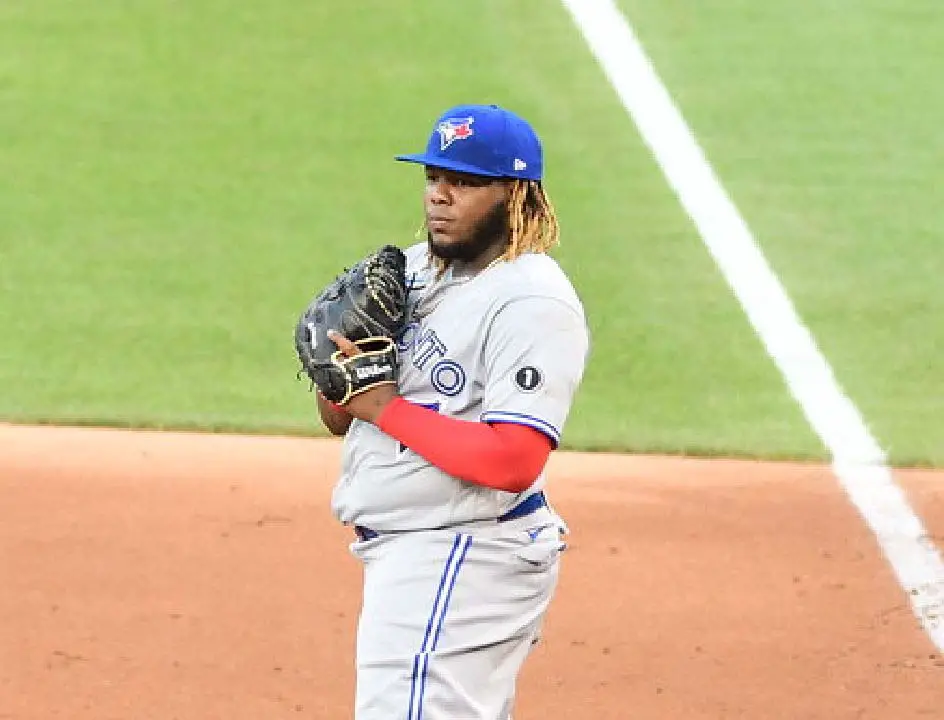 Legend Felipe Alou Glad Vladimir Guerrero, Jr. Apologized
Former Expos, Giants manager Felipe Alou hopes Vladimir Guerrero Jr. doesn't need to apologize again
The legendary Felipe Alou, one of the greatest sports and cultural icons in Dominican Republic history, was happy to see Vladimir Guerrero Jr. apologize for showing up overweight this season.
Alou, who managed Vladimir Guerrero Sr. with the Montreal Expos, also had a bit of advice for the Blue Jays' young phenom. 
"He has all the tools to be a destructive machine, just like his dad was," Alou said of Guerrero Jr., who told El Caribe newspaper that he showed up at 280 pounds this season. "He's got to get in better shape. 
"I'm glad that he's apologized. The one thing is that I hope that he will not have to apologize again. I believe that maybe his dad has a lot to do about that apology. I never saw Vladimir Guerrero out of shape or not play hard. If he did, I didn't see it."
Alou was a three-time All-Star during a stellar, 17-year career with the San Francisco Giants, Atlanta Braves, Yankees, A's, Expos and Brewers. He also managed 14 years in the majors, 10 with the Expos and four with the Giants.
Pedro Martinez and Guerrero Sr., the second and third Dominican Republic natives inducted into the National Baseball Hall of Fame, both credited Alou for helping them land among the immortals in Cooperstown, N.Y.
Felipe Rojas Alou, 85, also is the father of former All-Star Moises Alou and current Mets manager Luis Rojas. Because of a misunderstanding at a time when Americans didn't understand most Latin Americans use their mother's maiden name after their paternal surname, Felipe Alou and his brothers Mateo and Jesus attain fame in their mother's maiden name.
Whatever the case, Felipe Alou's word carries significant weight throughout the Dominican Republic, Canada and the major leagues. Vladimir Jr., 21, was actually born in Montreal in 1999 when his father played for Felipe Alou.
"If you apologize in any walk of life you have to make sure you never do it again," Felipe Alou said. "Don't make a habit of it. Don't make a habit of saying I'm sorry because sooner or later they're not going to trust you."
In other words, Alou hopes Vladimir Jr. never shows up overweight to camp again.
In an interview with the Dominican Republic's El Caribe newspaper, Vladimir Jr. acknowledged that he was wrong to have arrived overweight to summer camp to prepare for the pandemic-shortened 60-game season. 
Guerrero hopes to play winter ball
Guerrero vows to prepare himself better in the future. He is even seeking permission from the Blue Jays to play with Escogido of the Dominican Republic winter league.
Vladimir Jr. told Yancen Pujols of El Caribe that he has already lost 32 pounds after weighing 280 pounds when baseball resumed its three-week training camp.
"I didn't arrive well to the second training, and I told myself that cannot happen again," he told Pujols. "I was overweight. I said that cannot happen again, and I got to work right away."
Guerrero arrived at the Blue Jays' spring training facility in Clearwater, Fla., to begin his offseason workouts. 
Guerrero, 21, hit .262 with nine home runs and 33 RBIs over 60 games this season after hitting .272 with 15 home runs and 69 RBIs over 122 games during his highly anticipated rookie season in 2019.
He started 34 games at first base and 23 as designated hitter this season after playing primarily third base (96) and DH (24) last season.
"I learned after these months of the coronavirus (pandemic) that if you don't work hard you cannot be in the big leagues," he said. "Why do (Fernando) Tatis and (Juan) Soto put up good numbers? It's because they work hard. I hit the big at-bats I did because of the ability God gave me.
"But I knew it from the start. I know what I did was wrong. I apologized to my teammates and decided to play like that, but I did wrong."
Already down to 250
The 6-foot-2 slugger told El Caribe that he is down to 250 pounds. He estimates that his ideal weight is 240-245 pounds. 
He has altered his diet this offseason, eliminating greasy foods. 
"I eat dinner at 7 at night," he told El Caribe. "After that it's just water until the next day."
Despite the pandemic, he wants to play winter ball even if it's just 15 games and 40 at-bats.
"It doesn't matter that there's Covid," he said. "We play any way possible. We already came from one (MLB) season and all was fine. (Toronto) hasn't  said yes or no."  
Now, Vladimir Jr. must make sure he never needs to apologize for his weight or work ethic again.
Get the Our Esquina Email Newsletter
By submitting your email, you are agreeing to receive additional communications and exclusive content from Our Esquina. You can unsubscribe at any time.