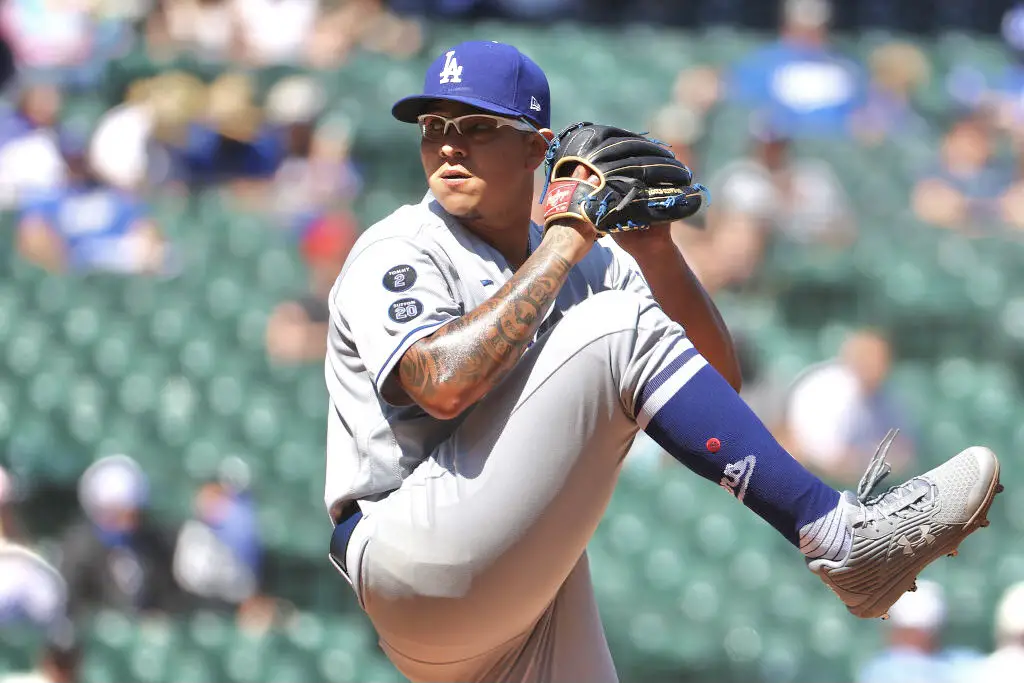 Dodgers lefty Julio Urias fulfills ace potential
Julio Urias is starting to fulfill his ace potential
Julio Urias has been around so long, it's easy to forget the Mexican lefthander is still only 24. He is a year younger than 2020 AL Rookie of the Year Kyle Lewis and 23 months younger than the 2020 NL Rookie of the Year Devin Williams.
In his sixth season in the majors, Urias is now truly flashing the ace potential many predicted for him when he was a teen sensation. This is the version of Urias we expected to see after he was named the Los Angeles Dodgers' 2014 Branch Rickey Minor League Pitcher of the Year at 17.
That was the same year he became the youngest player to ever play in the Futures Game, the premier showcase of baseball's young talent during the All-Star Game weekend. Injuries stalled his march to prominence, but he now appears like a legitimate frontline starter. He proved as much Tuesday night in a 1-0 victory over the AL West-leading Seattle Mariners.
Urias had a career-high 11 strikeouts while giving up only one hit through seven scoreless innings. Urias was so efficient, he needed only 88 pitches on a night he also issued one walk.
"I just can't recall any better from the first pitch to the last pitch," Dodgers manager Dave Roberts said of Urias while speaking to the Los Angeles media afterward. "Efficiency, command of all three pitches, getting ahead of hitters. He had complete control of command today."
Culiacan native fits in with stout rotation
Urias now fits right in on a staff with veteran ace Clayton Kershaw, 2020 NL Cy Young Award winner Trevor Bauer and young ace righthander Walker Buehler.
The Dodgers' starting rotation is so loaded, Urias impressive 2.81 ERA isn't even the best among the starters. Actually, it's not even the second or third best in the rotation. Kershaw is 3-1 with a 2.19 ERA. Buehler is 1-0 with a 2.00 ERA after three starts. Bauer, who won the ERA title last season with the Reds, is 2-0 with a 2.42 ERA.
Bauer, 30, Buehler, 26, and Kershaw, 33, are all older than Urias, who won't turn 25 until August. The native of Culiacan is keeping pace with the older members of the Dodgers' rotation. He has 26 strikeouts and only four walks over 25 ⅔ innings through four starts. It's so early in the season, he cut a little more than a run from his ERA in his last start, dropping it from 3.86. 
It's foolhardy to make too many assumptions after only four starts in a season when most aces make around 30 starts. Nonetheless, Urias earned the benefit of doubt with his spectacular performance in the 2020 postseason, especially the World Series.
Julio Urias builds off 2020
After posting a 3-0 record and 3.27 ERA in the Covid-shortened regular season, he was 4-0 with the title-clinching save in the postseason. He received his World Series ring on April 9, the 40th anniversary of legendary Mexican pitcher Fernando Valenzuela's first start with the Dodgers. 
Until Urias closed out the 2020 World Series against the Tampa Bay Rays last October in Arlington, Texas, the Dodgers had gone 32 years without a title. He was 4-0 with a 1.17 ERA over six games last postseason, starting two of them.
Urias gave up only three earned runs over 23 postseason innings. He has built on that magical October with his 3-0 start. 
This is the Julio Urias we all expected to see when the teenager first reached the majors at 19 on May 27, 2016. 
There's no doubt he already secured his place in Los Angeles sports history lore with his 2 ⅓ scoreless innings of relief to close out the 2020 World Series in Game 6. Those 2 ⅓ innings ended the Dodgers' 32-year championship drought. 
If Urias' start to the 2021 season is any indication, though, there is more greatness ahead.
Get the Our Esquina Email Newsletter
By submitting your email, you are agreeing to receive additional communications and exclusive content from Our Esquina. You can unsubscribe at any time.